words // Zac Dubasik
When I stop and think about it, the fact that I once briefly traded used Sega Genesis games for a used pair of original Grape Vs makes me feel old. And realizing I've followed generations of players from the time they were drafted all the way through retirement really makes me feel old. One such player is Shaq.
Much like how I can coincide certain life events with particular shoes that were out at the same time, I can do the same with particular basketball players. And I truly was a kid when I first heard of Shaq while he was at LSU.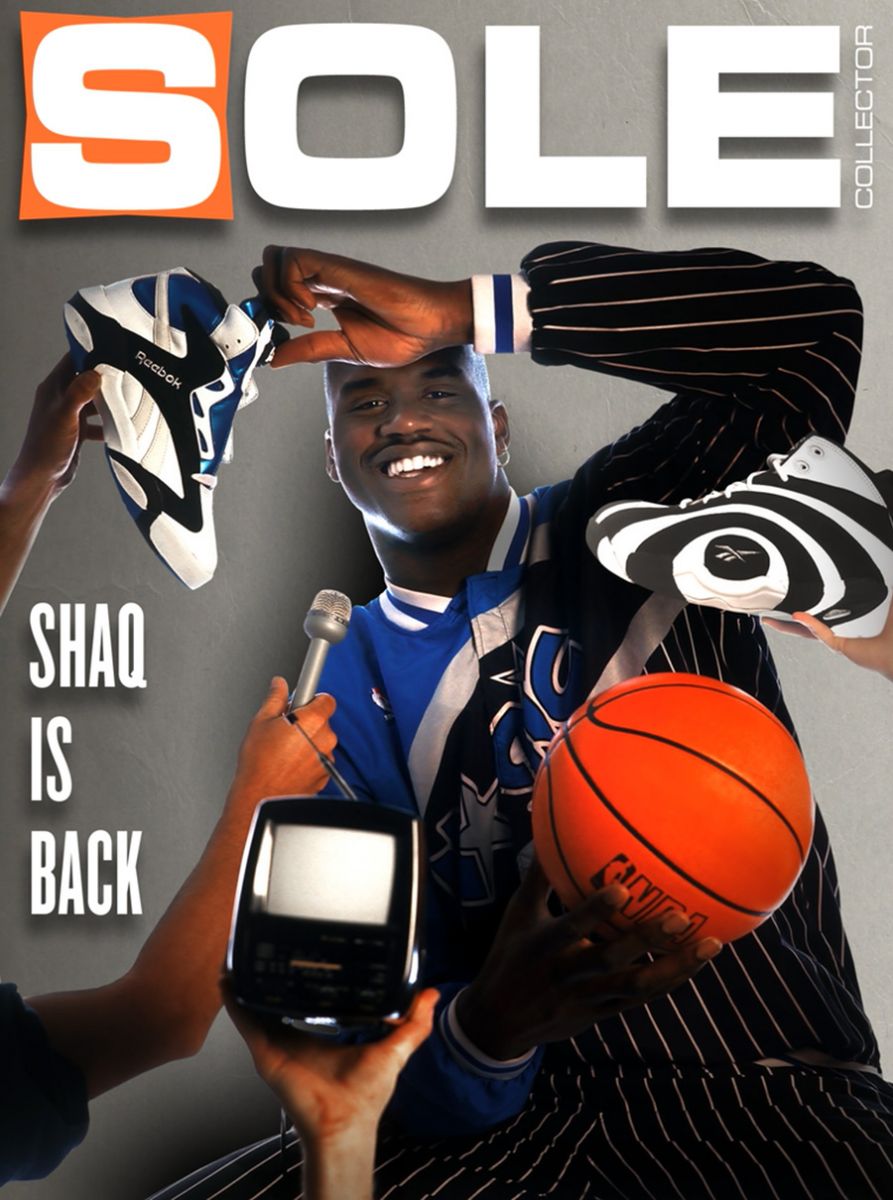 I remember him being drafted number one by the Magic. I remember the backboards shattering and falling. I even remember seeing Blue Chips at the theater. Some of my best memories of Shaq, though, revolve around his legendary Reebok line, which, as you've probably heard, is finally coming back.
Let's face it – at this point there are very few great shoes from that era that haven't already been retroed. And re-retroed. And re-re-retroed. So it's truly a special occasion when such a beloved line comes back for the first time. We've got all aspects of the re-launch covered – most notably, an exclusive interview with Shaq himself. He may have been away from Reebok for many years, but having him back was the only right way to re-launch the line.
It's not all retros in this issue, though. We've also got a preview of Nike's most advanced hoops footwear yet, with their Elite 2.0 signature collection. We also caught up with adidas designer Robbie Fuller to break down the all new Crazyquick, and John Wall even tells us all about how much likes playing in the first shoe he's leading with his new adidas family.
If I feel old now looking back on Shaq's playing days, I can't even imagine what it will feel like when today's stars call it a career. But old or not, getting to see them play is a big part of what makes this so much fun.
IN THIS ISSUE //
WDYWT | The best of what our Forum members wore this month
CHRIS ERB OF EA SPORTS | Interview with the man responsible for all of EA's much loved sneaker collabs
ROBBIE FULLER | The adidas designer details the new Crazyquick
JOHN WALL | The Wizards guard tells us about leading the Crazyquick
JONATHAN MORRIS | An exclusive interview with the original designer of the Reebok Shaqnosis
SHAQ INTERVIEW | The MDE reflects on his Reebok line, his business savvy and of course, dunking on everyone
SHAQ KICKTIONARY | Check out every single Shaq model created during his 8-year run with Reebok
SWIZZ BEATZ | An exclusive interview with the Creative Director of Reebok Classics
TODD KRINSKY | The VP of Reebok Classics talks Shaq, John Wall and where the brand is headed
THE RETURN OF FILA | A detailed view of the new Fila '96 (GH2) and the Stackhouse Spaghetti
ADIDAS' NEW UNIFORMS | Jerseys. But with sleeves.
NIKE BASKETBALL'S ELITE 2.0 COLLECTION | Check out the ramped up models that KD and LeBron will be wearing during this year's NBA Playoffs.
To Download: Search "Sole Magazine" in the Apple iPad Newsstand, install and purchase "SOLE COLLECTOR : Issue 17"
Check out a snapshot of what's inside Issue 17, and check out the issue for exclusive interviews, video content and interactive features.