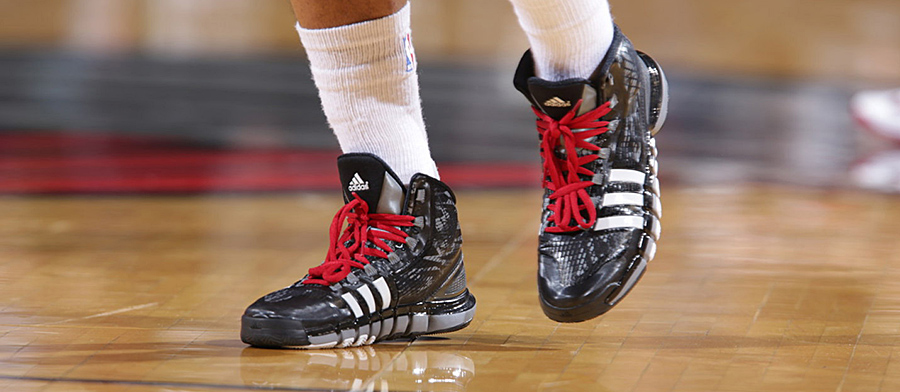 words & interview // Nick DePaula
images // Jotham Porzio
Just as adidas Basketball originally set out to become some five years ago when they first briefed in their flagship Crazy Light franchise, they're now known as the brand of lightweight performance. Whether it's a team model aimed at the guard and forward positions, or even a signature sneaker for one of the league's most hulking centers, the footwear has become known for being lightest in class. It's a distinct positioning for a company that just three years ago was floundering in the marketplace and without a true competitive advantage that players and casual consumers could really come to know and call out.
In that short period of time, not only has the brand begun to build out a steady stable of premier team-friendly lines like the Crazy Light and Ghost – that certainly inspire and attract more attention than their past Pro Model series – but they've also elevated an athlete in Derrick Rose with a statement level signature shoe, and they're just now beginning to extend their silos even further into the basketball landscape.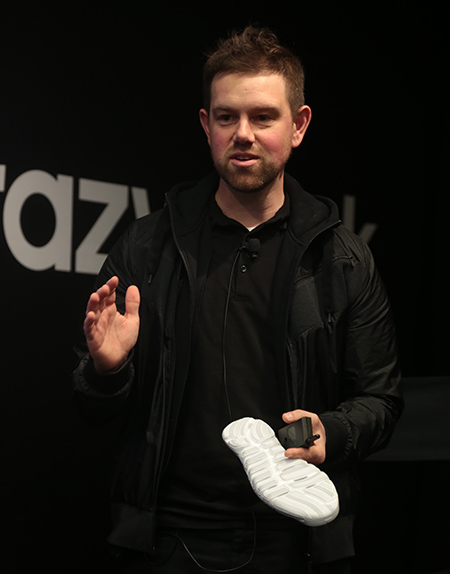 To complement the Crazy Light tier, and sit below Derrick's more premium and leading line, the brand is launching the all new Crazyquick. Headlined by Washington Wizards guard John Wall, along with Portland Trail Blazers rookie Damian Lillard and 76ers floor general Jrue Holiday, the newest model from The Three Stripes aims to do pretty much what you might gather from the name – help make you quicker. With a deeply segmented outsole, Techfit upper and targeted support, adidas hopes that the shoe is tailor made for Wall's explosive up and down game. Perhaps it already helped him to his very best month of ball, as his 47 point, 8 rebound and 7 assist night in late March was likely the best game of his young career.
To hear all about the new addition for the category, we caught up with Robbie Fuller, adidas advanced footwear category designer, who broke down the earliest concepts around the shoe's platform, how the Techfit construction fits and feels, and where the model sits in the overall line for the group.
Nick DePaula: Most flagship shoes like this start out because of an insight from a player or a new goal for the category. What was the initial concept for these when you guys started out?
Robbie Fuller: The initial concept was really around the idea of, "Can we build something that's an adapter for the foot?" Not necessarily works like the foot, but works with the foot. Definitely the feedback over and over again is that we've done some great things in the past with Puremotion and Feet You Wear, and the athlete was crying out and saying, "Hey, give me something that maximizes all of the learnings that you have from that and takes it to the next level." That was where the initial research started from, and then we went from there. We know that light is right and that it's going to maximize the performance of every step, but we wanted to also take our focus from every step to that step. The one. The crowd lets you know – "Oooh!!" – when quickness happens. [laughs] So that was really the initial kickoff for us.
NDP: Did you guys have a certain weight target in mind when you started out, or a certain player? Or was it just more about making something for all fast guards?
RF: All players. Everybody's game needs to get quicker. I wouldn't say there was a hard weight target in terms of saying, "It must be below this." We just want to look at leading products that we create as having that lightweight benefit. With these at 11.25 ounces, it absolutely does that.
NDP: One of the things that's new as well is the TechFit upper. How is that different from a traditional upper? And being that you work on other categories, what kind of impact has that had for other groups at adidas?
RF: It just makes sense. Techfit feels good, and you feel like you're about three levels better than you are when you've got this stuff on. The Techfit apparel feels great and increases bloodflow, and we just said, "We've got to figure out a way to get it into footwear in the right way." The Running team and Training group had a head start with things like the adiPure Adapt. That really shook things up in terms of having a brand new silhouette that nobody had ever seen before. We were able to really take some learnings from that and take that idea and broaden it and do it in an effective way for basketball. With a lot of adiPure and Techfit Running products, you'll see the ultimate in unrestricted movement. Here, you get a beautiful blend just for basketball of restricting motion, like with these webbed eyelets that start at the base to lock in. Then, you get the unrestricted feel through the tongue and toe, and you can actually spread your toes.
NDP: Can you walk me through the early round sample, how the stages changed along the way and where you started at on it?
RF: Sure, this [middle shoe in below photo] was a sample early on, and it was "The Dream." We wanted to bring that in to basketball, and similar to Crazy Light, we start from zero and then add. It was a similar approach here, so we started just with something around the foot that stretches. Then I've gotta restrict it, so we wanted to connect the webbing straight down to the platform. But, there's a lot of visual things going on as well. With a brand new benefit to focus on, I also wanted to have a brand new visual. I didn't want it to just blend into the crowd. I wanted to set a ton with some of the functional markers. Letting people know that the bottom goes all with the upper, we wanted to color it together. There's not just colored hero parts. That's why on most colorways, you'll see a radiant look to the shoes, and we wanted to reduce lines on the upper and play up this idea of it being a performance fit story. From there, we wanted it to feel like a sock and for it to be game ready. We want players to say, "Man, I don't have to wear this for a week and then be ready." You put it on and start giggling. I looked at some initial options of having some alternate closures, and I still think there's something to be found there. Ultimately, we found the right balance for right now, which is having that stretch across the foot, and being able to see the pattern actually stretch out along your foot as you put it on. Then, still being able to lock down the ankle so that you're not going to worry about any pieces coming undone or anything.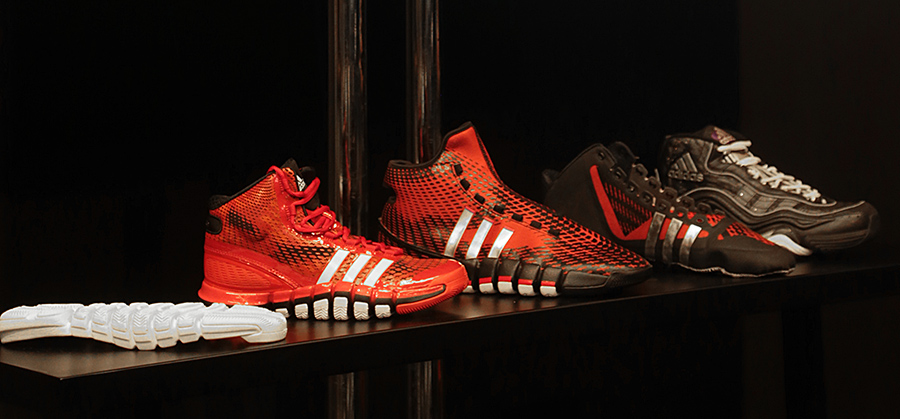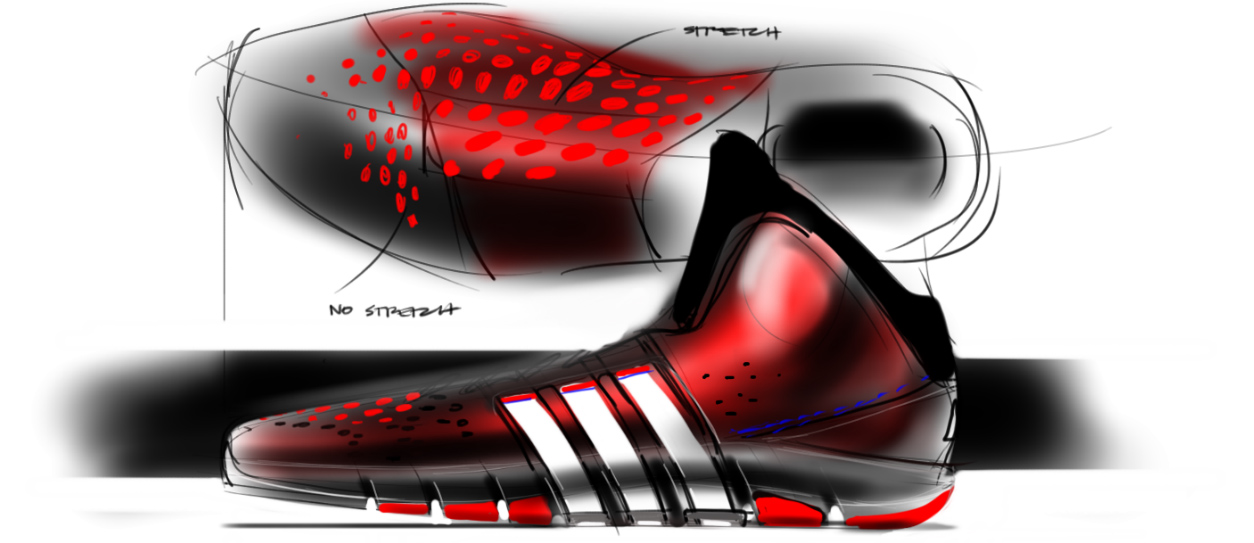 NDP: One thing that sticks out to me, is that this is $140 and you now have the Crazy Light and Crazyquick tier at that price, and then the signature Rose at $160. Can you break down the value pieces in this shoe for a consumer that's looking and comparing it to those other two models that you guys also make ?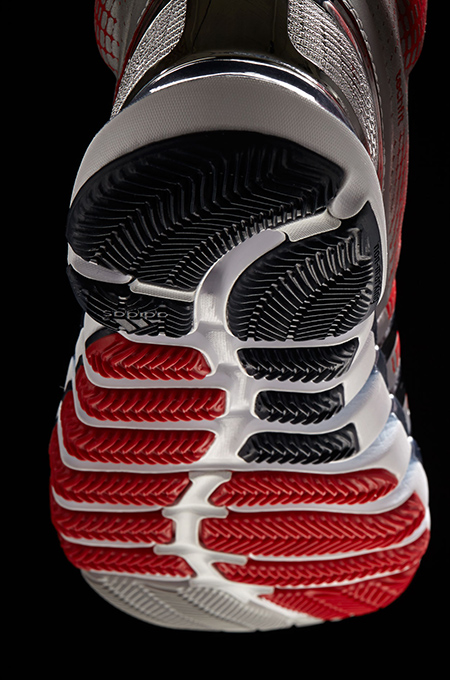 RF: If you look at the last couple years, both Rose and what we've done with adiZero and the Crazy Light have really helped us to elevate what we can attack and the solutions that we can bring to the market. We've seen quite a lot of success with our light franchise, and just from studying the game, asking athletes and extracting out those insights, we realized that quickness was something we could also focus on. It's that step, that particular one that helps you make space, and we thought that with the learnings that we've had with the Crazy Light – like if you look at the bottom, there is still that S-groove going through – but it hasn't been maximized quite like this one has been maximized. We did that one specifically for that shoe because we wanted the ultimate in a lightweight experience. Here, we knew that quickness was the moment of truth that we wanted to deliver. Here, we went through and absolutely maximized this idea of unrestricting motion, and almost like a centipede, allow you to really grab the ground. But it's not just flex, and by extending the Sprintframe farther than we've ever done before, we're now controlling and orchestrating what all those movements. That system is what's fresh and exciting about the Crazyquick.
NDP: The guy that's going to be leading the shoe is John Wall, and obviously he's new to the brand and category. Can you talk about the couple of times that you've met him so far, and what kinds of things he's looking for?
RF: We have athletes that come through all the time, and we recently had a meet and great with him in January as he was new to the brand and we got to hear what some of his likes and dislikes are. What he wants in his shoes, what he's wearing off-court and things like that. Also, just his first impression, because we showed this to him for the first time then. As a brand, he's exactly who we had in mind when we started working on the shoe. He's someone that already has quickness, but we can provide something that will give him the chance to do the unbelievable. Blending that performance for him, which is our first step, and then starting to add in some more personal things once we start to really know what he likes in his footwear will really be the key to his products. John Wall debuted them on-court, and Dame [Lillard] and [Nic] Batum will also be in them. Actually, Batum did a lot of the testing for them. I've got a lot of awesome videos of him in the locker room with a big smile on his face, talking about how game ready this shoe is. That's been key to the research part, and there's going to be a whole lineup of elite NBA players wearing the Crazyquick.
NDP: As someone that's played in the older Feet You Wear models, can you just compare what that idea of natural motion is after, versus this approach?
RF: First and foremost, this is light. You'll pick the shoe up, and if you've worn any of the Feet You Wear models from the past, especially the ones that were really engineered in the past, you'll notice a massive difference. Also, the fit. It's much more snug and fitted to the foot. The articulation too. The shoes of the past looked to really mimic the foot, and in a lot of ways that's right, but this new insight of having much more expansion, almost like the midsole is breathing as it grabs the court, was discovered by us recently. We've known that was a good thing, but how do you control it so you're stable? That's the hero, is the Sprintframe. Orchestrating and controlling a symphony of quickness is really critical. For anyone that's worn the old Feet You Wear stuff, they'll still appreciate them, and there's still a great visual to them, but when you play in this shoe, you'll realize that there's about two to three more steps every time down the court that you wouldn't have gotten if you were wearing anything else.
The adidas Crazyquick drops this Wednesday, May 1st at stores, or you can pre-order them now at adidas.com.