words & interview // Nick DePaula
Most fans that entered were from Portland, like
the "Home" colorway winner Scott Boldt
.
The winner of the "Away" colorway contest, fittingly, was actually from Damian's hometown of Oakland, California.
We caught up with CJ Bumagat below to discuss his winning road design for fellow Bay Area native Damian Lillard, which Dame actually wore in Oakland during a road game against the Warriors. Check out his red, black and grey Rose 3.5 design ahead.
NDP: How'd you first hear about the "Lillard Kicks" contest?
CJ: I found out through Twitter and also SoleCollector.com.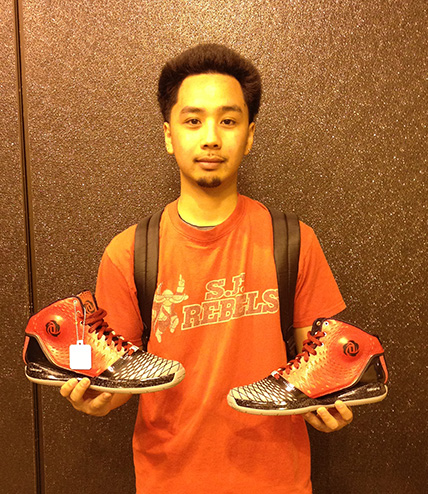 NDP: What are some of your favorite current and past adidas Basketball models?
CJ: My past favorite are the Pro Models. I wore them from 2004 to 2007 when I played for the San Francisco Rebels AAU basketball team. My team was sponsored by Adidas, which was cool. My current favorites are the D Rose 3, 3.5 and Adidas Crazy 8.
NDP: What were your first thoughts when you started to think about designing a miadidas version of the Rose 3.5 for Damian?
CJ: I wanted to design a shoe that is one of a kind and would suit Damian very well.
NDP: How'd you land on your final colorway and did you have a particular theme or inspiration in mind?
CJ: By choosing the red, black, and grey colorway, the shoe to me, would look good with the Portland Trail Blazers uniform. I added Oakland onto the midsole to represent Damian's hometown and also his jersey number on the back of the shoe to make it his own.
NDP: What was your reaction when you were announced as one of the contest winners?
CJ: When I first checked my phone from waking up, I had a lot of mentions on Twitter about the shoe contest. Then I realized that I won. I was shocked and excited at the same time. I couldn't believe it and kept thinking what were the chances of Damian picking someone from the Bay Area to win, when there were so many entries from all over the place.
NDP: Where were you when Damian wore the shoes and what was it like to see your design live in an NBA game?
CJ: I was at Oracle Arena in Oakland to watch the Portland Trail Blazers vs Golden State Warriors game! When I first seen my design in person, they stood out to me. I was glad that he wore them.
NDP: What'd you think of Damian's rookie season and how excited are you for his potential here in Portland?
CJ: I thought that Damian was underrated coming into the NBA since he came from a small school. He did so much for his team and deserves to be Rookie of the Year! He's a point guard on the rise because he has an amazing work ethic. That's what makes him such a great player.
NDP: And of course, have you worn your pair yet?
CJ: I plan to keep this pair brand new, but I might buy another pair to play basketball in!