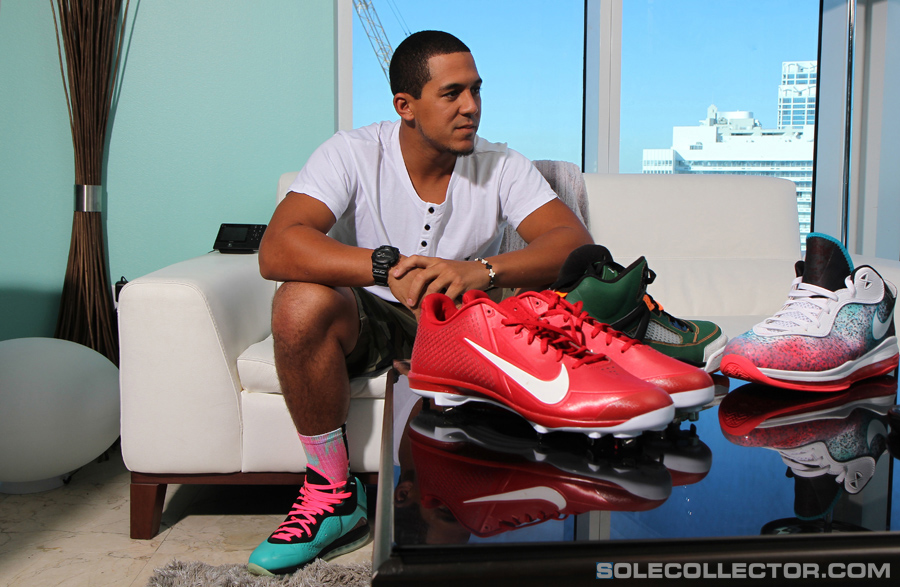 interview // Luis Sanchez
words // Luis Sanchez and Brennan Hiro Williams
images // Reggy Rodriguez
As seen in Issue 15 of Sole Collector for the iPad.
Jon Jay is living the dream. The St. Louis Cardinals center fielder's career has taken him from local legend to Major League starter, with a winning track record at every step of the way. At 27 years old, Jay is already a World Series champion and an emerging star for the storied Cardinals franchise.
When he's not turning in Web Gems and smacking line drives all over the field, Jay is an avid sneaker collector, scooping up his favorite Jordan and Nike releases throughout the year. Sole Collector's Luis Sanchez recently sat down with Jay in Miami to discuss sneakers, championship keepsakes, and what its like to be born and raised in the County of Dade.
Luis Sanchez: Growing up playing baseball in Miami, what was it like to be able to stay in your hometown and play at a place like the University of Miami with Jim Morris?
Jon Jay: Oh it was awesome you know, being born and raised in Miami from Cuban parents. Baseball is the sport of passion in Cuba, so its really the first thing i played ever since I can remember. Just growing up, the Little League is so competitive, I have a lot of friends that I met from those days and I think that kind of molded me to the person I am today from playing ball as a kid.
And going to the University of Miami - in high school I remember going out there and grabbing shakes at the games and it was just a lot of fun. They were always number one over the years. Growing up, everybody wanted to go to UM and it was a dream come true when they called. They were actually one of the first schools that reached out and as soon as they said they were interested, I was on board. Going there it was great, that's where I really learned to play baseball. I did play on some great teams in high school at Columbus here in Miami and won a State Championship, but at the University of Miami is where I really got to play with the best guys and it was just a great experience helping me get to pro ball.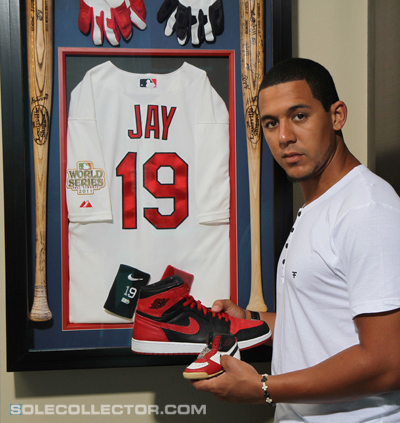 LS: When did you first start building an interest in sneakers?
JJ: I think I always liked sneakers since I was little. I can remember back in elementary school my best friend and I always had the "Deions" or Jordans that came out, or whatever the hot shoe was at the time. I remember getting the "Rod Woodsons" (Nike Air Bowl Trainer). The list goes on. We were always into shoes, we always liked them, you know?
LS: What are some shoes you remember having as a kid?
JJ: I remember the Aqua 8s. That seems to be the one I remember most. I have pictures of me on ATVs with them, I just did everything in those!
LS: What are some of the latest shoes you've added to your collection this year?
JJ: Most recently I've got the Black/Red 11s, Thunder 4s, I got the black Foamposites. Anything that's dropped within the last month I've picked up.
LS: Anything out there that you're still looking for, maybe something you had as a kid?
JJ: I'm always looking for older stuff. I actually just got the Aqua 8s again, even though they're releasing soon. I got a good deal on them, so I just had to pick them up. Nowadays things are just releasing left and right so it seems like its a lot easier to get your hands on certain shoes.
LS: What are your favorite off-season training shoes that you're currently using?
JJ: Probably the Air Max 360. I wear those a lot. I like to switch it up though. I've got some Jordan Trunners that I wear, too. I also have some old Nike turfs from this past season I made on NIKEiD that I wear pretty often as well.
LS: Has Nike hooked you up with some Player Exclusive stuff yet?
JJ: I actually make them on NIKEiD since I'm a Nike guy. I wear Nike on the field. Before, the only way you could design your own shoe was if you were an All-Star, but now we can go on NIKEiD and just make whatever we want. They're great with me. They let me try out different stuff like these cleats I have here. I'm not even sure if they're selling them yet or what.
LS: Do you have any prized possessions like a pair of cleats or batting gloves from any memorable moments while at "The U?" How about anything from the 2011 World Series?
JJ: Yeah, I've got stuff that goes back all the way to high school. I keep everything! Its all at my parents house. I've got high school jerseys, college jerseys, bats from college, I even have a bat from the 2004 College World Series. I remember using it there, its something I kept for good memory. I also have gloves from UM, batting gloves, I kept everything.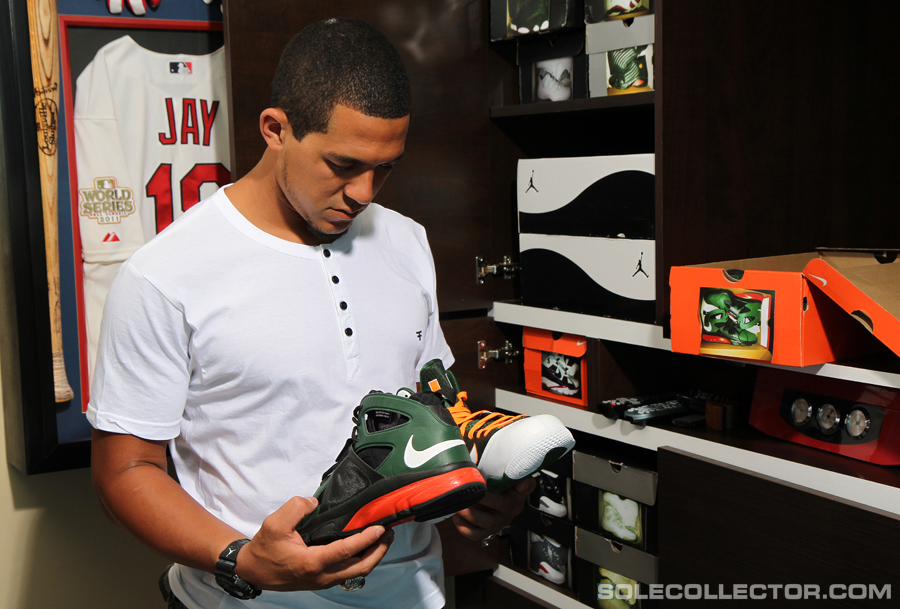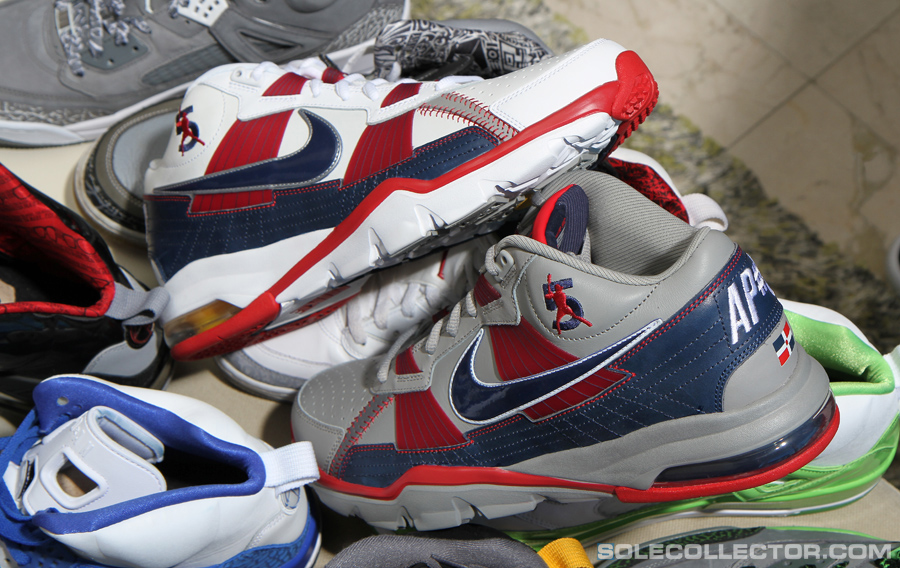 LS: If you had the opportunity to have any pair of shoes cleated for you to wear in a game, what shoes would they be?
JJ: Man, that's a tough one! Man! There's a couple Jordans out there, not many Nike Basketball shoes, though. Jordan wise, I'd take any of them really. But I think I'd do it different - I'd go with the Jordan VI in red and white. As far as Nikes go, I'd probably go with the LeBron 8s. Some low tops. i think it would look pretty good!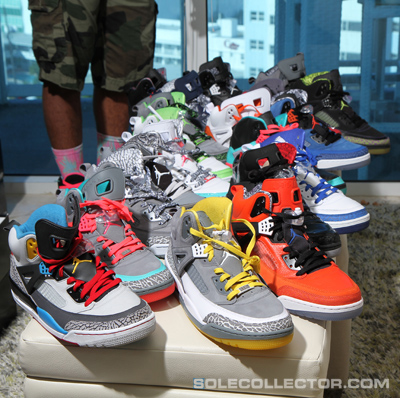 LS: Since you came into the league back in 2010, what's been your favorite pair of cleats you've played in?
JJ: Definitely the latest from Nike. its incredible how good a job they do every year where you fall in love with a pair of cleats, and the next year they already have something even better for you. I really like the ones I had this past season, the Nike (Air Max MVP) Elite. They felt like a basketball shoe, they were great! I really like those, I'm really looking forward to using them next season.
LS: Any superstitions involved with your footwear or equipment that you have?
JJ: Sometimes! You know there's times you wear a pair of cleats and you have a good game, and you just have to keep it going. Guys will give each other a tough time about it, so I try not to. I'll have a couple pairs of cleats I like to switch between.
LS: How do you keep up with sneaker releases during the season?
JJ: Just on the internet man, and just keeping in touch with friends a lot. The internet has really made it so much easier to see stuff. I just stay on there looking at pictures and just trying to see what I wanna get!
LS: How do you manage to get your sneakers during the season?
JJ: I get them myself for the most part, or I'll have someone pick them for me. Compared to a couple of years ago, its gotten a lot easier to find stuff and I really like how everywhere you go now you can find shoes with different colors because before when I was younger it really wasn't like that.
LS: What would you say was your favorite release of 2012?
JJ: Man, 2012? I really don't even know! I'd say the 4s...the Black/Red 4s. I really liked those!
LS: And finally, how about your overall favorite shoe?
JJ: Aqua 8s are my favorite Jordan, but as far as Nike stuff, definitely the "South Beach" LeBron 8. Those are definitely my favorite shoes.