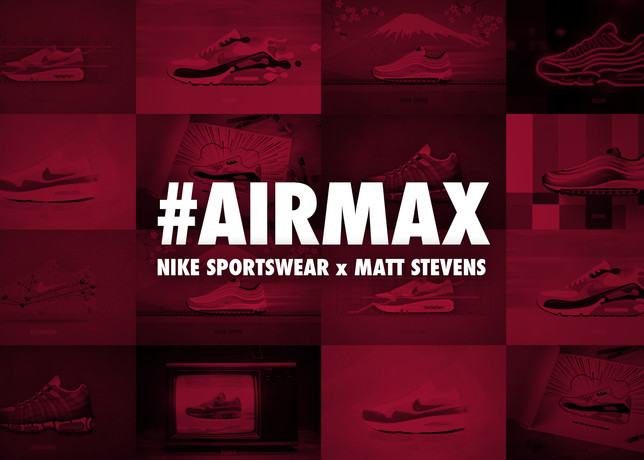 words // Brennan Hiro Williams
From the Shinkansen-inspired Air Max 97 to the cultural impact of the Air Max 1 "Revolution in Motion" campaign, illustrator Matt Stevens shines a new light on the rich history of the Air Max line with the new #AIRMAX project, unveiled earlier today by Stevens and Nike Sportswear.
For more than 25 years the Air Max family has remained a flawless fusion of sport and visible technology. With roots firmly planted in the soil of sport innovation, Air Max grew to become a cultural phenomenon, making its presence felt in music, art, and most importantly, on the feet of those seeking comfort and a vehicle for self-expression.

Last year, illustrator and designer Matt Stevens created the collectible book MAX100, a compendium of 100 visual interpretations of the Nike Air Max 1 — or, as he calls it, "the greatest sneaker of all time." The book's visuals range from computer-generated images to photographs of physical objects.

Coinciding with the release of the Nike Air Max Engineered Mesh series, Nike further celebrates the reinvention of Air Max by commissioning Stevens to expand on his tribute to the famed sneakers in a project aptly titled #AIRMAX. Creating additional images of the Air Max 1, Air Max 90, Air Max 95, and Air Max 97, Stevens sheds new light on the heritage of these sport classics. Along with Stevens's personal reinterpretations, some images will align under the themes of design inspiration, color, cultural significance and reinvention.
For more on the #AIRMAX project, visit the Nike Sportswear Facebook page.