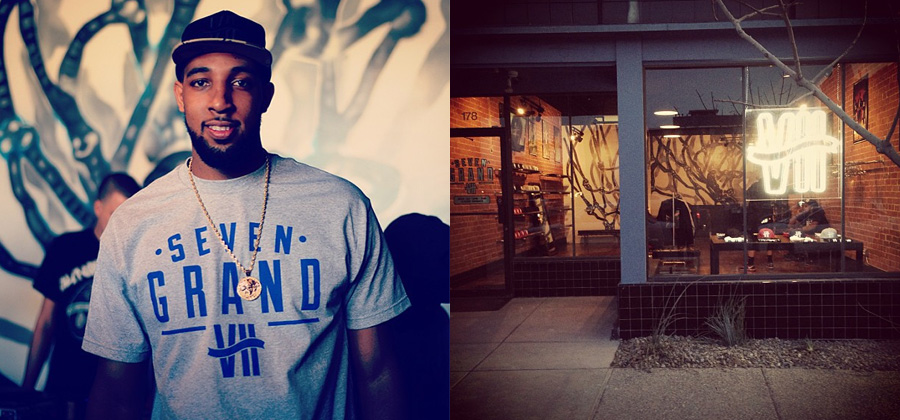 words & interview // Nick DePaula
images // Mario Escalante, Derrick Williams and Marc Oso
If you're a regular here on Sole Collector, you've thought about one day opening up your very own sneaker or streetwear store at least once.
We all have. In all my years of meeting young collectors around the country, the lofty idea of one day manning your own shop, bringing your own tastes and favorite brands to a city near you and influencing an entire region is a dream shared by literally everyone.
For Minnesota Timberwolves forward Derrick Williams and Mario Escalante, they recently turned that dream into a reality with the launch of their own Tucson, Arizona streetwear shop VII GRAND. The nearby University of Arizona star forward, selected 2nd overall in the 2011 NBA Draft, and Escalante, an Air Force vet born and raised in the area, quickly became close friends after meeting during Derrick's freshman year at the school.
The shop held its grand opening party this past Friday, with Derrick in attendance thanks to the league's All-Star Weekend break. As you may know, footwear and apparel brands often won't grant an account until a store has been up and running on its own for a season or two, but the VII GRAND team is already ahead of the curve, with a brand list including UNDFTD, Stussy, 10 Deep, The Hundreds, Hall of Fame, In4mation, Vans, Puma and Asics. They also had a variety of exclusive VII GRAND-branded tees and hats on hand for the opening weekend festivities.
Read ahead for a wide-ranging chat with Derrick and Mario, highlighting how the concept of opening up their own streetwear store first came about and the challenges and hurdles that came about along the way. We also had to touch on their favorite athletes and sneakers growing up, what they hope to bring to the Tucson scene, and of course, Derrick's favorite shoes that he's worn so far this season.
Stay tuned for the launch of VIIGRAND.com soon, and keep up to date with the crew at @VIIGRAND on Instagram and on Twitter.
VII GRAND is located at 178 E Broadway Street in Tucson, Arizona. Open Noon to 7 PM Monday through Saturday.
Mario: When Derrick was out here in Tucson, we just had mutual friends, and I knew Jamelle [Horne], who was on the team. We would just hang out, and Derrick and I would always talk sneakers. He'd ask me about what shoes were coming out, and really because of sneakers, we ended up becoming really good friends throughout the year.
Derrick: For me, obviously Jordans, but I'd also really have to say Penny. I wasn't really around for when he first came into the league, but I really started following his whole career as I got older and around eight or nine. Personally, I think he has the dopest kicks. Him and Jordan, to me, are at the top. Just growing up, with Penny being one of the best players in the league during his time, he was one of my favorites. Shawn Kemp was also so athletic and it's great to see his kicks coming out again as well. AI also coming up and really changing the game of basketball was also huge. I'd probably say those three to be honest. Penny, AI and Shawn Kemp.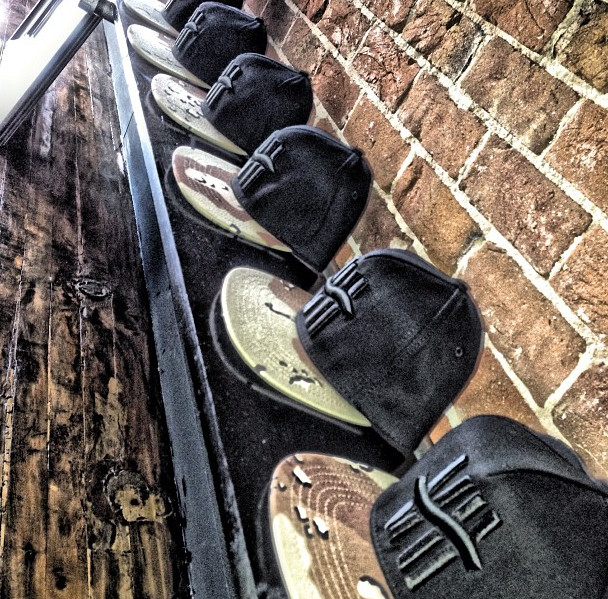 Mario: Well I'm older than Derrick. I'm 30. My first pair of good shoes was the Jordan VII Bordeaux. At the time, I was in the 3rd grade and I didn't know anything about Jordans. There was a kid living in my apartment complex that introduced me to Jordans and sneakers. After I got my VIIs, I just became a huge Jordan fan. Then I started to get a new one every so often, and I got the IXs next. Once I got to junior high, that's when Penny started dropping stuff, and Charles Barkley was putting out great sneakers with Nike. It's interesting too, because at that time, that's also when football players had sneakers and they started to become more popular. Deion Sanders and Emmitt Smith had great shoes too, and that's what really made me a fan of sneakers. Everyone that was big had their own shoe, and that made that time so exciting.
Mario: Barry Sanders too, and we would actually play football in those shoes. It wasn't like now, where people just wear them here and there. We would wear them every day, to school, for football and everything.
Mario: It's something I always wanted to do, but it was in the back of my mind and I'd say, "Well, it's probably never going to happen, but it'd be dope if it did happen." I was actually in the Air Force for six years, and this summer I started to look into a business loan through our veterans association. I wanted to start my own small business, and I had the business plan all done and everything. I had mentioned it to Derrick, and I said, "Out of all the people you know, who do you think could be involved in running a successful sneaker shop." He said, "Probably you or Paul George." [laughs] We talked about a lot ideas, just as friends, and that gave me the assurance to go forward with it. Then, he started to pick my brain even more and he was asking me about the store, and he mentioned that he'd actually like to get involved and that it was something that he wanted to do. We kept talking, and figured we'd try and work on something together.
DW: Man. [laughs] I've been pitched so many things. From investing in different energy drinks to anything you can think of. Really. It's just crazy.
DW: Not even. Just within a year and a half really. Growing up, and then once I got drafted, my mom just said, "Take care of you first. Then, worry about us in your immediate family and you're good." Personally, I used to always save up my lunch money just to get some kicks. I'd save my whole twenty bucks every week to always try and get whatever the newest shoe coming out was. My mom got real mad when she found out I was doing that. [laughs] I just thought though that it'd be a good investment. If it goes well – which I know it's going to go well – then it's going to be exciting. Just being into shoes and clothing growing up, I thought it was a good idea and one of my best friends is running the shop, but he's also a partner and really wants to do it right. I think that's when people go wrong. Sometimes people just invest in things, and they're not really two feet in. That's the difference between this store and what some other guys invest in. I'm two feet in and I really want to be apart of it. I want to have a lot of input on the whole organization and the whole operation. Being able to put everyone's thoughts into it has been great. It's not just my store, or Mario's or our other friend Marcus. It's everyone's input and we want to have the best stuff out there. I've always wanted to do something like this, and it's a matter of having the right timing and the right planning to do it.
DW: Yeah, I spoke to quite a few of my teammates, like JJ [Barea], Greg Stiemsma, Lou Amundson and all of the guys that I'm really close with. They're always looking out for the best for me, and I'm still the youngest on the team. I'm putting in the time and effort, and also some money for it, and I'm like a little brother to them here. They were always asking me, "How much are you putting in? What's your overall plan? What are you guys going to be carrying? Is that a good fit for this market?" Things like that. Having those guys ask me questions and really discussing everything just reassured that they're not just looking out for me on the court, they're looking out for me off the court too. That's the great thing about having teammates like that.
Mario: Being in Tucson, and Arizona in general, there's really not much to offer in terms of this type of store. I went out to LA to visit Derrick a couple times this summer, and we'd hit up Fairfax, Sportie LA and a ton of different stores. You can get a general feel for what stores like this feel like, and then we wanted to add our own flair and taste to it. When I went looking for a location, I didn't want it to be in a strip mall. I wanted it to be an older looking building, and anything that wasn't a strip mall. I just thought that would take away from the character of the game. I wanted something that was open and the exposed brick was something that I had in mind all along. I would send pictures to Derrick all the time from different stores to get his thoughts. We looked at everything that was out there and then came up with the look. It was Derrick's idea to have some great vintage posters all around. I really just wanted to have people that are relevant to signature sneakers represented, so you'll see Jordan, Penny, Griffey, Deion Sanders and other guys that had their own line of shoes. I didn't want to have a random athlete up there. I was telling Derrick yesterday, just after being here all the time now. It just reminds me of a great bedroom where you'd store all your kicks. You have the posters up, the XBox, the flatscreen and it has that feel to it.
Mario: Right off the top, we had discussed what kind of brands we wanted to carry. Through a mutual friend, we got in touch with Curtis Brown, and he's the founder of Dunkxchange. To be honest with you, for awhile there, we had nothing. I was contacting brands and they would say, "Well, you've got to have the store open before we begin to talk about carrying an account."
Mario: Exactly, and they weren't taking us seriously. After talking to Curtis, he invited me out to the Agenda tradeshow in Long Beach. Curtis introduced me to a lot of good people there, and we came out with pretty much everything we wanted. He knows so many people, and a lot of people put their trust in him and they know he's a good person and knows what he's doing. That helped us out, and he's part of our team now. For people that are looking to do their own store, that's a big piece. When you're looking for brands to carry, it's really about who you know.
Mario: The sneaker part is pretty difficult. I understand that Nike has a million people knocking on their door for an account, and so they have to be real selective. Right now, we've got a Vans Syndicate account, and a Puma account and will carry their best Suedes and Clydes. We've also got an Asics Platinum account to get their limited Gel Lytes, Sagas and collabs. We are working on Nike, adidas Originals and Reebok Classics. The whole point is to bring exclusive sneakers to the city here, and we're going to make that happen here.
Mario: The school has so much great history, and we're going to pay tribute to all of those guys. Obviously Derrick was a big part here, and there's things in the works to have the '97 championship team come out too. There are a lot of things that still need to be done, but we're looking forward to paying tribute to Arizona Basketball as much as we can. When Bibby wore the Foamposites for the first time, I was just going crazy over them.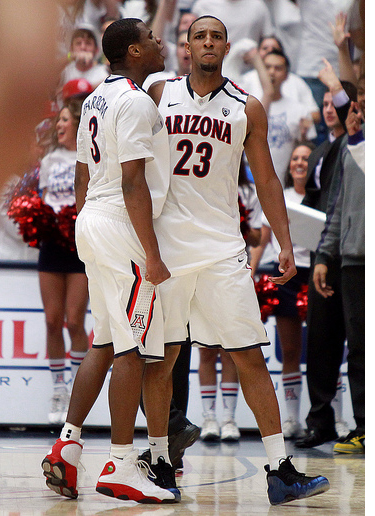 [everyone laughs]
Derrick: I heard once that Bibby actually had them before Penny.
Mario: The thing that was crazy around here, was even before the championship game, Bibby, Michael Dickerson and Miles Simon all had their pairs and they were wearing them around campus too. I'll never forget when they did an event at the McKale Center before they took off to play in the Final Four, and Michael Dickerson had these crazy blue shoes on. That was the first time I saw them. I just remember saying, "Man, what the hell are those?" [laughs] You know, you couldn't even tell they had a Swoosh at first, and you didn't even know what they were. Finally, I found out, and it's a funny story. I had just gotten the Playoff Jordan XIIs. I wore them one time.
Then, the Foams came out at Foot Locker, and the only thing I said was, "Man, I need those Foamposites!! I need those Pennys." [laughs] I went right to Foot Locker and exchanged my XIIs for them, and the guy was like, "Man, you wore these!" He was looking at the bottom and everything, and I'm like, "Nah man! I swear I didn't wear them." [laughs] They were $180 bucks, and my dad paid the difference, and it was the best thing ever. Everyone was always saying, "Yo, Mario has those Pennys!" It was just crazy 'cause nobody had them.
[everyone laughs]
Mario: People were calling them space shoes and everything, and they're one of my favorite shoes. I was telling Derrick, when they had the "white out" game here at Arizona, I just said, "You have to bring out the blue Foams."
Derrick: Well, I was a little too young when they first wore them. I think I was six when they first wore them. [laughs] But having Mario as a friend when I was in school, he really helped me decide on a game-to-game basis what I should wear during the season. I remember it to this day when he said the blue Foams were coming out at 12 o'clock midnight online. You know, this was before you had to RSVP and do all kinds of stuff to try and get the shoes. [laughs]
I was sitting there online right when it hit twelve on Nike Store, and I actually got two of them. To this day, I've only worn them one time, and that was in the game against Washington. Maybe we'll put those up for auction at the store one day, since that was one of the best games I ever had at the McKale Center and the shoe means so much to the school. That's my favorite memory in a pair of shoes. Even more than bringing out the Galaxy Rookies, original Flight One or the other stuff that I've worn.
Derrick: I've really been trying to do different things. I'm always asking friends what I should wear. People are asking me what I have in my closet, and I'll ask you and Mario what I should wear for games. I've even been doing a fan vote on Instagram and letting my followers decide sometimes on what I should wear too. My favorite shoes so far this season would probably be the Galaxy Rookies that I wore, and also the Motorsports XX3s. I think I caught a lot of people by surprise with those.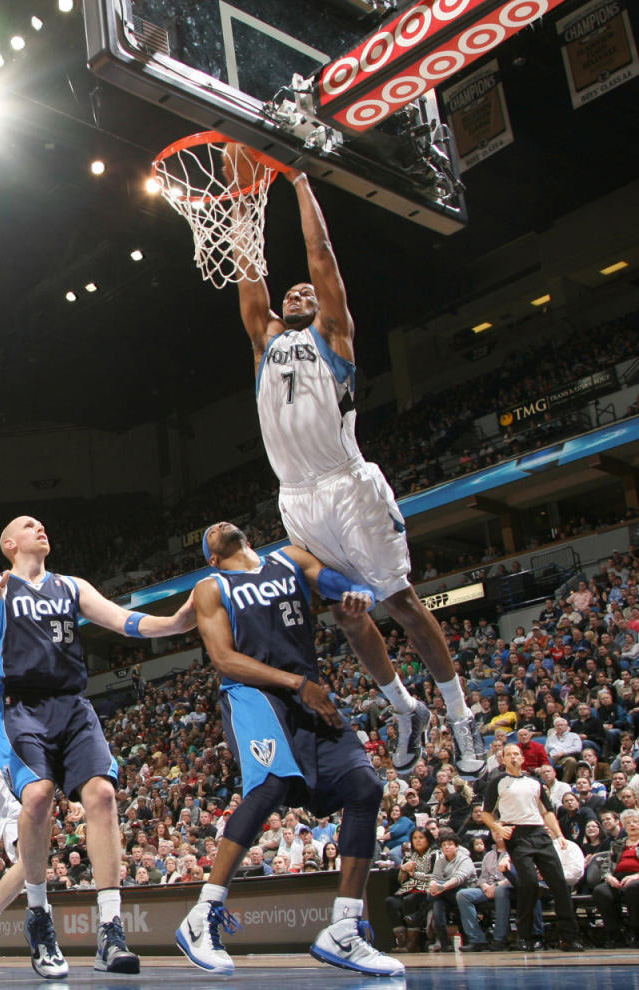 Those two are my favorites, but I also just have a lot of stuff I like that matches. Like the original white and blue XVIIs and some Pennys. I'm not really that guy that will wear the Cool Grey IXs the day before they come out or something like that. That's not my thing. I'll try and wear things that people normally might not have. Not too many people have worn the Penny IIs or the XXs in a while. I just try and set myself apart from other people.
Mario: For me, I would just always hear people say "Never give up," and "Always follow your dreams." You'd always hear that saying and be like, "Oh, whatever." But it's true though. If you keep pursuing something, you really can make it happen. As far as actually opening up a sneaker shop, it's a lot of hard work. I've been working really hard to get this shop open, and dealing with pressure, deadlines, going to get permits from the city, dealing with financial and tax paperwork. It's not easy at all, but if you have a passion for it, it's something that you can make happen if you really get after it.
Derrick: This offseason, I'm going to be in LA training most of the time, but I'm also going to be working out at Arizona and also finishing up my degree. They have a great strength coach and head coach there, so I can get away from home for a little bit and be in Tucson where I have a lot of history and the people there are so great to me. I'm going to try and get to Tucson every other weekend if possible and be at the shop helping out.
Mario: Working on the registers!
[everyone laughs]
Derrick: I'm going to be doing a little bit of everything, and I think Mario is going to do a great job with it. I wouldn't put him in that situation if I didn't think so, and I wouldn't put myself in that situation either. I think it's going to turn out really well. I think Tucson really needed it, and we're excited to provide people with everything that they need. From college students to high school kids, and even the other day, I had a guy on Instagram that was in his early 30s, and he just said, "Thank you for putting something like this in our city. We finally will have something that appeals to myself and people into this culture." It was great to see, and I really think it's going to turn out well.
Derrick: I had to get some Yeezys man! [laughs]
Mario: We did that under my account actually. [laughs] He didn't have a screenname yet. I've just always been one of those guys that's been after every online release on Nike.com and now it's even tougher with the RSVP process. Knowing how hard it is for people here in Tucson to get things, because our only options are really Champs and Foot Locker. At the same time, if someone wants Yeezys or something more exclusive, we're hoping that we can provide that down the road. Just knowing what it takes to make this happen, it's been great, because we're really doing this for the city because there's nothing like it here.