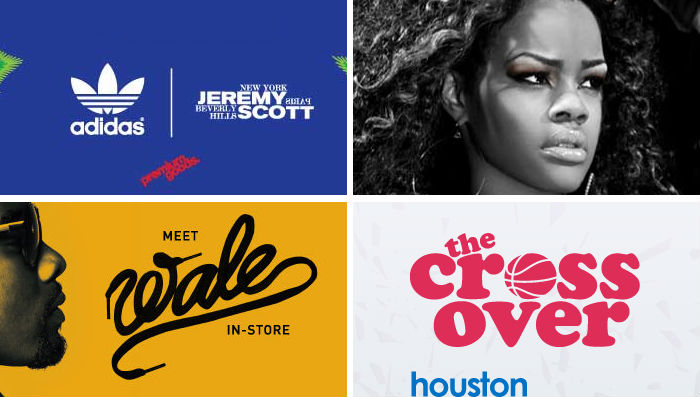 words // Brandon Richard
Celebrating NBA All-Star Weekend, adidas Originals is hosting a series of events and activations beginning today with the Grand Opening of Originals Collective, a collaboration with Footaction.
Additionally, Originals and Jeremy Scott are launching a special edition pair of JS Wings during an event at Premium Goods. The Wings celebrate Jeremy's close friendship with Eason Chan and feature rich colors and luxurious silks to capture the essence of Eason's Hong Kong home.
Tomorrow at the adidas Brand Concept store in the Houston Galleria Mall, Originals will be joined by Teyana Taylor to launch her highly-anticipated Harlem GLC shoe.
"adidas is original, Teyana is an original. It's a perfect collab," said Teyana Taylor, singer-songwriter signed to Kanye West's G.O.O.D. Music label. "I have big respect for adidas Originals so this is a big deal for me. I am honored that they believe in me. It means a lot that adidas Originals would trust me with their brand and sneaker," she said. "I'm from a planet called Harlem, where dreams do come true."
On Saturday, a limited run of the TS Lite AMR "Trophy Hunter" will launch at the Houston Galleria Shiekh. Maybach Music Group's Wale will be hosting the event.
Capping off the weekend is "The Cross Over," a daytime party with a special lineup of all-star DJs. The event will feature appearances by DJs Clark Kent, Mick Boogie, Neil Armstrong and Waldorules among others.
If you're in Houston and are interested in attending any of these events, be sure to check out the flyers below for more information.
Head over to adidas.com/NBAallstar for more information on these events and product releases.