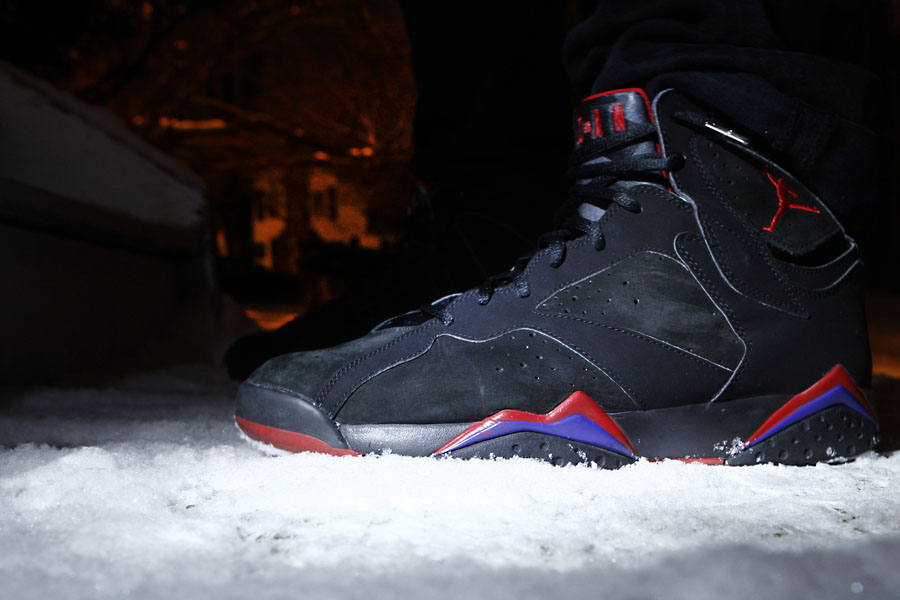 words and image // Zac Dubasik
In honor of Jordan Brand's #XX8DaysOfFlight campaign, and the upcoming release of the Air Jordan XX8, I was asked to share a story on the Air Jordan that means the most to me. Day seven of the campaign means it's time for the Air Jordan VII.
From the night I walked up to bed as a six-year-old and saw a poster of Michael Jordan hanging on my wall, I've been into sneakers. I didn't even know who MJ was at the time, but my dad (remember him - he's an important part of this story) told me he was the best new basketball player out. I didn't know what Air Jordans were either, but the black, white and red sneakers he had on jumped out at me immediately.
Over the next couple of years, I started paying more attention to Michael Jordan, and the sneakers he was wearing. I already had the poster, so I figured I might as well get familiar! I remember my first time seeing a pair of Air Jordans in person - original white and cement IIIs at the local Army Navy shop, of all places. I was such a fan at that point that my grandparents got me a membership to the long-extinct Air Jordan Flight Club. While that didn't include a pair of Jordans, it did come with a t-shirt, and a full-size poster of the famous "Playground" shot, which I still have to this day.
My first flirtation with actually having a pair came with the Air Jordan IV. It's a long story, but thanks to an unnecessary delay, I just missed getting a pair of Fire Reds on sale at JC Penney. The first pair I actually did "acquire" though was the Grape Vs ... though my time with them was brief. In the summer of 1991, after the VIs had already released, I talked a friend into a blockbuster trade involving two Sega Genesis games, and a pair of mostly new Reebok Pumps, in exchange for his well-worn Grape Vs. Which were a size too small. Unfortunately, his mom stepped in shortly after the trade went down, and we were forced to trade back. "Basketball reasons" I guess.
Not too long after that, the Air Jordan VII released. And the VII holds quite a few unique distinctions. For one, it was the first Air Jordan to lose the Swoosh. The line had taken on such an identity of its own at that point that it was felt it could grow even without the Nike branding. It may best be remembered though as being on the feet of MJ on the original Dream Team. Despite featuring silver prominently on the upper, the Olympic colorway of the Air Jordan VII remains one of the most important and popular in the history of the line.
For me though, there was a different kind of significance that made the VII my favorite Jordan ever. My dad had them. It was as simple as that. And he didn't "have" black and red VIIs they way I had those Grape Vs either. He actually bought them. New. In the box. And of course on sale, because that was actually possibly back then.
I've always been close with my dad, and still am. On top of being a great dad, he was my baseball coach. He coached my 6th grade city league basketball team. And he was always a great friend. To see him finally get a pair of Air Jordans was the coolest thing in the world at the time to me. He was, after all, the one that introduced me to MJ in the first place with that poster. I already knew he was the best dad ever. But him wearing a pair of Jordans? He was the coolest too.
Be sure to check out www.ajxx8.com to share your own pictures and stories.