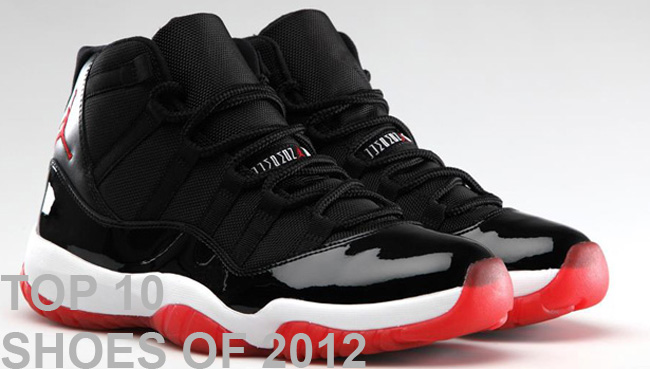 words // Steve Jaconetta
2012 was another amazing year of footwear. The return of many fan favorites including the Air Jordan X and Nike Air Flight One. A great variety of different collections including the "Olympic Pack" and the "All-Star Pack" to name a few. We celebrated the 30th Anniversary of the Nike Air Force 1 and Sole Collector took the game to a new level with our latest collaborative effort with Nike. Oh yeah, there's also the Nike Air Yeezy 2. With some crazy releases kicking things off in the beginning of the year and not slowing down as 2012 came to a close, one can only image what's in store for 2013.
To celebrate all the releases of 2012 I have chosen my Top 10 for you all to enjoy. Take a look and see if any of the pairs I picked are on your list.
10. Nike Air Yeezy 2
Whether you hate him or you love him, there's no denying Kanye West's huge following within the sneaker community. In 2009 it all started with the Nike Air Yeezy. Fast forward to 2012 and we got the Nike Air Yeezy 2.
One of the most hyped up releases, they were easily one of the biggest footwear releases of the year. Two colorways dropped with people camping out in some places for weeks. A random unannounced drop via Nike's online store had people following their official Twitter page all day without blinking in fear they might miss the link to purchase these coveted kicks. I for one attempted to get in on this release but like the majority of us out there, I wasn't successful. Either way, there's no denying that if you go above the hype, the Nike Air Yeezy 2 is a great looking sneaker. While both colorways are nice if I had to pick one, I prefer the black/solar red pair.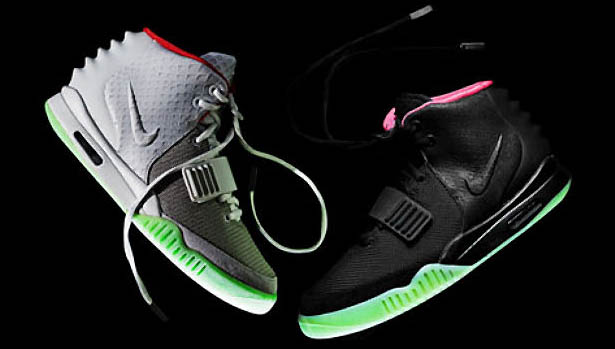 9. Air Jordan 11 Retro Black/Varsity Red
If you know me you know the Air Jordan XI is my all-time favorite sneaker. Ever since I first saw the "Concords" as a kid, they have been my shoe. So, with Jordan Brand releasing an Air Jordan 11 Retro during the holidays the past few years, I have been a happy man, even if I already have a previous release. In 2012 we saw the return of the original black and red colorway. Yes they were just released in 2008 in the CDP, but I for one can never say no to an XI, especially one with soles I don't have to worry about yellowing!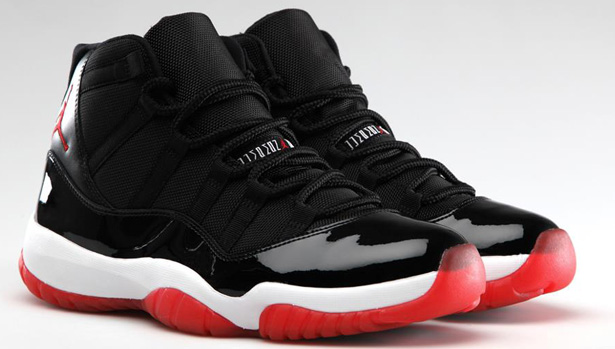 Even though Anfernee "Penny" Hardaway is no longer in the NBA, his legacy still lives on. With the Nike Air Foamposite as hot as ever along with a couple of hybrids under his belt including the Nike Zoom Rookie, the Penny line is showing no signs of slowing down. With the debut of his newest signature shoe in 2012 the Nike Air Penny V, Penny fans also saw the triumphant return of the Nike Air Flight One. After the original "Orlando" colorway and new "Galaxy" edition saw limited releases in February, a few more colorways popped up in late 2012. One of those, the original black and white colorway that Michael Jordan himself wore for a game against Penny and the Orlando Magic during the '95 NBA Playoffs.
When news first broke out that the Nike Air Flight One was finally being retroed in 2012, it quickly jumped to my must have list. While I like all the colorways that have been released, i've already taken a bigger liking to the Black/White pair.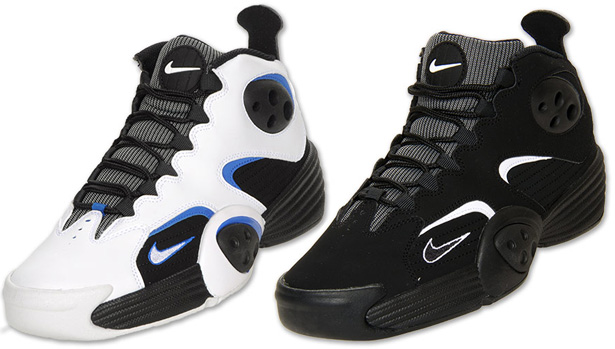 7. Air Jordan 9 Retro DB "Doernbecher"
For the sixth straight year, Jordan Brand continued to support the Doernbecher Children's Hospital with Oswaldo "Pollito" Jimenez's Air Jordan 9 Retro DB. Not only do the proceeds from the sale of these shoes go to a good cause, you also get to learn about the child who designed them. This Air Jordan 9 Retro tells the story of Oswaldo Jimenez, featuring a crazy design as well as use of materials such as a 3M reflective upper and an icy blue translucent outsole. I was fortunate enough to get my hands on a pair of these and let me tell you, pictures do not do this shoe justice. You really need to see these in person to truly experience how great this pair is.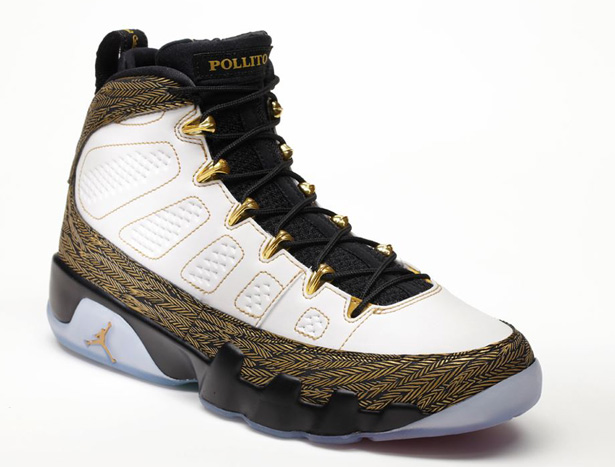 6. Air Jordan 6 Retro "Olympic"
There aren't many Air Jordan Retro colorways that fans savor over except OG's. However there are a few pairs that have made their mark and one of them is the "Olympic" Air Jordan 6 Retro. Originally a limited release in 2000 and worn by Ray Allen during that years summer Olympics, these quickly became one of the most sought after Retros. Fast forward to twelve years later and in celebration of the 20th Anniversary of the "Dream Team," this Air Jordan 6 Retro made its triumphant return. This time with a different color blocking on the midsole and sporting an icy blue translucent outsole, neither difference would stop people from grabbing these up, myself included.
Many people missed out on these years ago but after seeing a general release this year I know many are happy to be able to finally cross these off their list without having to fork out $500+.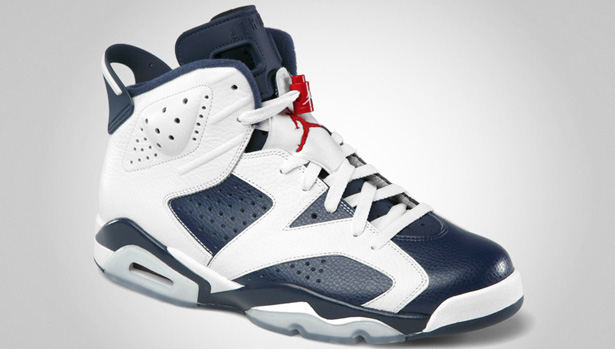 5. Sole Collector x Nike Zoom Rookie "Galaxy"
Ah yes, the Sole Collector x Nike Zoom Rookie "Galaxy". The buzz was created by Gentry Humphrey when he wore a sample version of the "Galaxy" Nike Air Foamposite One at the launch of the SC x NSW Penny Pack in 2011. We saw that Foamposite release in February of 2012 with a different design on the upper and a lot of rumors of a possible "Galaxy" edition of the Rookie to follow. After being unveiled by Penny himself, confirmation that the "Galaxy" Zoom Rookie would release later followed. However, two versions (both different from Penny's sample pair) soon popped up on the internet.
One version featured black pods while another featured glow-in-the-dark pods. Upon further inspection and confirmation, the later of the two was confirmed to be a new collaboration between Sole Collector and Nike Sportswear. Not only do the glow pods add more flavor to these but, the "Remove Before Flight" tongue tags that exposed the SC "Swatch" logo was a great touch. What was even better about these is that their launch was the first of their kind, available exclusively through SC issue 11 on the iPad.
There's no doubt that the Sole Collector x Nike Zoom Rookie "Galaxy" will be talked about for years to come. Here's to looking forward to what's next from SC.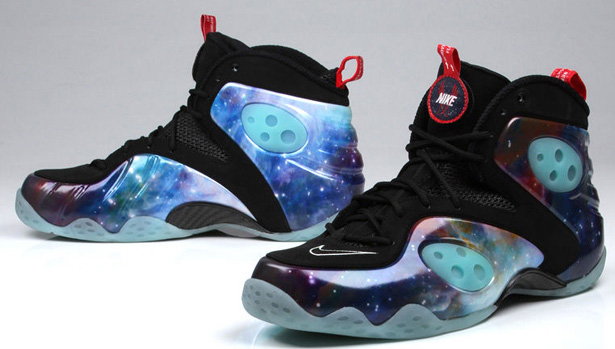 4. Nike LeBron 9 AS "All-Star"
The 2012 NBA All-Star Game took place in Orlando, Florida. With NASA being based there, Nike drew its "Galaxy" inspiration from it. This whole theme has a personal meaning to me that I will touch on more with another shoe. However when these "Big Bang" Nike LeBron 9s were unveiled, I knew I had to have them. The combination of orange and red on the upper along with the glow-in-the-dark outsole really make this pair pop. The lion constellation-like logo on the tongue, galaxy print sockliner and hits of 3M on the upper bring even more out of these. My favorite signature shoe from the 2012 All-Star Pack and they look great on-foot as well.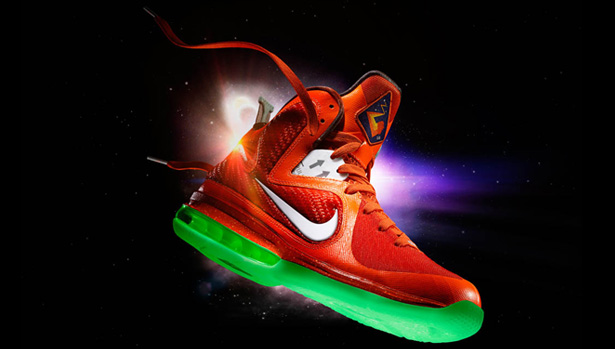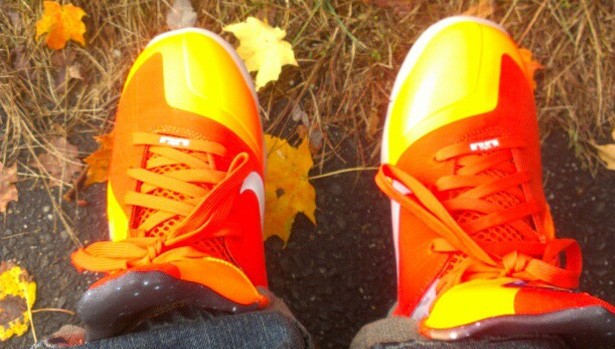 3. Nike Air More Uptempo "Olympic"
I remember the first time I saw the Nike Air More Uptempo in the '90s. Tons of colorways released but a few stand out as my favorites. One of them, the "Olympic" edition originally worn by Scottie Pippen during the 1996 summer Olympics. When news broke that these were being re-released, they jumped to the top of my must-have list much like the Nike Air Flight One did. Even sixteen years after Scottie wore them they still remain one of the most popular sneakers of all time from Nike Basketball. After being a House of Hoops exclusive a few years back, it was nice to see these more available in 2012. Due to this, they became another pair I am happy to say is now a part of my collection.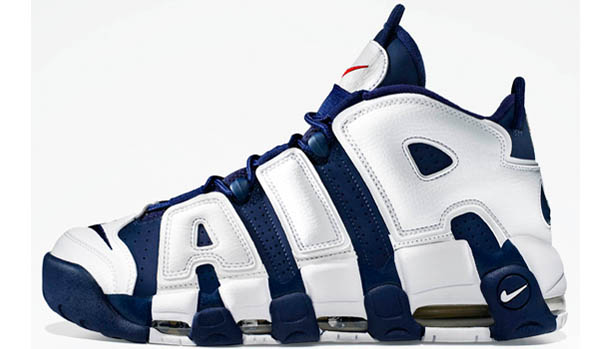 2. Air Jordan 10 Retro "Chicago"
Perhaps the most anticipated Air Jordan return in 2012 was the Air Jordan X. More specifically, the "Chicagos". One of the most coveted pairs of all time, this marked the first retro release for this original colorway, seventeen years later. They kicked things off for 2012 in style as they hit stores in January. The Air Jordan X was my first Air Jordan ever so it will always be a favorite of mine. Getting your hands on an original pair can be pricey even more so if you can find them. While it might be easy for someone to get a hold of a pair of these retros right now, in years to come i'm sure they will be sought after just like the OG's are today even after all these years.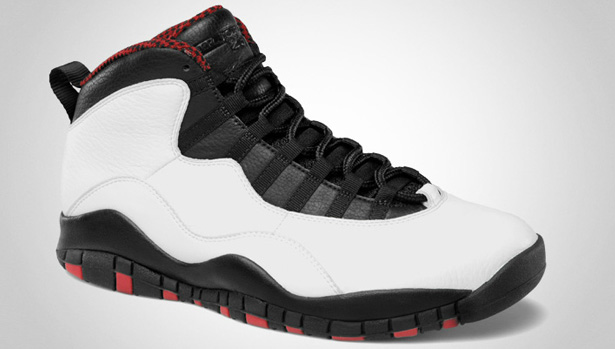 1. Nike Air Foamposite One NRG "Galaxy"
As you can see from my list, yeahi'm a Jordan guy. But in 2012, it wasn't an Air Jordan that made it to #1 on my list. It is the "Galaxy Nike Air Foamposite One. Now I know this was one of the most hyped up releases of the year but, they mean a lot more to me than that.
The whole NASA, space and "Galaxy" theme has a very personal meaning to me. When I was a kid, I loved space and everything to do with it. My grandfather worked for NASA. When I was in first grade, we had show and tell. Now I didn't know this then, but my grandfather was dying of cancer. He wanted to do something for me before he passed away and as I was big into space, he brought a space suit in to my class and is one of the most memorable moments in my life. Even after all these years, I still cherish that memory and my love of space has never gone away. Whenever I think of it I think of him and it's a connection I will always have even if he isn't here with me.
So when the information came out that the 2012 NBA All-Star collection from Nike was going to be inspired by space, my interest level was peaked. I personally enjoy the whole collection however, the "Galaxy" Nike Air Foamposite One is my personal favorite. I love the Nike Foamposite as many do and to have a pair inspired by something that has a personal meaning to me made them the number one must-have sneaker for me of 2012. Super limited and not releasing online, my chances of getting a pair of these (for a reasonable price) was getting smaller by the minute. But somehow, I was able to get my hands on a pair of them and they are a pair I will never get rid of.
So in honor of my grandfather and our shared love of space, the "Galaxy" Nike Air Foamposite One is one of my favorite pairs of all time in my collection. I have them right next to a picture of myself and my grandfather with the space suit from my first grade show and tell and every time I wear them (yes, I do wear them) I do it with pride.