words // Zac Dubasik
Even though we aren't on the metric system here in the U.S., we tend to view things in 10s with special significance. Sure, it's only one more than nine, and one less than 11, but something about 10 carries a more tangible weight. So, even though it's only been a year longer than it was last season, realizing that LeBron James has now been in the League for 10 years seems like a long time.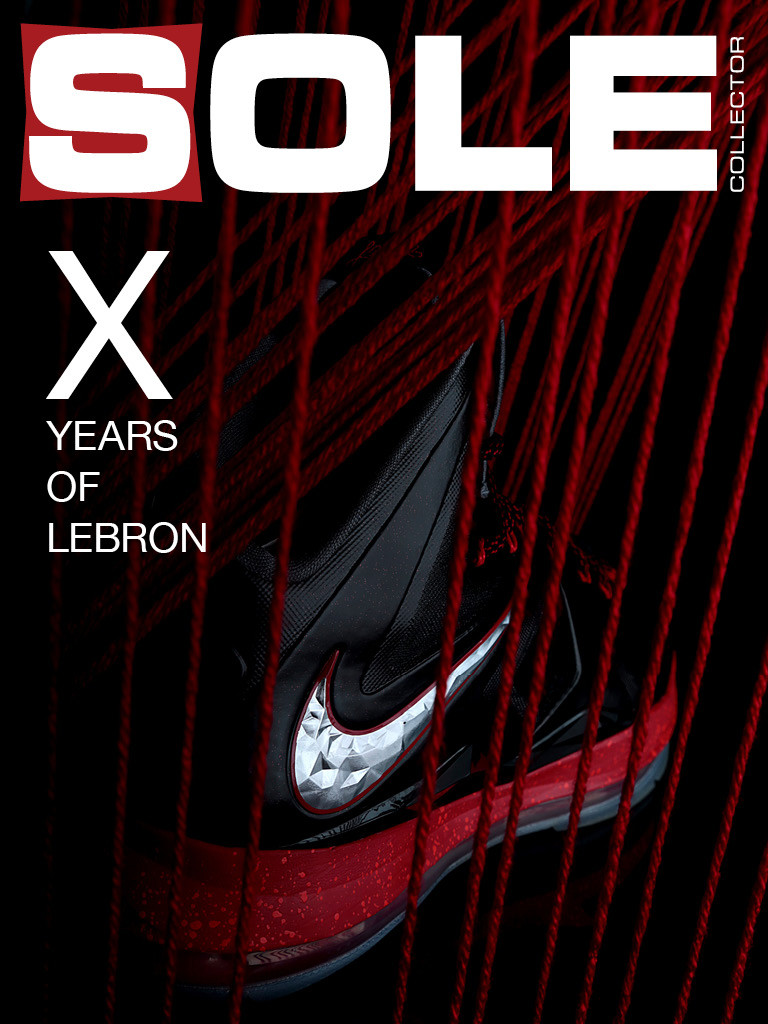 Back in his rookie season, it quickly became obvious that LeBron was going to have a special career. We didn't know how soon, or how many, there'd be when it came to things like titles and MVPs, but it almost seemed like a given that those would come. He was just too good for them not to. Those who believed would eventually be right, although the road has been much rockier at times than expected.
Knowing that Lebron's had a signature shoe since the beginning means it's also his line's 10th anniversary. And in honor of that milestone, we've got a look back at each model of his line, remembering what exactly happened in each model. We've also got a look at his latest and most innovative shoe yet: the LeBron X.
LeBron isn't the only member of the Heat with a notable new sneaker either. His teammate Dwyane Wade made major waves this fall with the announcement of his signing with Chinese-based brand Li-Ning. We have an exclusive interview with Director of Basketball Brian Cupps, offering us a look at the brand's direction.
We also have a special interview with Tinker Hatfield on Jordan Brand's relationship with the University of Oregon football. If you ever want to get your hands on a pair, making the team might be your only chance. And even then, you might not even get to keep 'em.
You'll also find a great look at LA's top vintage sports store, And Still, along with interviews with Dave Dombrow and Gabe Heller, breaking down the UA Cam Trainer and adiPower Howard 3, respectively.
Whether or not LeBron has lived up to your expectations in these past 10 years, I think we can all agree that he's far from done. He has quite a resume built up already, but something tells us that the best is yet to come.
IN THIS ISSUE //
WDYWT | The best of what our Forum members wore
Focus : Shop | A look at LA's And Still and interview with shop owner Kirk Tilton
adipower Howard 3 | Gabe Heller of adidas breaks down Dwight's newest signature model
UA Cam Highlight Trainer | Designer Dave Dombrow details Cam Newton's first signature shoe
Li-Ning Going Forward | Exclusive interview with Brian Cupps, Director of Basketball, on future of Li-Ning
For Doug, From Tinker | Tinker Hatfield's emotional dedication of this year's "Oregon" Air Jordan IV
Kenny Farr | Interview with University of Oregon Football Equipment Manager and a look at the team's exclusive Jordans
Nike LeBron X | A breakdown of LeBron's newest and most tech-packed signature model yet.
X Years of LeBron | A detailed retrospective of each past LeBron model, with classic game shots and detailed photography.
To Download: Search "Sole Magazine" in the Apple iPad Newsstand, install and purchase "SOLE COLLECTOR : Issue 13"
Check here for more on recent Sole Collector iPad Issues.