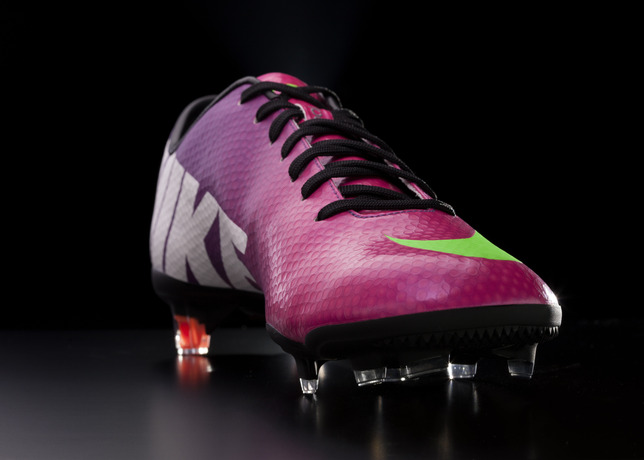 words // Brennan Hiro Williams
Nike officially unveiled the new Mercurial Vapor IX today, a high-tech football boot featuring Speed Control and All Conditions Control technology (not to mention two striking debut colorways):
The Mercurial Vapor IX is engineered with a completely new upper to deliver a level of support and touch for players to deliver a deadly combination of speed and skill when it matters most. Nike's new Speed Control texture on the upper gives players the confidence to perform at speed with enhanced friction that combines with a snug and responsive fit -- a hallmark of Mercurial boots. The Speed Control texture wraps around the foot, giving the boot friction when necessary without compromising on the soft touch the player requires. The upper also locks down the foot and prevents unnecessary movement within the boot, while a minimal and soft heel area maximizes comfort and therefore the performance of those wearing them.

Nike's innovative All Conditions Control (ACC) technology further aids performance; the special treatment now used on all Nike boots ensures a consistent touch whether playing in wet or dry weather.

Traction is everything for the player who relies on explosive speed and who wears the Mercurial Vapor IX. Twin studs at the back allow for a quick release from the turf, and the asymmetric design of the stud configuration delivers an explosive start. Highly responsive blades also allow for game-altering changes in direction at speed.

The Mercurial Vapor IX features a unique, lightweight plate, incorporating two different pieces of glass fiber that increase flexibility and responsiveness, providing energy return in the heat of the game.

Since its original launch over 10 years ago, the Mercurial has always stood out. Bold and exciting, the boot's color and design has always ensured its players are noticed. The new Vapor IX is no different. Featured in striking fireberry and sunset colorways, the boot makes a bold statement on pitch. Both colorways will be available for pre-order on January 18 and on January 31 at Nike.com and retailers worldwide.
Take a closer look at the new Nike Mercurial Vapor IX below: