words, interview & photography // Steve Mullholand

For more on the "Oregon" Jordan IV, check out Issue 42 of Sole Collector Magazine featuring Tinker Hatfield on the cover, arriving at Foot Locker and newsstands in the coming weeks.
The fall drive from Portland down to Eugene was filled with the typical heavy grey clouds Oregonians are used to -- just enough rain to require the windshield wipers to be on, but not enough to ease that damn squeaking noise.
But as fate would have it, with about ten miles to go, the sky was opening up with a grand volt yellow piercing through what was a dreary scene. It was just what I needed, as I was headed to Autzen Stadium to photograph Kenny Farr, Equipment Manager for the University of Oregon Football Team.
On that Thursday, just the right amount of light helped to fill the very impressive, yet quietly empty stadium. Little did I know that the equipment room, filled with endless game day options for the Ducks, and Kenny's passion for the school and team, was actually going to be more impressive than walking into that stadium.
Steve Mullholand: How long have you been working with the team and how long have you been with the Ducks program?
KF: This is my tenth year in total. Five years as a student and five years on staff now. It's unbelievable. This is where I went to school, so obviously I have a lot of pride for this place. It's just a tremendous opportunity as an equipment guy, because when you work with Nike as a partner, you get the best of the best and we have a lot of great friendships with the guys up there in Beaverton. We do what we can for them because they do everything for us.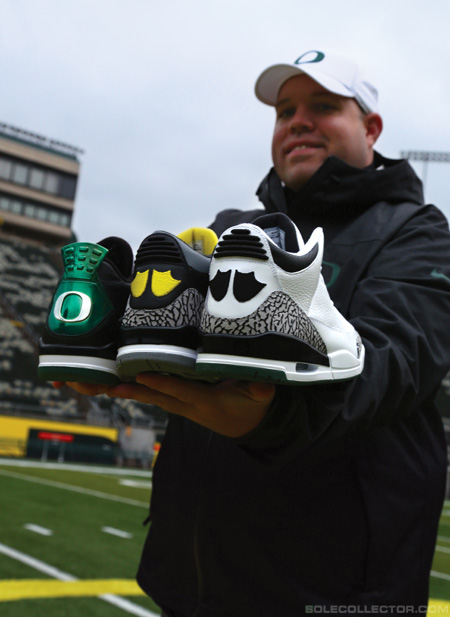 SM: What's it like working with Tinker?
KF: He's great. Even before I got to know him, I had always heard about who Tinker Hatfield was because of Michael Jordan. Getting to exchange emails with him and talk to him is great because he's just such an unbelievably humble and nice guy. It's really awesome, and the best part is, there's a lot of people at Nike that are just like that. Todd Van Horne [Creative Director for Football] and so many other people are just great and they want nothing but the best for the University of Oregon.
SM: How great is it to have that relationship with Nike? It's a real special connection for this school in particular.
KF: It's the envy of all the other schools, because we have a great alumni base that founded the company, and we have a lot of Ducks that work up in Beaverton. They make sure that we're taken care of, and we're so appreciative because they take care of all of our sports teams. Our guys are in the best stuff all of the time, and not only in terms of performance. Aesthetics too, and they always look the best. That's what this school has become known for. We're built on almost not having tradition, because everything is new and fresh and there's no limits to what we might try and what we might do.
SM: Can you remember any specific comments from players regarding the uniforms?

KF: Oh yeah, and I know some of our players will go out and on the first play of the game, guys on the other team will say, "Man, that helmet is so cool." [laughs] A few of our offensive lineman have told me that they're going out there thinking "I'm ready to kick your butt," and the next thing they know, the opposing guy is commenting on their uniform. Teams sometimes come here and they're already beaten, because they're paying attention to everything else.
SM: Serious question. How the hell do you keep track of all of these uniform options?
KF: You know what, there's a method to the madness. We have a great crew of student managers and a great equipment staff, and we all work together to sort it out somehow. [laughs] There's not really a science to it, but there's a lot of checklists, a lot of planning and a lot of organization.
SM: How many options do you actually have?

KF: We offer five game helmets, six jerseys and six pants. [laughs] This year, we have four different colorways of footwear and four different socks. There's a lot of moving parts, but we store it wherever we can, hopefully keep it organized, and then when it's game day we'll be ready to go and look good on Saturdays.
SM: Have you talked to any other equipment managers from other schools, and what kind of comments have they given you?
KF: Sure, and a lot of what I get personally is, "Man, I don't know how you do it." [laughs] I've never worked at another school, so to be honest with you, I've never known anything else and I don't know what one helmet and just a home and away jersey would be like to deal with. I don't have any concept of what that's like, so it's business as usual around here, and one thing I've learned is that there's always something cool that Nike is bringing to us, and that's exciting. I'd much rather have it where we're on the forefront of pushing the envelope as far as uniforms and equipment, than maybe having an easier job but being the last guys to get things and sticking to tradition.
SM: What was your expectation of how the team was going to respond when you heard they were getting exclusive Jordans?

KF: When we first got them originally, there had always been rumors that we might. I know the feedback that our coaches gave our Nike reps was that our guys really loved Jordan and they'd love to be in some Jordan stuff. In 2010, they did the IXs for us when we went to the national championship game. It was just an unbelievable response and guys were just so happy. These kids have all grown up loving Jordan Brand and Air Jordans, and Nike in general. To get something that's exclusive that they just get, that's exactly why they're so happy. When they're getting off of busses or airplanes, they're seriously trying not to crease their shoes. Coach doesn't want them to worry so much about their shoes [laughs], but that's the reality of it. Each day we've given a new Jordan out to the guys, it's the happiest I've ever seen them. They're just all unbelievably joyous about how they look, what they represent, and just how it's one of those things that makes being a football player at the University of Oregon a special privilege.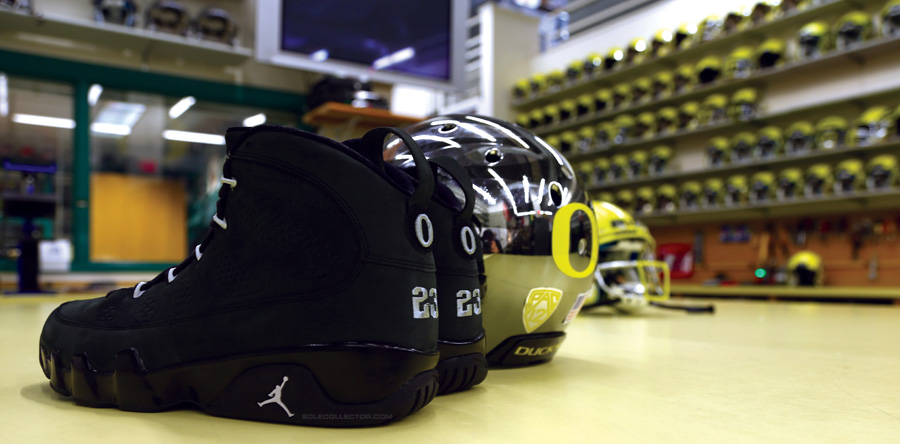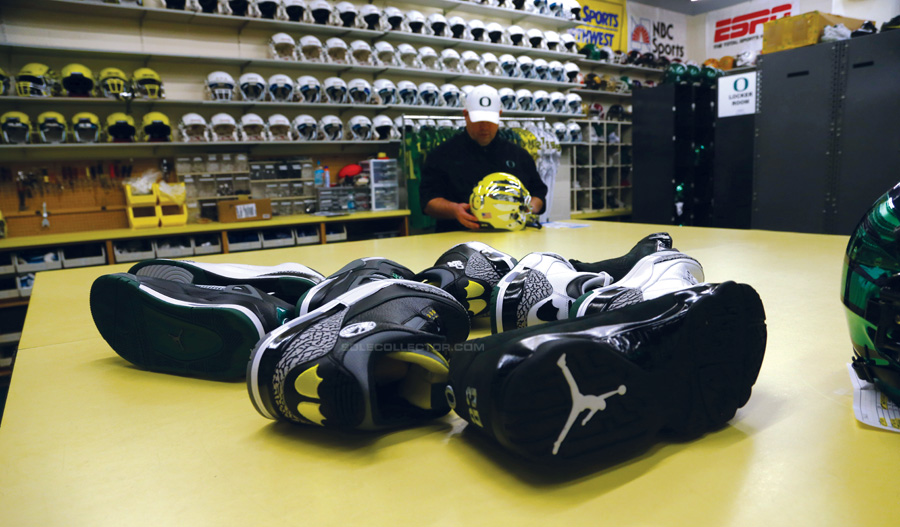 SM: When you gave the Jordan IIIs to the players last year, what was their reaction?
KF: Oh, they loved it. It was the same thing, and it was a surprise. They had never seen anything like it. The year before, we did all stealth black IXs and that was really cool and we wore them to the national championship game. Obviously, IIIs, IVs and XIs are really popular shoes amongst our guys, so when they saw that we had IIIs and they were all white with the duck feet logo on the back and the 'O' on the tongue, it was just something that they had never seen before, and something that guys that know shoes thought was just unbelievable.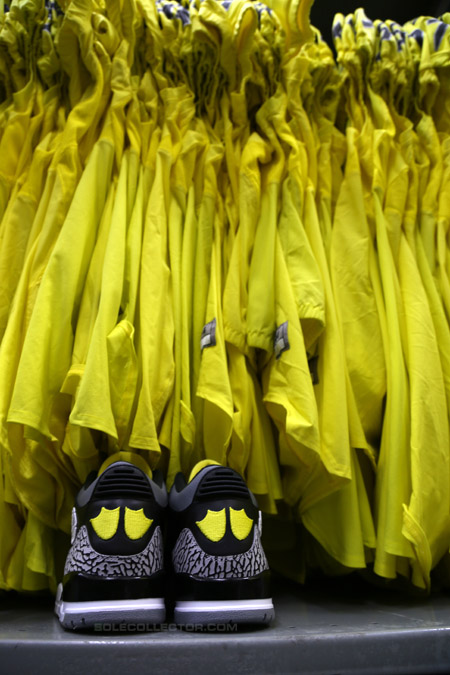 SM: Tinker mentioned the check-in process that you have for their Jordans during the season. You have a full inventory here for them?
KF: Yeah, and we store them right here in the equipment room and it's as secure as it gets. There's a full alarm system and their Jordans are stored along with their travel sweats and their workout shoes that they'll use over the weekend. We'll issue them to the guys on Thursday if it's an away game and Friday if it's a home game. They'll wear them and then everything is returned on Monday. They get checked off and then we store it, clean them if need be, and then re-issue them the following week.
SM: Tinker was joking to us that when you guys called to ask about this year's shoes, he was like, "Yeah, what shoes?" [laughs] How did that go this year?
KF: It's always a surprise. [laughs] There's always rumors flying around that they're coming in and that we're gonna get another Jordan. This is the fourth pair that we've gotten that were customized for the University of Oregon football team, and there's always a lot of anticipation for it. This year, we didn't do it til the seventh game of the season. It was one of those things where they were real excited at the beginning of the year and people were wondering, "Well, when are we gonna get these things and when are we gonna see them?" Nobody ever gets to see any artwork or anything. One day, they just go to their lockers and they're issued them for our next game. Guys are just falling out of their chairs, they're just so excited. To have something so cool and so special like that is amazing.
SM: What do you think of the Jordan IVs that Tinker did this year?

KF: It's great how they incorporated that green metallic chrome into the heel, and it's just unbelievable with the 'O' on the back in chrome. Obviously, partnering with Tinker is one thing, but what Coach was able to tell us all about his friend Doug McClain was just an awesome story too. Doug really epitomizes what Oregon is all about. He was a die-hard fan, through thick and thin, and his passion about the school and being able to convey that passion to his wife, his kids and his friends is amazing. It's just an awesome story, and that Tinker would dedicate a pair of shoes that are so special like this to his friend was just something. I know that means a lot to people on our team, and hearing that story was really cool.
SM: We always hear different stories behind shoes, but when we heard it from Tinker, it was real emotional. It just goes to show you that all of those people in the stands are real people, and they're able to be inspired by the players, and the players can also take motivation from that. It's just a hell of a story.
KF: Absolutely, and every Saturday at Autzen Stadium is just an unbelievable experience. The passion that our fans have is amazing. We had 45,000 people come to our Spring Game, which is basically just our fifteenth practice and a scrimmage. They love the Ducks here, and it's just an unbelievable experience.
SM: And how did the players react to this pair?

KF: Oh man, the same! [laughs] Now that we've done it for three years now, there's an expectation and guys will be asking me, "Kenny, what are we doing this year?" Honestly, like Tinker had mentioned to you, I really don't know. If I did, I probably wouldn't tell anyone, but I really didn't know. As I started to hear a little bit about this year's, the coaches had all decided to still not tell anyone. The coaches want it to be a reward for these guys, and it's about being a member of the Oregon Football team. It's not about the flash and the shoes and the jerseys. It's about being a great person and athlete first, and then all of that stuff is the icing on the cake after. Our program is built on being a solid person and excelling as an athlete by sacrificing, and that's what Oregon fans represent, and that's what Doug McClain represents for us too. Tinker and the designers at Nike make us look tremendous every Saturday, and we hope to go out and get it done.