words & interview // Nick DePaula
portraits // Jotham Porzio
With Derrick Rose looking forward to a return to the NBA hardwood as the Bulls look to make a playoff push through the Eastern Conference, he'll be wearing a new fine-tuned update to his signature DRose 3 from adidas Basketball.
Designed and crafted around Derrick's insight that he's "sharpening up" for the second half of the season, the new adidas Rose 3.5 was lead by designer Kohei Kanata, Category Footwear Manager Jack Gray, VP of Basketball Lawrence Norman and a host of other folks in product marketing, development and testing at The Village.
To get the full story on the product timeline of the Rose 3.5, which began well over a year ago, we caught up with Jack Gray earlier this week at the adidas Basketball Showroom at their Portland, Oregon US headquarters.
Check out the full inspiration, material executions and performance insights from Derrick that helped to drive the Rose 3.5, which hits stores on January 31st for $160.
Nick DePaula: Moving into the .5 this year, oftentimes you're looking to get lighter and more focused on the run to the playoffs. What were some of the early starting points that you guys were looking to get after here?
Jack Gray: It is the Rose 3.5, but again, as we continue to talk about Derrick Rose product and this move towards premium and signature product, it starts with him. It was 26 months ago that we started the Rose 3, and just having the discussions with him to try and find out more personal details and really add to the 3 were big. When we got to the Rose 3.5, 18 months ago we all sat in this room. It was a little different setup, but Derrick was in town to play the Blazers, and we sat down with him and [his best friend] Randall and BJ [Armstrong, Derrick's agent.] We started to discuss how great the Rose 3 was, but also what the next shoe was going to be.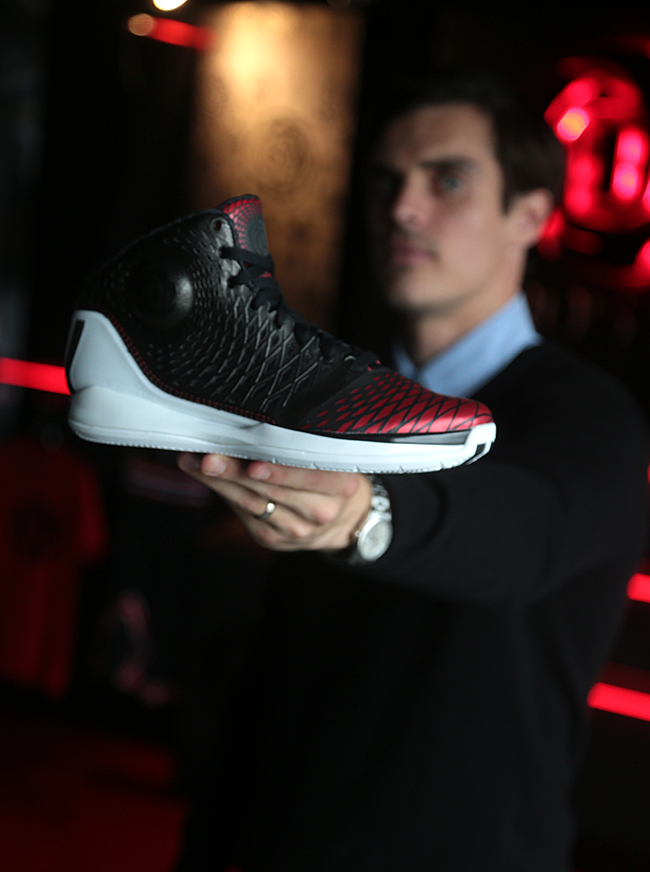 Everything starts with him, but what was that thing that we were going to get out of him? When we talk to Derrick, there's always details from him about how he likes the way it fits or things like that. If you were to take a look back at the 3, it's setting up a performance story with the logo, luxury and everything else, but with the .5, it's more about an attitude. It's about, "What do you want to accomplish?" When we started to talk to him, he kept on saying this phrase over and over and over again. "Sharpening up." He kept on saying, "I'm not supposed to be here," and all of those things that we heard in the [Rose 3] press conference in Chicago, but he kept on saying, "I'm going to take advantage of all of these opportunities. Every time I get on the court, I'm going after the win. My game is just sharpening up. I'm rested, and I'm ready to go after the second half of the season."
That really stuck with Kohei and me, this idea of sharpening up. If you were to take the Rose 3, and when you look at it, it's very luxurious and like a glove, but what would you do if you flipped this shoe? When we talked about the idea of sharpening up, imagine if you were just going to flip this shoe inside out, and take all of the Sprint Web and all of the guts and performance that you had there, and you took it outside. That's where this came into being. It was bringing all of the Sprint Web and instead of having it on the inside, bringing it to the outside, which creates a really iconic visual and makes it very distinct and unique.
NDP: How did that "sharpening" aspect really lend itself to some of the construction details too?
JG: Everything is more precise, and not only just in the molding details, but also the spiral pattern is completely engineered. Getting to more of a technical look. We had a tongue label originally that read, "Inspired by Nature. Designed by Math." It was the idea of Fibonacci and the Golden Ratio. Everything in nature is supposedly built off of a certain equation, and it talks about the Mona Lisa being completely symmetrical because it's built off of this equation. Leonardo Da Vinci did tons of art that was always built off of mathematics. It's the idea that the Rose, when it comes to the petals, it can look so natural, but there's actually a logic and mathematics that goes into it with his three brothers and his number. That's how this idea of the spiral pattern began, and it starts here at the logo on the ankle, almost like the seed of a flower, and then it spirals out from there. Not only is it engineered, but just how detailed it is, and it goes from thick to thin, is something that Kohei and I really talked about. Kohei was literally writing on a sheet pattern in the factory, drawing this out, and every time you move a logo placement or a line, everything changes. When one thing changed, he had to re-do the entire upper and execution. So much went into, and for someone like you, who notices things like the bagginess at the top of the Rose 3 tongue, all of the edges on the 3.5 are really clean and tight and speak to the idea of "sharpening up."
NDP: And is the pattern here all laser cut?
JG: Yeah, and there's a couple different processes going on throughout the shoe. On the vamp, we have what's called a puff print. You puff print TPU onto the forefoot over the toe cap material, we have the seam tape along the forefoot, and then we have laser cutting and an HF mold through the collar. Not only are you stamping out the logo, but you also have this vacuum-teched molding along the collar at the ankle. All of these processes taking place on the same model – typically, you'll just see one – but here, we have four or five different processes to give you the best fit, stability and comfort. You don't really see a lot of those details in footwear, and there's such an emphasis on pattern here. Kohei has such an attention to detal, and he's always looking at fit and pattern and how you can get as tight to the last as possible. This is a Rose-specific last and is built off of his foot, and it wouldn't be completely crazy to say that Kohei is constantly looking at Derrick's feet when he's here. [laughs] Engineering is great, but the best term is crafted. It's just so crafted for Derrick.
Zack Schlemmer: Is having the toe in a contrasting color one of the defining features of the shoe, and will we see that on all of the colorways?
We always talk about a toe-down and having something that can be wearable with jeans. What we wanted to do was take a flip on that. We know clean toe-downs are great and you can use great materials, but if you were to wear these with jeans, how would this stand out and be unique, so that you know you were wearing a Rose shoe. We didn't want it to be so in-your-face that it's not wearable, but it still has that style component. That's how this came into being, and it was the idea that everything starts with him and his logo is first and foremost, so we wanted to put his logo on the collar of the shoe. The logo has the three petals for his three brothers and the center being his number and also the 1 for his mom. This execution is less of a graphic, and more of a technical solution to the ideas of support, flexibility and comfort. Rather than having the Sprint Web on the inside, which we had on the Rose 3, we're taking it to the outside and having the pattern begin from his logo and then expand throughout. It's almost like Spiderman and Venom, and the idea of having everything be all-encompassing. That's really the idea here, and having it just all-encompassed.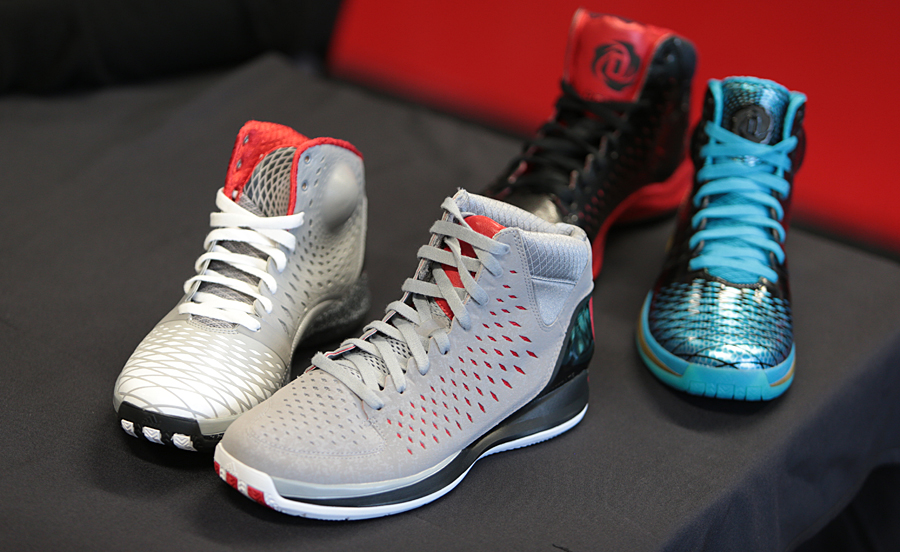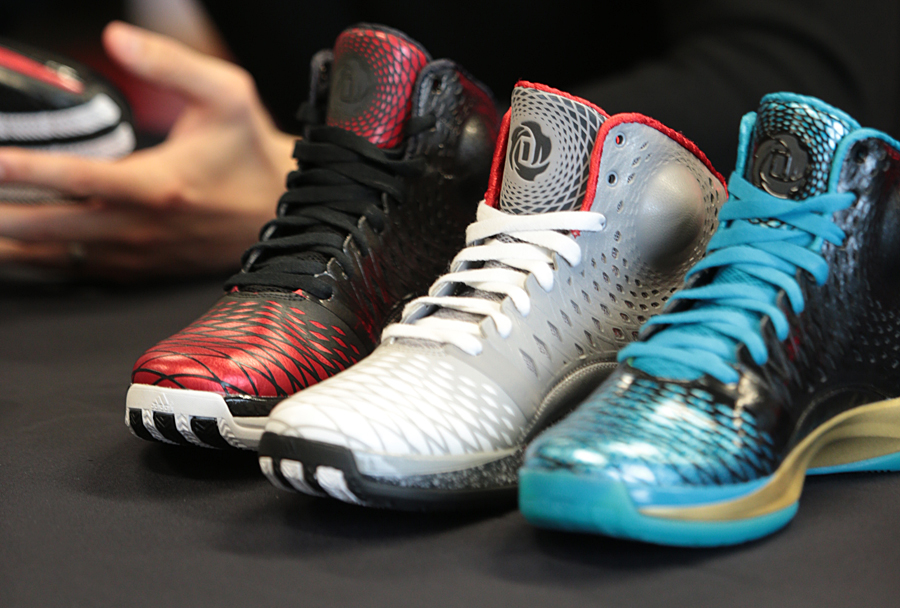 NDP: Was there anything specific support or comfort wise that he called out to improve upon as you guys got into what would be his second half of the season shoe?

JG: He's always looking for this idea of comfort. When you're able to reduce a lot of layers, it's great, because you can create a lightweight shoe and it's breathable. With this shoe specifically, what we wanted to do was make it more seamless on the inside. When you take the Sprint Web from the inside and take it to the outside, you create more of a seamless fit. Also, and I think this is more of a hallmark that real sneaker guys will get, but putting the bonding detail on the forefoot speaks to the whole story of trying to get seamless on the inside. We had a seamless look on the upper of the Rose 3, and here we wanted to flip that and have that feel on the inside. Rather than having a traditional overlay stitch, we seam-taped it. It gives us an opportunity to relieve any break or cutting pressure on the inside, and it's a real technical detail. You don't really see bonding and taping in footwear. You see it a lot in apparel, and especially when you're getting into gortex and bonded zippers. We wanted to put that on the outside, and it's one of those things where you have to be in the know, kind of like selvedge denim.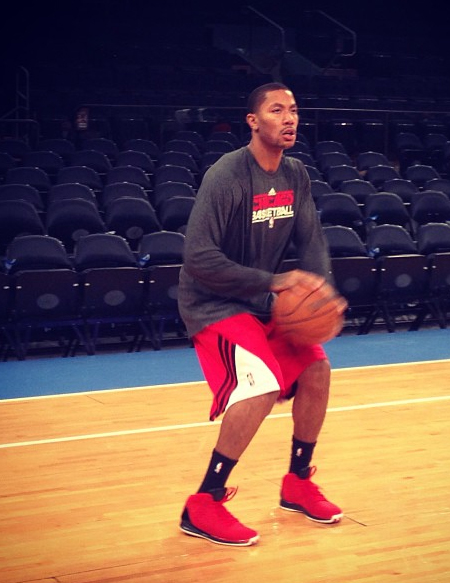 The ankle molding was another thing. We don't have GeoFit in this model, but what we wanted to do was have another take on support. We created ankle pockets, and typically you'd see that on the inside, but this is something that you can tangibly see on the outside. You can feel the recess and the pocket from inside, and it's something that works for Derrick, and it's also something that has a perfect fit for guys that don't wear ankle braces like he does. We did a lot of testing to make sure that ankle notch was in the right location, because we know it's a challenge to try and line up everyone's ankle bones. We found the best neutral location that can fit the majority of people.
NDP: For the 3, the materials was a big piece, whether it was the suede or the stingray synthetic. What were some materials that you really wanted to get into for this one?
JG: For him, the home and the away had the satellite print and the stingray material. This time, we wanted to get in some more natural leathers, and utilize the toe box to have a unique look. On the red, we used an anodized material so that it's really called out. On the grey pair, the toe is bright and a new take on it. On the grey pair, the white has an enamel coating on top of it to give it some shine, and it's just not a traditional patent that you'd see. Both have details that he's looking for, and it's not so straightforward, but it has a little bit of flair and is a twist on the familiar.
When we get into a lot of the story-based colorways, like for the Chinese New Year, we'll get into more loud looks. I think we're all aware that it's the Year of the Snake, and our twist on it is that there's always an element associated with Chinese New Year. For this specific one, the element was water, so it's the "Water Snake." We did a take on how that texture could play throughout, but we also wanted to have a new take on the snake. We did a blown-up snake pattern, and also a two-toned blue. It's the idea of having the Water Snake and then adding in the metallicized finishes, the ice outsole and the chrome plate. We wanted to have a graphic behind the tongue, and that speaks to a lot of the boxes and shapes that you would see on traditional art. Rob McCallum designed all of that for us again.
For each shoe, we also have a custom label behind the tongue. This grey pair says "Rooted in Chicago," and that was inspired by a few things. One, the tattoos on his body and the cursive script there. Secondly, we looked at the Chicago flag, and some of the iconic symbols throughout the city. Utilizing that iconic script and elements of his tattoos gives you a cool detail on the back of every tongue. There's a ton of different colorways, and they all have some added details on the labels on the back of the tongue that tell that story.
NDP: The hard question of course, is obviously that he's been hurt and not on court to start the year. I know Tony Allen on the NBA level and some schools at the college level have been the only people to wear the Rose 3 so far. Do you guys have a plan for the 3.5 to have more guys wearing it if perhaps he takes a bit longer to return?
JG: We have a big strategic plan in terms of how we activate this on-court. One element, of course, is seeding it to a lot of our colleges. At UCLA, Indiana, Kansas and Cincinnati, guys are wearing the Rose 3. We'll see that again with our colleges, and then we also have the Crazy Fast as a big model for March Madness and our schools. We're only seeding in-line colorways of the Rose 3.5, so you won't be seeing UCLA with a 1-off colorway. In terms of the NBA, we're still working with Derrick, in terms of figuring out who are the right guys to wear this product. He's at a certain point in his career, and these are discussions that we want to have. That's something we're still working through, and we'll probably have a better guess on how that comes into play with the 4.
NDP: I think it was just last week in New York, and the @NBA Instagram account posted a photo of him shooting around pre-game at the Garden. Even though he didn't play, just seeing him in the "Brendas" was so cool.
JG: Yeah, and he's getting better. We're really excited to see how much he's progressing. We all talked about it at the Rose 3 launch, but he is working his butt off so much. It's been really cool seeing him first-hand training, and it really spoke to the idea around this model of "sharpening up." It's almost fitting that he'll come back wearing this, because it's bold and aggressive. Yeah, it's someone coming off of an injury, but he's DRose, and he's not going to take it easy on anyone.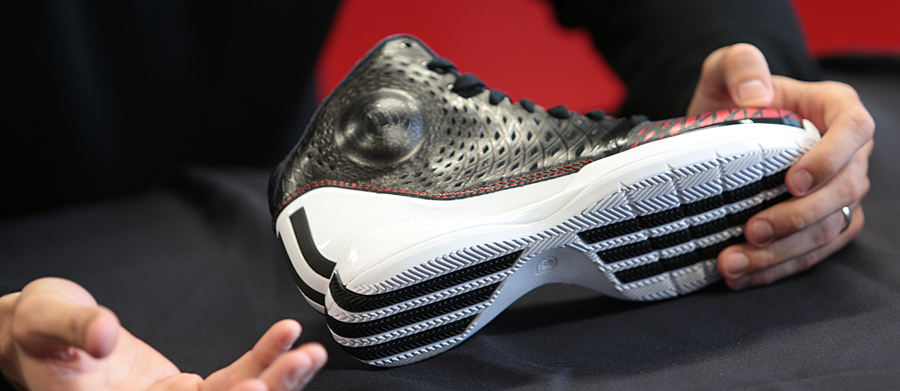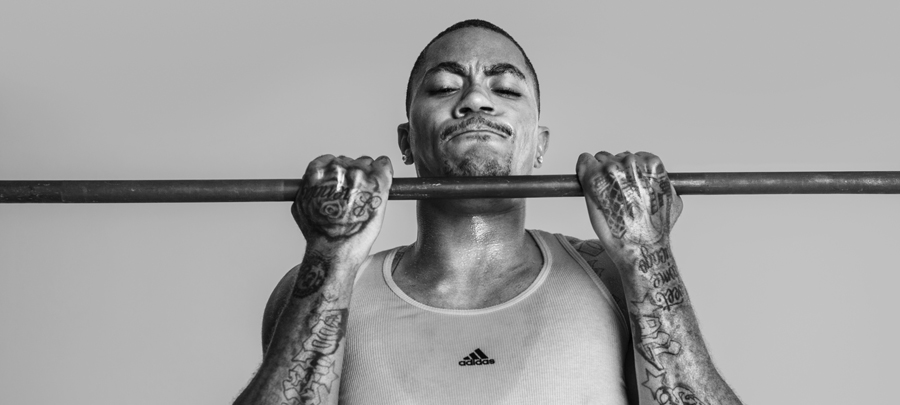 NDP: When were were out in Chicago, the event was obviously pretty emotional. Have you guys had a chance to meet with him a couple times since, and what did he mention that whole experience being like?

JG: I've only met with him once since then, and I'm actually seeing him Tuesday of next week in Chicago to show him the Rose 4 and 4.5 samples. [laughs] But I think there was just this idea of just how genuine he was, and that it wasn't rehearsed, it just came from the heart. The last time we saw him, we were showing him all of these colors of the 3.5, and even then, he was just so humbled to be in this position of being an icon and a hero for kids. You know, he didn't ask for that and it wasn't what he ever thought would happen, but he knows he's got this great opportunity and that's why he's working so hard for it. He just kept on talking about how hard he's been working and how he can't wait to get back on court. He loves what we're doing with his product, and he's just itching to get back on the court. We're just really excited to see what he brings, because we know it's going to be special.
NDP: When the 3 launched, it was on miadidas shortly after. Do you have a plan for the 3.5 to be on miadidas soon too?

JG: This will be on miadidas again as well, and we think personalization is huge. It's almost a given now for signature shoes that they'll have personalization options.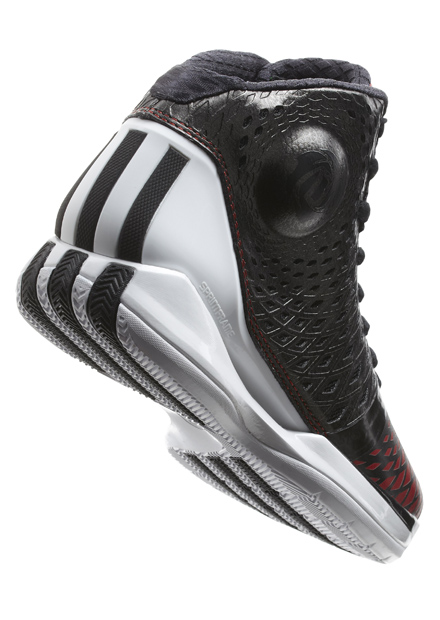 NDP: Yeah, and for some guys, they'll launch the shoe first online to be customized even before being at retail.
JG: Exactly, and that's something that we're going to continue to do, because it's one thing when we do our take on it, but when kids can get the opportunity to spin it however they want, that's what they really love. We were doing some focus groups in South Bend, Indiana, and it was funny. We were talking to all of these kids, and we were saying, "Hey, what shoes do you guys all have?" They all brought out these Rose 3s, but it was a funky color. We all asked, "Where'd you guys get those?" And they said, "Oh, this is our team shoe for the year. We all decided that it was our senior year and we all just wanted to go out and spend a little bit more money and get these shoes because no one has them."

NDP: What color were they?
JG: Purple and white, and the "Nightmares" hadn't come out yet. [laughs] But it was cool the way that they did it. It was a white upper with purple hits all throughout, and it was cool to see the way that they did it. They completely flipped it, and I'm not even sure if it was their exact school colors. It was just the colors that the guys wanted to do. That's really cool, and we're allowing those guys to have that interaction with the product, and we're going to continue to expand that line that's on miadidas.
NDP: The Black / White really has a strong colorblock and is something that will stand out. Was there anything specific to the colorblock that you guys were looking to achieve or get after?

JG: We wanted to change it up. His shoes are typically very black based, and they always have a heavy black feel.
NDP: Usually it seems like the stripes are the pop.
JG: Yeah, and what we wanted to do was take the idea of looking sleek, bold and aggressive and specifically look at the black colorway and change it up. We wanted to utilize this really nice toe-down. Typically we do it with material, but we wanted to do it with color here. It becomes very iconic when you have all of these great toe looks and colors. You can see the progression between the 3 and the 3.5, and you can definitely tell that they're brothers, but we wanted to have a new way that you would notice it through the toe. They're on the same platform, but we wanted to really make them stand out as being different when it came to the colorblock on the shoes, and Kohei really knocked that out. When you think about the most iconic shoes of the last twenty years, they all really had iconic toe-downs and looks in the front.
When you take a look at the grey pair, we wanted to use a lot of different shades of grey. The 3 had primarily the same grey throughout, and here, we have this fading of greys. It literally has three different shades going from lighter at the top to darker at the bottom, and then we also added in this pearlized treatment to the plate, which I think really helps it to feel like something different.
NDP: Where'd they end up weight wise?

JG: They're actually slightly heavier. The 3 was 12.1 ounces, and we're right at 12.3 ounces here. The idea is that adidas Basketball stands for icons and lightweight, and they're still 12 ounces. [laughs] Pretty damn light.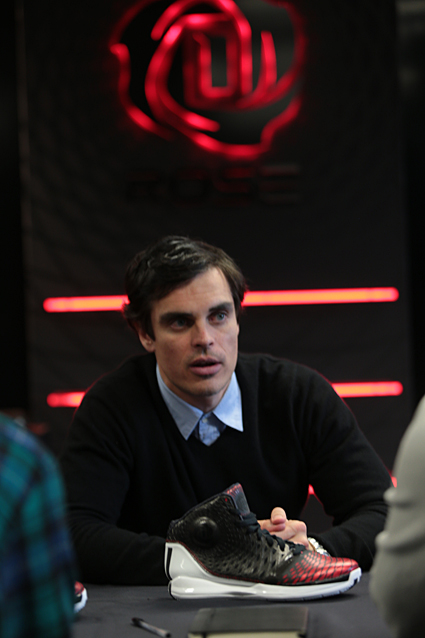 NDP: I remember when 15 or 16 seemed like nothing in an Eastbay.
JG: Exactly, and you can pick up an old retro model now and they'll feel super heavy. When you're talking increasing to 12.3 ounces, it's still so light. [laughs] All of the feedback from the guys that have weartested it for us is that they've been loving the way that they feel, the transition and the feedback was better on these than the Rose 3. They thought it provided more lockdown, but also had better transition and feel.
NDP: The 3 has been a lot more about storytelling than past shoes for you guys. How are you able to continually get new stories out of Derrick?
JG: We're doing eight colorways, and we have some really unique stories that we gathered from Derrick just by asking questions that we normally wouldn't ask. Asking about the first time he beat his brother on the court, or how it made him feel to play at Murray Park. We wanted to get more emotional things and dive down and find a story within that. Sometimes you come up with something like the "Nightmare" concept –
NDP: Which turned out pretty good.
JG: Yeah! [laughs] It did pretty well for us. We kind of judge ourselves by how unique the stories are and what we can bring from it. Not only are they unique colors and really bold and aggressive, but they all have a story to them. That's the cool part, and kids are gonna come up with their own names for whatever they are.
Like everything else, it's a collection, so we have new t-shirts and sweatshirts that tie into everything, and we have more colorups of socks that go with the shoes. We're continuing, as we look ahead and are planning our 2016 plan for Rose and how the product is going to roll out, the collection is always going to get broader, but the goal for us is to have timeless and iconic pieces, especially in apparel. You can have a hoody that is your best hoody, and it'll be something that won't look dated. It'll be something that you can have for awhile and you won't need to always update it.
NDP: This might be tough to answer, because he hasn't been playing of course, but what kind of response and appetite have you noticed now that you've elevated him into this $160 price point and platform? Where does that allow you guys to grow as you start to map things out as far as 2016 already?
JG: Some people may say, "Hey, he wasn't playing," but I just think that he's an icon, and people look up to him. His jersey sales, for being injured, are still doing really well. It's who he is as an individual, rather than just him being a player. Kids can really gravitate towards him, and everyone knows DRose. When the product came out, and everyone saw "The Return" campaign, which was an amazing ad, people still gravitated towards it. People are buying into the idea that it's an icon shoe and that Derrick Rose is that guy that people can relate to. We've sold a lot of shoes, and we've done really well, but probably what's more important is that people are starting to see that adidas Basketball is something that's larger than itself. It can be associated with DRose, and between a Crazy Light, a DRose shoe and some other innovations that we're going to have coming down the road, it tells us a story that adidas Basketball is not just a Pro Model brand anymore. It's leading innovation, it's lightweight product and it's icons. It helps the overall portfolio, and Derrick has helped a lot of our shoes. It's not just about selling DRose shoes, it's about Crazy Lights, Top Ten 2000s and even an $80 shoe at Dick's Sporting Goods. It's flipped everything, and it's an amazing partnership. We can't wait for him to get back on court.