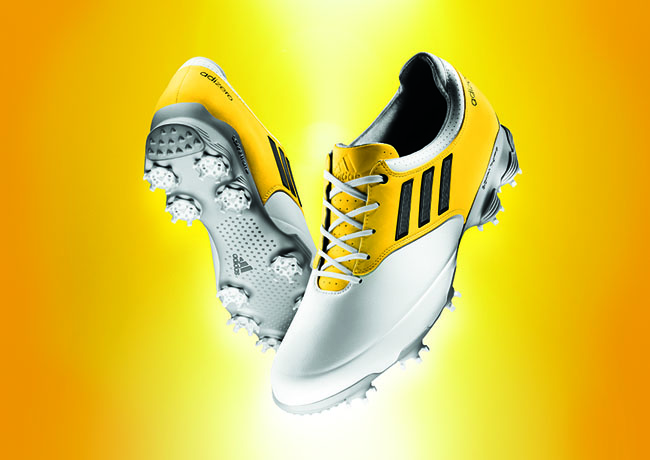 words and images // Zac Dubasik
After being seen on performance shoes for sports such as basketball, football, and soccer, adizero has made its way to adidas Golf. Today, adidas announced the launch of the 10.6-ounce adizero Tour.
Those familliar with the adizero line will notice familiar features such as SPRINTWEB and SPRINTFRAME construction. Additional golf-specific features include an internal waterproof membrane and a 10-spike configuration featuring THINTECH technology, for improved traction and stability.
In comparison to the competition, adidas claims a weight savings of 20%-46% with the adizero Tour. They've achieved that in part by creating their thinnest outsole ever on a golf shoe: 1.2mm.
"I'm always looking to add comfort and lightweight elements to my game, rounds on the course get long and it's vital to have footwear that helps you perform," explained Sergio Garcia, an 8-time PGA Tour and 18 European Tour champion. "The adizero golf shoe gives me the tools to stay light on my feet and feel closer to the ground through each step and swing."
The adizero Tour launches Jan. 24th in four colorways, and retails for $180. In celebration of the launch, adidas created a special packaging, featuring a floating display, and lighted interior, which Sole Collector received today. Check out the imaged below.