NIKE LEBRON X | FINESSING BEAST
words & images // Nick DePaula
I specifically remember every part of LeBron's very first NBA game. I was crunched into a small lounge chair, packed in my sweet 9 x 15-foot two-dude dorm room at the University of Oregon, watching along with three friends from my hall on my fatscreen 13-inch TV.
It was the most anticipated NBA game since probably Game 6 of the '98 Finals. And an 18-year-old actually named King James delivered at every point of the show. It wasn't the 25 points / 9 assists / 6 rebounds statline that wowed me most. Or even
the selfless pass to my favorite selfish player ever
, the one and only Tricky Ricky Davis.
It was the unreal blend of power, speed and finesse that was all enveloped in what was essentially Karl Malone's exact frame. I'd never seen anything like it before -– and I wasn't sure of where the limitless growth of his game could take him.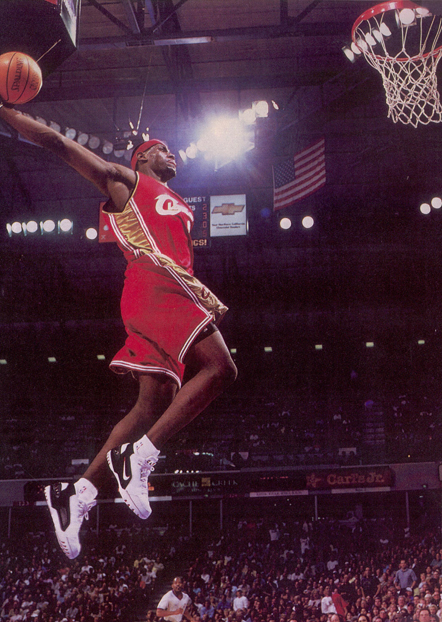 Two specific plays forever stuck with me. One, a picturesque tomahawk during the first quarter that would live on to be a trademark slam of LeBron's, and soon even a logo on his shoes. Second, a right-to-left-handed swooping layup that players of his size just didn't pull off.
[Catch it at the 1:30 mark here.]
I knew exactly at that moment that the League, and everything that revolved around it, was headed to a new place.
My friends and I all rushed to the nearby rec center a few buildings over once the final buzzer at Arco Arena sounded, inspired by what we just saw. It was the most memorable and fun night of pick-up ball I'd play in my four years there. I had on a pair of Garnett IIIs during the runs, one of my favorite shoes ever, worn by one of my favorite players ever.
That shoe was made for a 6'12" guy with guard-like movements and endless energy beyond science. Aaron Cooper built a shoe for KG's exact specifications.
But what shoe would be able to one day harness the raw power and explosion, yet nimble all-world footwork and fluid speed for the player I had just been mesmerized by?
I'm pretty sure that shoe is the LeBron X.
It's a finessing beast.
When it comes to true performance, I've been fairly up and down with the LeBron line through the years. I absolutely loved the Air Zoom Generation and Zoom LeBron II. Was fairly impressed with the LeBron V, only for it to nearly immediately feel too heavy thanks to the introduction of the Hyperdunk the very next summer. And I didn't care much at all for the III, IV, VI, VII, 8 or 9.
They were either too clunky, or too focused on introducing upper materials into the equation that were more tech gimmick than fit-driven. And if you've ever read one of my reviews, you know that I've never remotely liked full-length Air. It's just too firm, too high off the ground, and the court feel is always compromised as a result.
Luckily with the LeBron X, that's changed. The biggest shift for the series is, of course, the fact that LeBron is now coming off a championship this spring. Beyond on-court story lines though, the other major shift more specific to the sneakers is the switch from Air Max 360 to Nike's new Zoom 360. From the second I put my foot inside, it felt like a world of difference. If you're in the store and trying them on, you'll notice immediate step-in comfort that we haven't seen since the VI. That's just a fundamental difference between Zoom and Air Max. The plush tongue is also a huge bonus; easily the most comfortable tongue since the V.
Beyond just 360 Air, I've never cared really for any form of full-length Air, as it's often stiff and makes for some unwelcome and clunky transition. You'll be happy to hear the new Zoom bag is none of that – it's smoother, more bouncy and responsive, and most importantly, closer to the floor for insanely better actual court feel. The shoe took a few games to really start to break in, and after that, I was off and running throughout my month of testing. I never worried about the Zoom bag – now visible and no longer safely encapsulated – ever compressing too hard or rolling over, which prior Air bags had been known to do.
The actual unit itself sits lower in overall height by a couple millimeters, and two sharply placed pillars towards the heel help to support your harshest landings. Earlier development rounds of the Zoom 360 bag featured full fiber-based bags, but those perhaps couldn't hold shape and form over the life of the shoe, so the pillars were added in to help with continued support and impact protection.

Above: An early round development version of Nike's Zoom 360 unit. More fibers, less support pillars.
Of course, the major question that comes into play is, "Is visible Zoom even necessary?" Fully encapsulated Zoom bags have been hugely responsive for quite some time. With retail-friendly shelf views and perceived value meaning more than ever nowadays, I'm just glad that Nike has finally figured out a way to bridge the gap between their most marketing friendly cushioning setup in Air and their most actually efficient and useful technology in Zoom. It's a best-of-both-worlds equation for consumers and company alike, and that's important. As we move forward, I'll be looking forward to where visible Zoom 360 might be headed. Perhaps a Zoom 180 bag is just around the corner, with a low-profile forefoot encapsulated Zoom bag up front? The potential for the new system of visible fibers is definitely exciting.
The other newfound technology entering the LeBron line for the first time is the shoe's dynamic Flywire system. We first saw it on the Lunar Hyperdunk earlier in the summer, and I feel like the development team took learnings from that shoe and evolved it for the better here.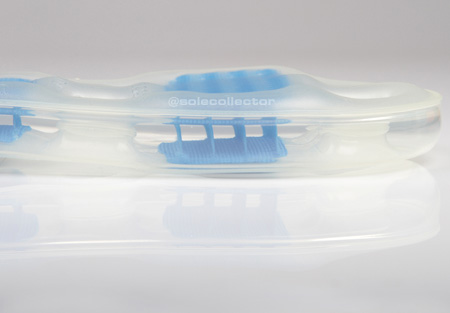 I'm still not 100 percent convinced that these strands of nylon along the sides of the shoe are supporting my every movement and cut moreso than a firm overlay or rand would, but the strands are more targeted and the upper more targeted here. There's a visible trigger as you lace the shoe, because you can see the strands come to life and synch up around your foot.
Regardless of whether it's a perceived or actual upper gimmick, this is a series of shoes that have come up well short in the fit category in the past, and it's the best-fitting upper since the very first model, the Zoom Generation. In my size 13, the shoe felt tailor-made and well-sloped throughout, which is a huge accomplishment for a line that's often been criticized for its sloppy fit.
While the cushioning is all kinds of awesome and the upper fits great and is firmly supportive, there's still a drawback that you had to be expecting here if you know anything about the LeBron line. They clock in at 16.8 ounces. Which, yeah, felt relatively heavy on the first few nights out. I'd been playing in the Crazy Light 1 Low, the Hyperdunk Elite and the Lunar Hyperdunk the past few months, all between four- and six-ounces lighter.
But you know what?
After my very first night of pick-up runs, I thought it was worth it. I was excited to throw the X right back on the following night, all while knowing I'd be strapping on basically an extra five ounces. Even for someone who has traditionally ditched the LeBron line in the past few years for lighter options, the cushioning, stance and protection are worth it in this case. That didn't change throughout my testing stretch, and I've gladly been wearing them since.
It's an interesting debate. Surely shoes are giving up something to get to the featherweights they've been achieving. At times, that might be sheer durability, beefier midfoot support or more substantial cushioning. Whether or not the LeBron X makes sense for your performance needs and style of play is ultimately up to you, but if you're a bigger guard or simply a big, I'd say that tradeoff of insane cushioning and protection for more weight is worth it.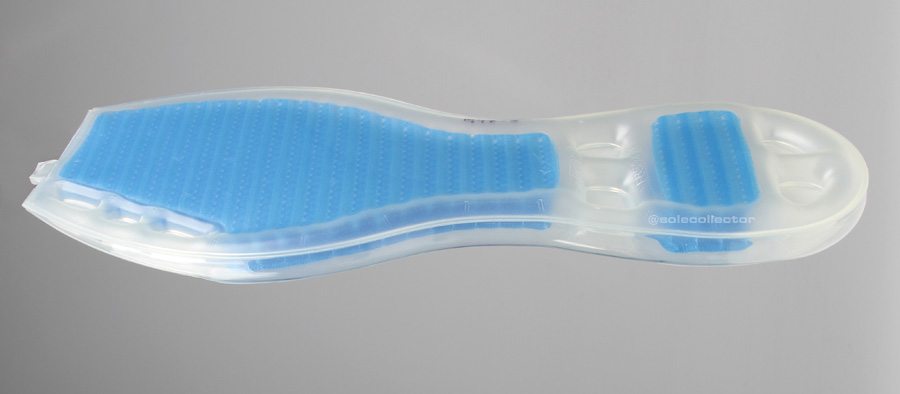 Above: The final Zoom 360 unit used in the LeBron X.
Another thing that you'll really have to ... um, weigh ... is the damn price of these things. They're $180 on the low end. If you want the full Nike+ enabled system, it'll run you $270. Just want the sensor-kitted pair because you already have a pair of Nike+ pucks to track your on-court data? That'll run you $200. And then, as mentioned, the mere retail version is, by comparison, only $180. Which is clearly a lot. Are there better values out there that offer sufficient levels of cushioning and support for basketball? Of course – that'll most always be the case. But if you want Nike's latest, and yes, greatest full-length vis tech, along with some awesome styling and a really protective package, then it'll cost you.
The shoe held up great throughout my wearings, and while the hyperfuse upper scuffed quite a bit throughout, the cushioning never waned, outsole held up great, and the shoe felt just as good on day 10, day 15 and day 20 as it did on day two. This damn sure isn't Lunar Foam. What it is, is realistically expensive, so you might want to look elsewhere if you're working within a firm budget.
The theme of "diamonds" very clearly inspired the jagged and geometric upper shapes, while the Roman numeral "X" takes ownership of most of the outsole's design cues. I'm never in favor of fuss over function when it comes to design storytelling patterns over herringbone, but in this case, the traction was great on varying levels of hardwood. The grip worked well both front-to-back on basic jabs and side-to-side on harsher cuts and drives. We've seen designer Jason Petrie rely on storytelling patterns almost exclusively since taking over on the LeBron VII, and this is the best signature traction pattern he's designed yet for LeBron.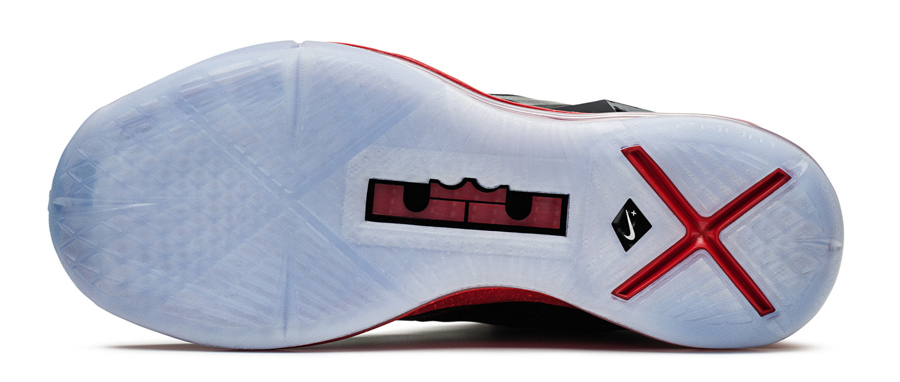 I'm perfectly fine with admitting that I've had a love / hate relationship with the LeBron line through the years to varying degrees. Some years, I only liked the shoe aesthetically, like the III, VII and VIII. I was probably more excited about the launch of the IV than any other shoe since the Hyperflight, yet I hated them on court. [Which, coincidentally, was the case with the Hyperflight.] Other times, like with the V, the looks didn't really do anything for me, yet I wore them for almost six months straight on court. And then there was the Zoom Generation and the Zoom LeBron II, which I absolutely loved across all facets and had at least five pairs of.
I'd put the X right in that upper tier of LeBron sneakers. They deliver new tech, new looks and great performance on court, where it matters most. In a season following up on LeBron's most accomplished hardwood honors, the new LeBron X picks right up and comes through with excellence of its own. The pure cushioning is currently unmatched, the protection and support give you a beastly stance, and I was truly impressed with the attention to detail when it comes to fit and feel throughout. They're as expensive as it gets for signature footwear, and definitely heavier than most other options out there, but sometimes there's just something about playing in an overall performance package that doesn't sacrifice on what makes for a truly great basketball sneaker.
Grade Breakdown:
designed by: Jason Petrie
best for: bigger guards and forwards
colorway tested: Black / Chrome / University Red / Cool Grey
key tech: full-length Zoom 360 unit, Hyperfuse upper construction, dynamic Flywire strands, asymmetrical collar, Nike+ Basketball compatible
pros: exceptional bar-raising responsiveness and impact protection, great traction after break-in period, accommodating fit and hug for all sizes
cons: expensive, heavy by today's standards (though light for the LeBron series), platform needs breaking in, could be more breathable
improvements: any improvements made (like reducing weight) would be at expense of support for shoe's ideal player
buying advice: If you're looking for the most cushioning on the market today, the LeBron X is that shoe. Nike's new Zoom 360 unit finally solves the Air Max 360 unit's shortcomings and offers the perfect balance of responsiveness, impact protection and court feel. If weight ranks highly on your list of criteria, the X is still worth taking a look at. If you're a larger player that's always demanded protection but been after the responsiveness and swiftness of a guard's shoe, you might've found your very favorite pair of basketball shoes.