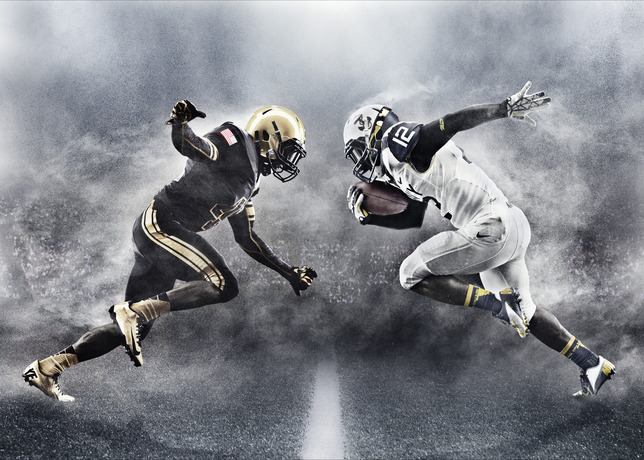 words // Brennan Hiro Williams
As the Black Knights and Midshipmen prepare for the 113th Army-Navy Game this weekend, both teams have revealed new Nike uniforms for the special occasion.
Army's striking black and gold uniforms pay tribute to a year when the Black Knights were unstoppable on all fields of battle: 1944, the year the Army troops won a key strategic victory in WWII's Battle of the Bulge. The football team at home was on its way to a perfect season and the first of three consecutive national championships. In tribute to Army's historic victory on the battlefield, a historical re-interpreted West Point battle atlas map of the region where the offensive took place can be seen throughout multiple elements of the uniform, from the jersey to base layer to gloves, all the way down to the inside the cleats.

The helmet also takes on the same 1944 look with the deep gold hue and black stripe along with a small black spade on the side in honor of the 101st Airborne division.

Navy's uniform pays tribute to the traditional dress white uniform – a powerful symbol of professionalism, achievement and authority throughout the organization's history. The uniform's clean, white look with black details and gold trim, as well as a new number / letter font, draws inspiration directly from the angular precision and speed of U.S. Navy aircraft. The First Navy Jack, featuring the iconic rattlesnake and "Don't tread on me" phrase, is designed into the base layer.

The helmet design is inspired by a Naval Officer's cover with a thick gold stripe representing the gold braid, and angled with a downward slope in much the same way the cover is worn.
Both Nike Pro Combat uniforms utilize a complete system, with Hyperwarm baselayers working in concert with jerseys and pants. Take a closer look at the images below, and be sure to check out the Army-Navy game on Saturday, December 8, at 3:00 PM EST.