words // Nick DePaula
images // John Walder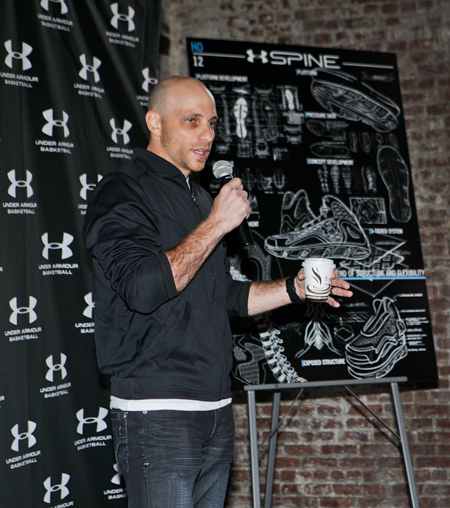 As happens often in the world of collegiate athletics nowadays, schools are switching in and out of new uniforms and looks on the regular, taking advantage of moments and marquee games throughout each season to celebrate a school's sporting history and color pallete. It's of course an opportunity for brands to flex their creativity and ever-evolving performance materials too.
"The expectation is for teams to come out in unique uniforms for big games," says Adam Clement, Under Armour's lead uniform designer, seen at right.
One such big game on the schedule for Under Armour's flagship school, the University of Maryland, is their season opener tonight at Brooklyn's new Barclays Center against the defending champion Kentucky Wildcats.
Dubbed the "Barclays Center Classic," the matchup in Brooklyn clearly goes well beyond just the lineups, as it offers Under Armour a grand stage to showcase their latest and greatest against one of Nike's top programs.
The school already has four jersey options for the upcoming season, but they'll start the season off in these custom kits featuring a faux-wool graphic grey base and script font along the front all tying back to the borrough's beloved Dodgers of old.
Read along as Adam Clement details the Terrapins' one-time-only BK-inspired unis that they'll wear tonight at the Barclays Center. We'll also have more looks soon of the custom "Maryland's Finest" editions of the Spine Bionic and Charge BB models that the team will be wearing.
DESIGN DIRECTION:
"Everything we do is rooted back in the university. We will never do art for art's sake, and that's really important. When we found out that Maryland is playing one of the first games at the Barclays Center, we started to figure out what we could do that'd be really special for the game. It's about Maryland versus Kentucky. David versus Goliath. It's the Brooklyn Dodgers versus the New York Yankees. It's our brand versus their brand.
"Basketball being back in Brooklyn with the Nets is a monumental occurrence, and we wanted to celebrate that. We looked back at the Brooklyn Dodgers and all of the things that have happened in Brooklyn's sports history. The greatest and most important event in all of sports happened here, when Jackie Robinson broke the color barrier. With that in mind, we're inspired by Brooklyn's Finest and are introducing our "Maryland's Finest" uniform." -- Adam Clement
LIGHTWEIGHT EMPHASIS:
"As we look at our uniforms today, our goal is to make the lightest uniform on court. There was a time, when I was younger, where weight was perceived value. The heavier the short, the more valuable people thought it was. But now, with the advent of performance fabrics from brands like our own, and a much more knowledgable consumer, weight is no longer an asset, it's a detriment. This jersey weighs less than a cup of coffee. The uniform together weighs 20% less than a basketball." -- Adam Clement
500 / 50 / 5 READ:
"When we talk about design, our ethos at Under Armour is what we call our 500, 50 and 5 foot reads. At each of those distances, the viewer has a different experience with the jersey. From 500 feet, you're captivated by what you see. At 50 feet, you see another detail revealed. That last distance is when finite details are shown to you. Every time you get closer to the uniform, you'll see something new." -- Adam Clement