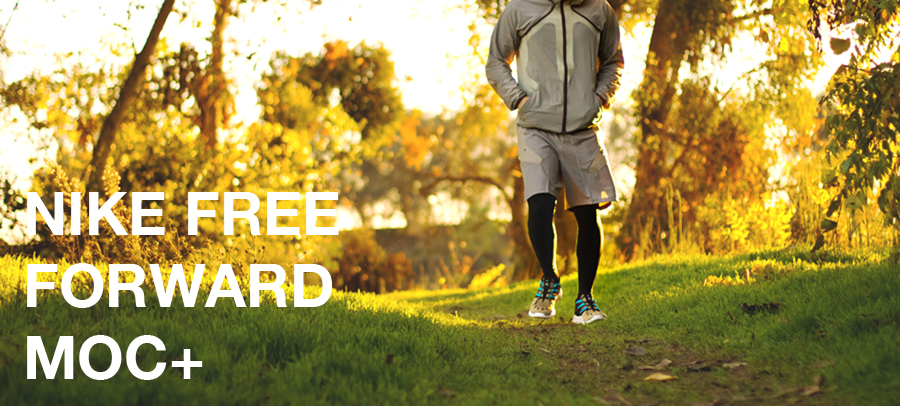 words // Brennan Hiro Williams
images // Moe Tang
Two weeks ago, Nike unveiled the new N7 Free Forward Moc+, a unique take on the traditional moccasin. The new model, designed by Ashley Payne, is part of the latest N7 Collection, supporting the Nike N7 Fund and its mission to aid Native American and Aboriginal youth sports programs throughout North America. I recently took the Free Forward Moc+ for a test run, hoping to gain a better understanding of its design and functionality.
As a running shoe, the Free Forward Moc+ performs admirably. The shoe features a slip-on design, with a breathable, honeycomb mesh sleeve that hugs the foot, along with stretch cord laces that run down through the moc toe for an adaptive fit. While the slip-on design probably doesn't provide the lockdown a serious runner is looking for, the stretch cords are surprisingly effective, with enough resistance for use on the trail and enough give for casual, everyday wear. Familiar and dependable Nike Free tooling increases the shoe's performance capabilities, with deep sipes for flexibility and a natural ride.
Aesthetically, the Free Forward Moc+ is one of my favorite new designs of the year, successfully integrating aspects of the traditional moccasin into a functional performance shoe. Soft suede envelopes the upper, with unique cut-outs at the eyestays and lateral swoosh (the material from which, upon closer inspection, is reused as a raised medial swoosh). Furthermore, contrast stitching gives the Free Forward Moc a hand-crafted feel, which is especially apparent on the Filbert/Filbert/Dark Turquoise-Black launch colorway (pictured here). The details are, however, what really make this shoe -- the "wing" eyelets and stitched effects on the heel are both eye-catching and great tie-ins to the Nike N7 line.
All things considered, the Free Forward Moc+ is an exciting and very wearable shoe. The design is likely polarizing within the larger sneaker audience, but has definite potential with the Sportswear set -- fans of shoes like the Footscape and more recently the Inneva Woven. I'm excited to see where it goes from here.
The Nike N7 Free Forward Moc+ is now available at select Nike doors and online at Nike.com.