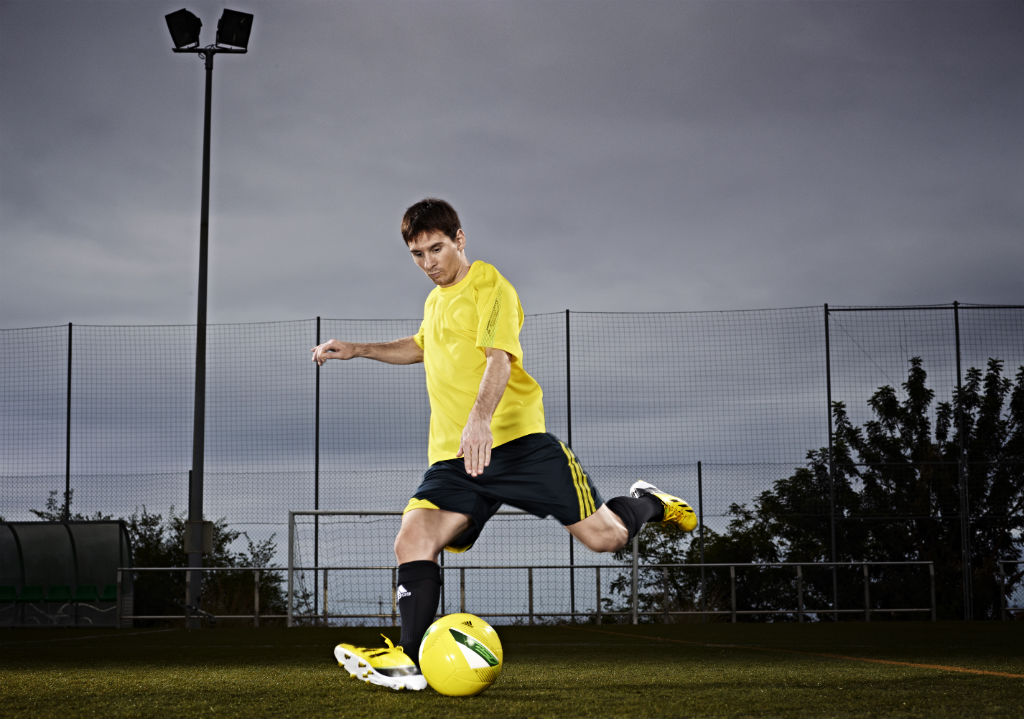 words // Brandon Richard
Today, adidas unveils the next generation of the adidas adizero F50 soccer cleat, redesigned with a stronger, more aerodynamic construction and engineered for speed.
Three-time FIFA World Player of the Year, Lionel Messi will debut the super light 5.8 ounce adizero F50 today in his UEFA Champions League match.
"Speed is such a big part of the modern game," said Antonio Zea, director of soccer for adidas America. "We wanted to give the elite soccer player a competitive advantage with a cleat that is light and fast. The adizero F50's lightweight and supportive construction is making the fastest players in the game even faster, delivering speed in bold colors and designs that make players excited to step on the field and perform."
The updated adizero F50 features a new textured and synthetic SprintSkin upper designed to elevate performance in all weather conditions. Water wicking material and an elevated ridge patterning allow water to slide off the cleat rather than be absorbed, keeping the foot dry and cleat light in heavy rain. SprintFrame adds heel stability in cuts and acceleration, while a new internal SprintWeb provides ball control at high speeds and supple but stable construction for ease of lateral movement.
Messi will wear the new adizero F50 exclusively until later this month when top international players Dani Alves, Karim Benzema, David Silva and David Villa lace up the new cleat.
With micoach Speed_Cell compatibility, players can measure, view and share their personal stats. micoach technology includes an advanced accelerometer that captures 360-degree movement and measures performance metrics during practice or gameplay. The chip's unique on-board memory stores up to seven hours of data, wirelessly syncs with the user's smartphone and uploads performance stats that can be shared through Facebook and Twitter.
The adizero F50's Vivid Yellow/Black/Green Zest colorway is inspired by the 2014 FIFA World Cup and pays homage to the world's elite players and teams preparing to compete on soccer's biggest stage. Starting November 7, players can pre-order their adizero F50 at adidas.com and the cleat will be available on December 3 for $210 at adidas.com, soccer.com and soccer specialty stores. Four additional adizero F50 colorways will roll out throughout 2013.
Fans can visit facebook.com/adidassoccer for more information and photos of the new adizero F50 and follow the conversation on Twitter via @adidasUS and #adizero.