words & interview // Nick DePaula
Even though Under Armour's Training category has been in the footwear game for a handful of years now, it isn't until this fall that they'll be launching their very first signature sneaker.
Why the wait?
They have an athlete in Cam Newton that's not only been getting it done on-field, as evidenced by his Rookie of the Year campaign last season, but he also brings a sense of style to the historically all-things-performance brand that allows them to enter a new space.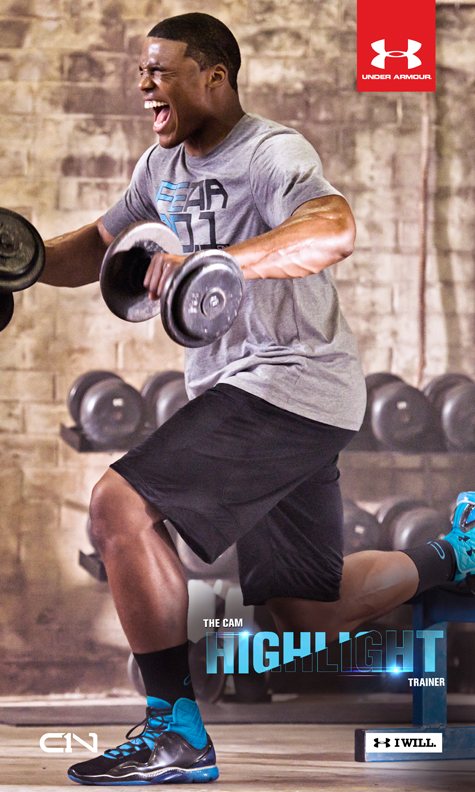 Ask anyone at Under Armour about what Cam brings to the table, and one of the first things they'll mention is his commitment and investment in the brand.
Afterall, the guy was regularly wearing as many as seventeen UA logos on Saturdays during his title run at Auburn.
To get a full breakdown of Under Armour Training's first signature, The Cam Highlight Trainer, Sole Collector caught up with UA Creative Director of Footwear Dave Dombrow. Whether it's the rich suede upper, sharply sculpted midfoot shank or logo hits and subtle accents throughout, dive into all of the detail and inspiration that went into The Cam below in this exclusive interview.
The Cam Highlight Trainer will retail for $150 and launches on Saturday, December 8th on Under Armour and at Foot Locker.
To be the first to know when the Cam Highlight Trainer will go live, you can register for more info at UnderArmour.com/CamHighlight.
Nick DePaula: When Under Armour first signed Cam, how impactful was that for you guys to get him on board?
Dave Dombrow: When he signed on, you could definitely get a sense for how big of a signing it was and how excited the company was. When he came out to the campus at Under Armour, you could tell there was something there and there was a presence. You could tell that he was really into the brand and invested in Under Armour. He wanted to help us and really take it to another level. It was a big deal. I remember it like it was yesterday.
NDP: Was the idea all along that you would be building him a signature shoe?
DD: Yeah, it was. Right from the start, before the accolades and before anything else, we just had this huge belief in him. Obviously, he was linked to us already because of his success at Auburn. We had this huge belief that he was a next level hybrid of an athlete that doesn't come around often, if at all. Right from the start, we knew we wanted to do something big with him.
NDP: Once you guys started to work on the early stages of the shoe, what were some of the things that he served up that you took inspiration from, and some of your early ideas for it?
DD: The first important thing was to figure out who he was as a person. Style wise, attitude wise and in life. We always wanted to make a pinnacle performance shoe, whether it was on field or whether it was part of his training. That goes without question. The way we did that is met with him at the Under Armour headquarters, but also, I went down to Charlotte and hung out with him down there. I started to find out what his interests were and we touched on things like cars. Whether it was Bugattis or Ferraris, he had a certain kind of style of cars that he was into. I also would go into his closet to see what other footwear was there and what apparel he had. I wanted to see what his style was like, and I think what came out was that he had this GQ sense of style about him, and he's a bit unique in that sense. He didn't fit anybody's one mold. One thing that you might see in the shoe, is there were some Prada sneakers in his closet, and we definitely tried to work some of that flavor into the shoe. Not overtly, but you can see it through the proportions of the entire shoe, proportions of the midsole and proportions of the toe box. There's a cool, modern link there.
NDP: What were some of the performance needs that he was looking for? The CompFit system was probably something that was driven from the fact that he was one of the first people that ever wore it when he was still in school?
DD: Yeah, and he might've been the first.
NDP: I think he was.
DD: I think you're right, and the look definitely became something that was associated with Cam. Obviously he was having a great season, but he was also playing in the Highlight cleat. He liked the way it performed, and he had great success with that boot. The look and the feeling of that compression around your malleolus was something that right from the start, we knew we wanted to work it in in some way, based off of what happened with the Highlight that Cam wore. We're going to offer the shoe in a Low also, and Cam likes to wear both so we want to offer both, but we're putting the emphasis on the CompFit as a statement look for the launch.
Below: The Under Armour Cam Highlight Trainer in Black / Blue Heat / Metallic Silver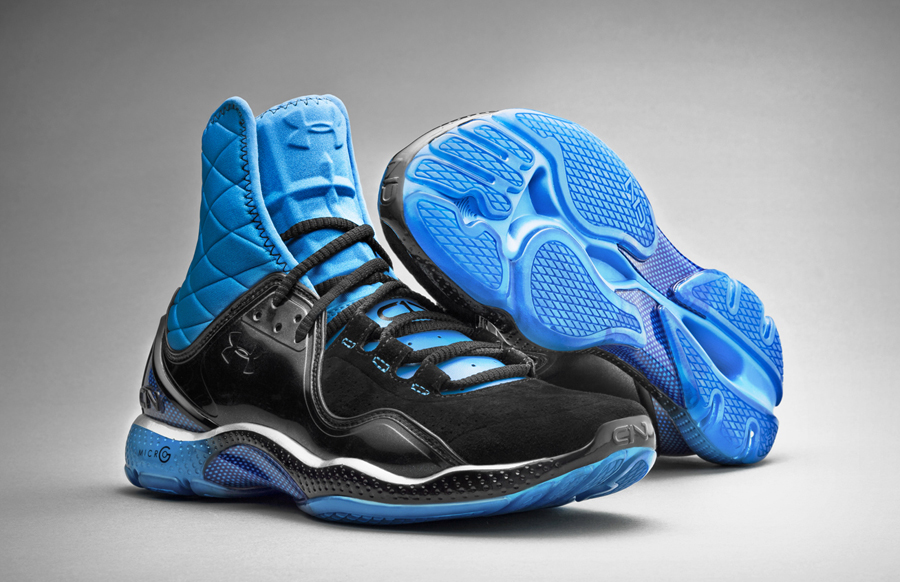 NDP: Was there anything in particular that he mentioned looking for from a performance standpoint, whether it was being low to the ground or having a certain stance?
DD: The shoe is built with all of that in mind. It's built with a really wide platform that's also low to the ground. We actually integrated the sockliner into it, to get you even lower to the ground, so there's less slop when you put your foot in. It also makes for a sleeker look, because you're integrating that volume that normally you'd have to account for. Laterally, you can see there's a TPU wing that gives you that lateral support. If you go up, you tie that into the CompFit sleeve, and that locks you into the upper. The great part about the CompFit is that it's giving you support, but it's also very mobile. It's a nice mixture of mobility meets support. The key was having a balance of lateral support, being really low to the ground and then ultimately, it's also a really light shoe. We wanted to keep all of that in mind, and I don't think there's a shoe quite like it out there. Definitely not in the training world, and it's unique in its own right.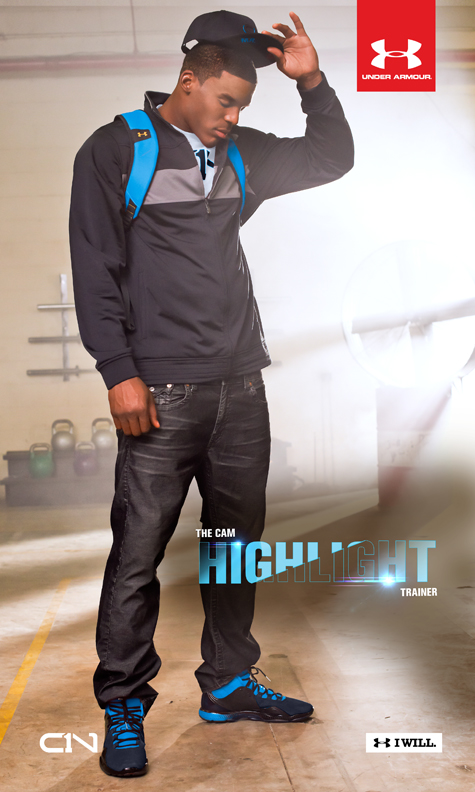 NDP: Whether it was weartesting from him directly, or internal testing, were there any big changes along the way to the height or setup of the CompFit sleeve?
DD: Yeah, there were. Cam was of course involved the whole way through and he did a lot of weartesting himself. We also did a lot of weartesting separately from him. One big thing was – and I don't know how many people saw it – but there was an earlier picture of the shoe that leaked, and the CompFit was quite a bit higher. Through Cam's feedback and his own weartesting, we actually took the height down a little bit, based off of where it was hitting and where he wanted the support for the trainer versus the football cleat. We micro-tuned it in from there.
NDP: With the retail price being $150, what did that allow you guys to do from a materials standpoint? There's a lot of cool molded details and the real sculpted shank here too, which we wouldn't have seen if it was priced lower.
DD: That's a big part of the shoe, actually, and I'm glad you asked that. The vamp is a really, really rich, up-spec'd suede. Going back to the car inspiration, we actually were looking at this one Ferrari, and the seats had this really rich suede feel. We wanted to get that into the vamp in some way, and we used that same type of material. When people feel it, they're going to get a real sense of luxury throughout the shoe. The bottom has a composite shank in there, and that obviously allows us to get the weight down and have quite a bit of stability through there as well. With that, you're getting high performance, but you're also getting high-end style with it.
NDP: In terms of lifestyle, that's kind of a new element to Under Armour, which at times is more about strictly performance design. It's cool to see Cam lead that and bring something new there too.
DD: Definitely, and he allows us to do that.
NDP: From a story and colorway perspective, you guys have the black and blue version that's based on his team colors. Is the red colorway taking some of that car inspiration into account?
DD: Yeah, the red one is kind of inspired a little bit by the Ferrari with the red suede, but we're also calling that one "The Dirty Bird" as a codename. Going back to Atlanta and an old Hawks jersey. It isn't on the upper, but if you look inside of the shoe, you'll notice some yellow hits along the liner. Obviously Cam has ties to Atlanta, and if you look inside of the collar you'll see the Hawks' yellowish-gold tone. There's hits hidden throughout, and that goes back to the old Dominique days and Hawks jersey.
NDP: Ok cool, that makes a lot of sense. You guys have been using the Micro G platform now for a couple years too. Were there any learnings from the Charge line that helped you here, in terms of how to sculpt out the shank and set up that cushioning platform?
DD: It's similar to the Charge platform in a lot of ways actually. Obviously, the shank is different. It's not a spring plate, it's more about torsional rigidity through the midfoot. It's very similar though, and it's the same compound. It's a little bit broader in some areas, because the key with this was we wanted a really solid platform to support him when he's moving laterally. We did get some learnings form the Charge and some other shoes in terms of how much you could carve away. We tried to get the optimum blend of this "Less is More" design philosophy.
Below: The Under Armour Cam Highlight Trainer in Black / Red / Metallic Silver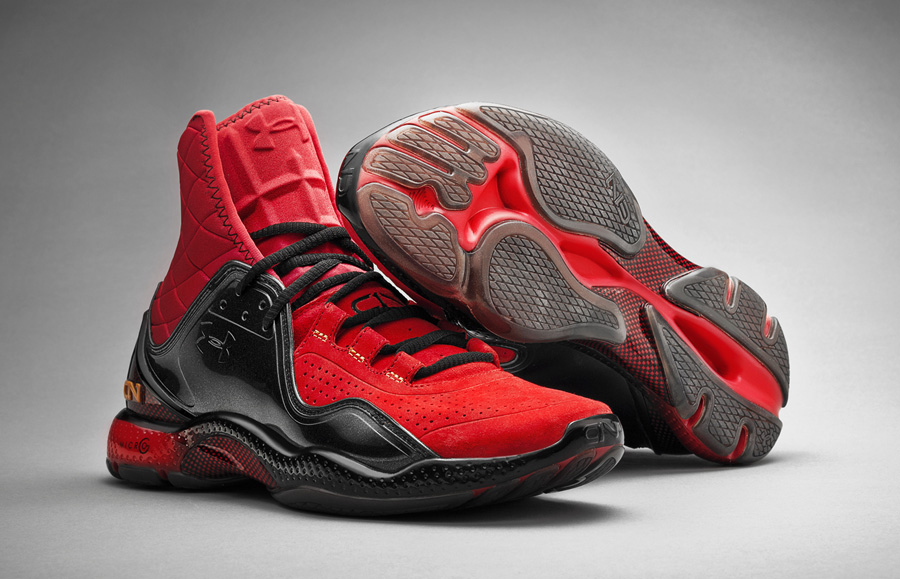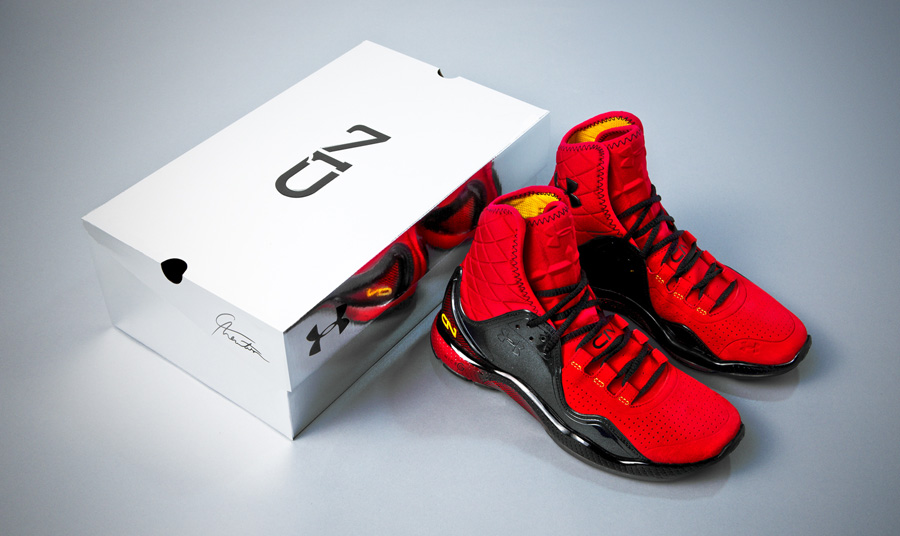 NDP: Can you walk me through the design of his logo?
DD: I have to say, it was really organic how it came together. It started on our side at UA, and then it made it's way back and forth a few times. Cam had input the whole time, and we just went back and forth on it. We got to a point where we had it without the number, and then we worked the number in. Ultimately it came out to that "C1N" styling, and it stuck. It was one of those things where it went around and we developed it together, and we're both really happy where it landed.
NDP: There's four logos of his all throughout the shoe. How'd you guys decide where to place each of them?
DD: When it came to logo placement, Cam was very specific about that. Some of the logos are directly a result of what he said. There's one on the middle of the tongue, and it's kind of an unorthodox place for a logo. We never have it on there normally, but Cam decided to put it there, and it actually became an ideal places for a logo. [laughs] It's great. Your pants can come down over the tongue, and then you'll still look down and see the logo. It's a cool hit from the top down view.
NDP: Was the idea here to make his logo the focus? All of the UA logos along the lateral side and tongue are all tonal.
DD: Yeah, and we do call out the Under Armour logo on the medial side. We have a big one there, and we like that placement a lot. We don't do a lot of signature shoes at Under Armour, and we wanted to make a point that it's an important shoe and Cam is a very important athlete for the brand. We look at him as a guy that can take us to new places, and we wanted to put a lot of emphasis on his logo in this case. This shoe is transcending into a new space for Under Armour, and we wanted to reflect that.
Below: Under Armour Creative Director of Footwear Dave Dombrow's final Cam Highlight Trainer rendering