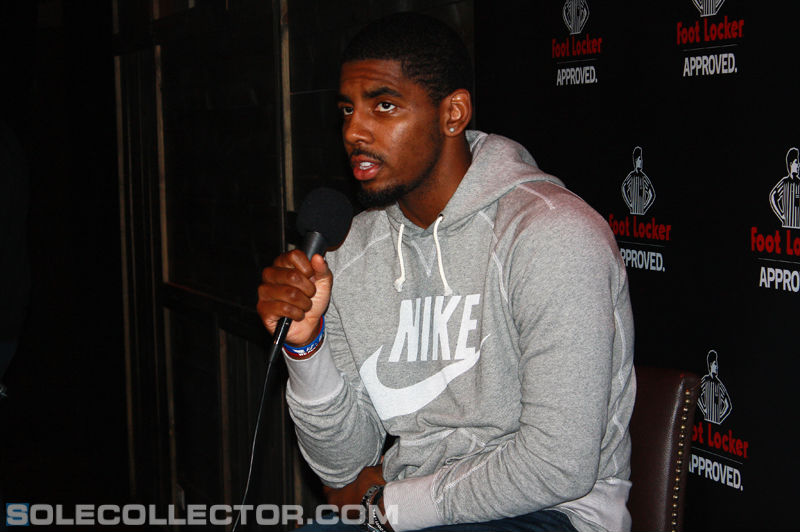 words & images // Angel Navedo
Uncle Drew gets nothing but the best.
With a week of greatness planned for the end of November, Foot Locker booked out a first-class sports bar this past Monday to celebrate the incoming slate of coveted kicks and debut a commercial with Cavaliers' phenom Kyrie Irving to promote it all.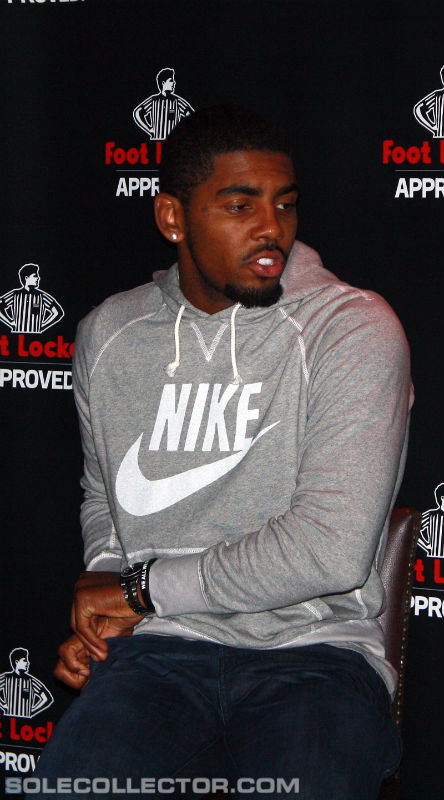 Flickering in the amber light of mood-setting candles, the latest offerings from Nike and Under Armour lined the left-hand wall of The Ainsworth in Chelsea. Mannequins wore apparel designed to match upcoming sneakers, and glass displays housed the black and red Air Jordan 4 Retro, the "Pearlized Pink" Air Foamposite One, the "Floridian" LeBron X and more.
Foot Locker took advantage of all the flat-screen televisions inside The Ainsworth, hijacking high-definition displays for #weekofgreatness branding, a live Twitter stream, and some friendly games of NBA 2K13. An entirely open bar and a seemingly endless supply of hors d'oeuvres served as inadvertent but apt metaphors for all the sneaker releases scheduled for this holiday season.
But featuring sneakers that the media and Foot Locker executives in attendance have seen online for months isn't a party. That's where the second-year point guard and reigning NBA Rookie of the Year comes in.
No stranger to cameras and unique advertisement strategies, Irving's charisma landed him the lead for this latest Foot Locker campaign, and it's an honor he takes seriously. Being featured in a national television spot "has been a blessing" for Irving, something he especially appreciates as a sneaker enthusiast himself.
"I control every color that goes into my sneakers," Irving said when asked about the 2012 Hyperdunks he's worn lately. "Winning Rookie of the Year gave me the luxury and ability to create colors and just about anything that I want on my shoe."
The aesthetic control isn't the only benefit to the latest Hyperdunk for Irving, though. Now that Nike shifted from Zoom soles to Lunarlon in the 2012 Hyperdunk, the 20-year-old baller notices some differences that benefit his game.
"My shoes are designed to fit my foot, so having that Lunar bottom helps with a softer landing," Irving said. "Having my own personal colors just makes it that much cooler."
When he's not lacing up for the hardwood, though, Irving is embracing everything the Nike World Headquarters in Beaverton has to offer. He strolled into The Ainsworth, fresh off a flight from Oklahoma City, wearing the "Golden Moments" Air Jordan Retro VII. It's a staple in his off-court rotation that features a few more Jordan retros and some foams.
"My 'Black History Month' 3s and the black and red 4s are some current favorites," Irving shared. "It's kind of funny that this 'Week of Greatness' has the '[Pearlized] Pink' Foams. I thought they came out already. I have them at home, so I've been wearing those lately, as well."
Next up on Foot Locker's docket is strategizing how best to handle the intense demand for the high-profile releases during the week of greatness. Best believe they're not moving as slowly as Kyrie did for his cinematic finger roll.