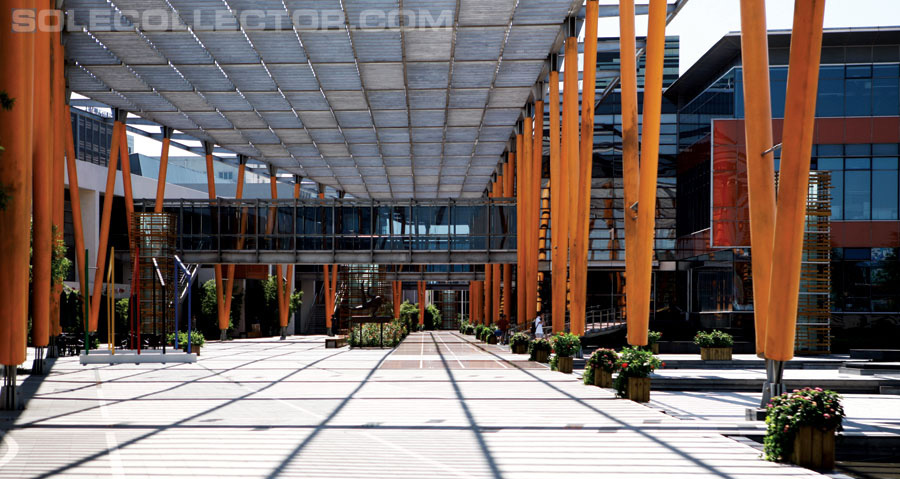 words & photography // Zac Dubasik
As published in Issue 35 of Sole Collector Magazine.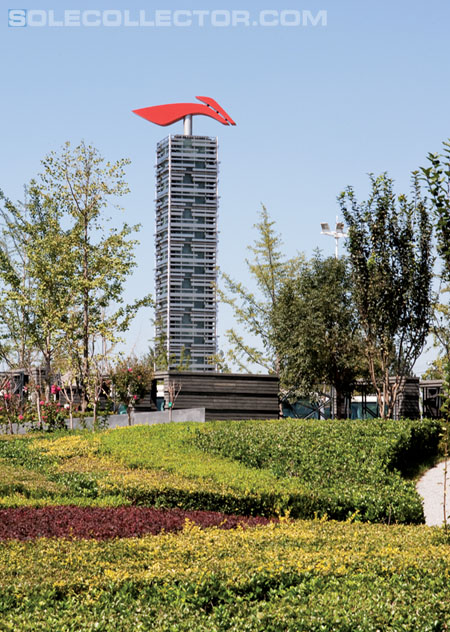 When then-Cleveland Cavalier Damon Jones hit the NBA courts in 2006 wearing Li-Ning's first pair of basketball signature footwear, it was an afterthought, at best, to most American NBA fans. Jones was hardly a household name, and the endorsement received minimal fanfare. But while that shoe may have gone largely unnoticed, it represents an important moment in sneaker history. It was a moment that was not only over 15 years in the making at that point -- it also marked a new direction from China's biggest domestic footwear brand.
The story of Li-Ning starts all the way back in 1984 – July to be exact – when a little-known Chinese gymnast by the name of Li Ning became an overnight hero in China after winning six medals – including three Golds – in floor exercise, pommel horse and rings, earning himself the nickname "Prince of Gymnastics."
This was a particularly significant and meaningful accomplishment for the country since it was their first Summer Olympics appearance since 1952. An aging body and nagging injuries would hamper his return to the Olympics in 1988, however, Li Ning's impact on Chinese sports was just beginning.
"In 1984, he came up with the idea that when Chinese athletes got on to the [medal] podium, they always wore a brand other than a Chinese brand," explained Li-Ning CMO, Shiwei Fang, in the summer of 2010. "So, that's why after he retired from gymnastics, he decided to start his own sporting goods company."
Inspired by that idea, he started talking to the Chinese sporting federations, and they all liked the idea of a Chinese apparel and footwear brand. A podium jacket actually became the first product produced by the company, which he formed in 1990.
By the 1992 Summer Olympics in Barcelona, the Chinese Olympic Delegation was wearing its apparel and was officially sponsored by Li-Ning.
The podium suit was the company's first product, but before long, they began making footwear. The company's early days were limited to lifestyle products, but with such a sports-heavy target consumer, it was only a matter of time before they crossed over into the performance world.
Today, Li-Ning focuses on seven main sporting categories: badminton, basketball, running, soccer, tennis, table tennis and fitness. The company produces footwear, apparel and accessories for both sports and leisure for all of these categories.
A visit to the company's still-new Beijing campus, located off the city's fifth ring road (in Beijing, the main divisions are rings that circle the city's center), quickly revealed the importance of badminton and basketball. Inside the campus' large and impressive athletics facility, the real estate is dominated by badminton and basketball courts.
"We think of badminton as the top sport category for Li-Ning," explains Fang. Badminton is one of the country's most popular sports, and an area that helps give Li-Ning a strong differentiation from Western brands, which offer little, if any, competition in the category.
But it's basketball that offers the most future opportunity. Thanks to the inherent face-to-face interaction and passion involved in the sport, it has found a broad appeal to the Chinese consumers. According to Fang, "It is probably the best category to allow you to reach a young target audience of consumers. If you talk about running, that would be much older. Also, basketball is very popular in China. Because of the influence of the NBA, it is heavily promoted."


Below: A statue at the Beijing headquarters of company founder Mr. Li Ning executing his iconic 1984 Gold Medal-winning pommel horse routine.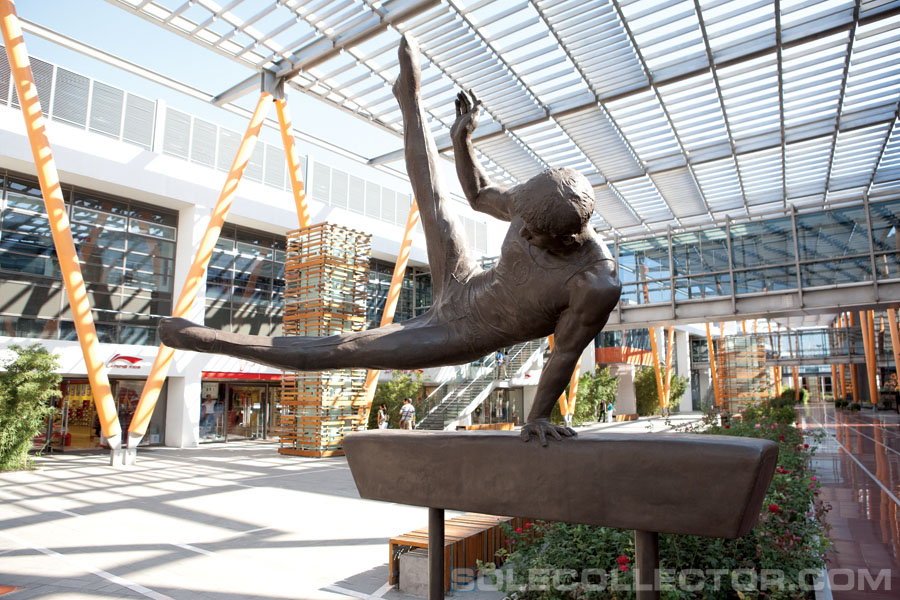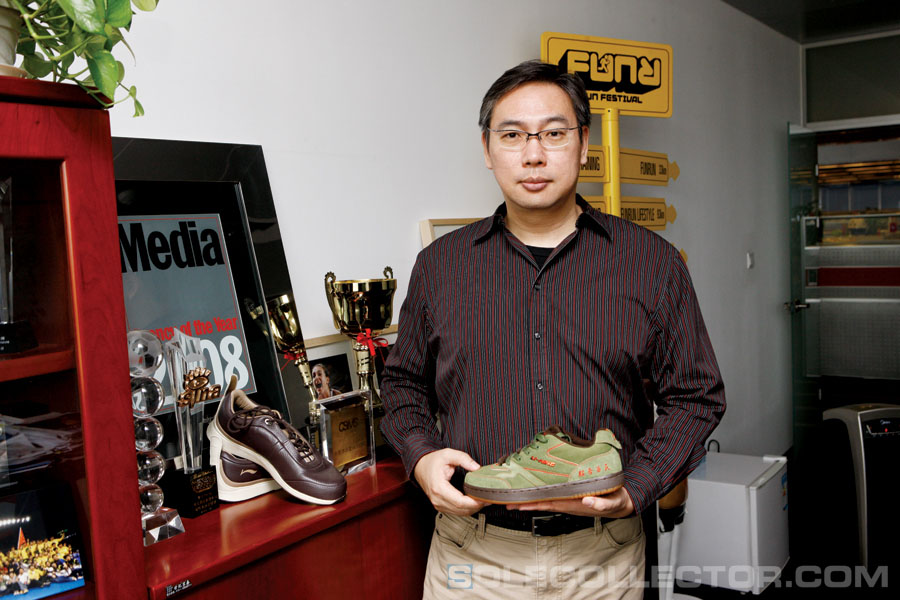 Above: Shiwei Fang, Li-Ning Chief Marketing Officer
In 2005, Li-Ning became the first Chinese brand to be an official marketing partner of the NBA, and as Fang explains, "I think basketball is not only the competition, it's culture." That's why the signing of Damon Jones is so important to the direction the company is now heading. Thanks to that early endorsement, along with the Spanish national hoops team, Li-Ning was then able to sign its first major NBA name to a contract: Shaquille O'Neal.
While it was still not available in the U.S., the footwear was beginning to get more attention thanks to Shaq's worldwide popularity. But it wouldn't be until early 2010 before Li-Ning products would officially be available in the U.S., when the company opened its Portland, Ore. retail store. The store carried a wide variety of products, including apparel and accessories, but it was basketball and Baron Davis' first signature shoe with the company, the BD Doom, that generated all of the interest.
Operating its own store is nothing new for the company, as that is the primary method of business at home in China. In China, multi-brand distribution channels [think: Foot Locker] are still rare. Thanks to rampant counterfeiting in the country, many citizens view a store that sells many brands side by side as not legitimate goods.
A single-brand store, such as Li-Ning's 8,000 Chinese retail stores, ensures the legitimacy of goods for consumers. It also allows the brand to have a tight control over product and to deliver their desired message to a region.
In 2010, Li-Ning celebrated their 20th anniversary, which is a significant year to the Chinese people. Fang explains that in China, 20 years signifies that you have become an adult. "We are still young, but we have a lot of ambitions. We want to go global and make it a very sexy brand," he says with a smile. "The brand rejuvenation project helps us to redefine our position." And an important part of that brand rejuvenation was a new company logo.
A unique aspect of this logo is that there are four different interpretations that can be taken away from this new version. Similar to the original, it still resembles the letters "L" and "N." Next, there is an angle of Mr. Li Ning's famous pose on the pommel horse that can be found aesthetically akin to the logo. The previous logo had a similar look to that of a squirrel's tail, while the new logo looks more like a fox's. And finally, the new logo also resembles the Chinese character for "people."
While not a drastic change from their prior logo, according to Fang, the new logo was still met with mixed responses, thanks to a strong emotional connection the original had earned over the previous 20 years. When the company took it to its athletes, there was a much different response. Fang explains that, "All the athletes, 100 percent, their feedback was positive. They felt it was much more energetic, brought forth power, and was very dynamic."
With plans of taking the company global in 2014, a clear message is extremely important, and the brand felt the logo was an integral piece in that equation. "When you are going global, how you are going to tell your brand story is very important," explains Fang. "That's why we think the new logo can better tell the Li-Ning brand story."
Rather than rushing the globalization process, they have set out a clear path for not only communicating their brand message, but making sure the right team is in place. According to Fang, "You need to take your time to prepare for going global. Organization-wise, you need different platforms, and you need new talents coming from overseas to help you to do that."
It may have seemed insignificant at the time, but that 2006 signing of Damon Jones could very well go down as the beginning of the process that took Li-Ning from being a successful Chinese brand to a worldwide footwear power. With a bold heritage, the support of the massive Chinese market, and an impressive new and well-equipped company headquarters, Li-Ning has positioned itself for a run at something huge. Their latest signing of NBA star Dwyane Wade serves as an example what they wish to become.