words // Nick DePaula
images // Bob Metelus
Across the globe in China, Li-Ning Company founder Mr. Li Ning and Miami Heat star guard Dwyane Wade formally announced their new partnership moments ago at a press event in Beijing. With the Heat in town as part of the NBA's "China Games," the timing couldn't have worked out better for the newly inked endorsement deal, as Wade and the defending champs will take on the LA Clippers tomorrow in Beijing.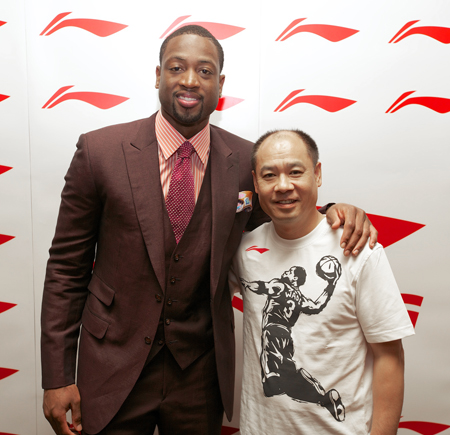 Together, Mr. Li Ning and Dwyane officially launched a new brand simply named WADE. Dwyane will personally oversee all products as the Chief Brand Officer, taking on more responsibility earlier in the product creation process for his own brand that is slated to produce statement level footwear and apparel for both adults and kids.
"I am so proud to welcome Dwyane Wade to the Li-Ning family," said founder Mr. Li Ning. "Dwyane is a superstar for his athletic achievements, and also for the way he carries himself on and off the NBA court. I have come to understand what motivates him, what he cares about, and the personal and professional path he wants to take in the coming years. There are remarkable similarities between Dwyane and myself in this regard, and I could not be more excited about developing a brand with him that speaks to those shared views."
Not only will Wade be earning a hefty annual endorsment tag as the company's new lead athlete for the duration of his NBA career, but he's also being given an equity stake in the company. Last year, Li-Ning reported $1.4 Billion in revenues. It's quite the landmark deal for a Chinese footwear brand to sign a superstar athlete still in his prime and slated to compete for multiple NBA championships in the coming seasons.
"I first visited China in 2008, when I competed in the Beijing Olympics, and was deeply moved by the country's genuine passion for basketball," said Wade. "I have been blessed with an opportunity to make an impact on the game in the United States, and I look forward to now being active with the sport on a more global level. I am honored to join forces with Li-Ning and grow the game, beginning in China."
Dwyane's very first signature model, named the "Way of Wade," can be seen below in both home and away colorways. Expected to be priced in the $125 zone with an early 2013 launch date, he'll be breaking out both versions on-court this week. He's slated to wear the Away pair against the Clippers tomorrow in Beijing, and we'll see the Home pair worn on Sunday in Shanghai's game. Both pairs will be auctioned after each game for charity.
Stay tuned for more on the monumental signing for Li-NIng and the formation of WADE. We'll be speaking with Dwyane shortly for his thoughts on his new endorsement deal, as well as Vice General Manager of Basketball Brian Cupps to discuss where the partnership is headed.