NIKE LUNAR HYPERDUNK 2012 PERFORMANCE REVIEW | INNOVATION AT A COST

words // Nick DePaula
As published in Sole Collector Magazine iPad Issue 10
The new Nike Lunar Hyperdunk is a good shoe. The only problem is that last year's Hyperdunk 2011 was a great shoe. As the series progressed over a four-year span beginning with its introduction at the 2008 Beijing Olympics, the apex of performance was finally achieved last season with the 2011 version. It was the lightest Hyperdunk yet. The most supportive. Had the best traction. It was even the most responsive and best-fitting.
It crushed every category you'd look for in a high-performance basketball shoe. Even better was the fact that the Elite Series version introduced in the spring of 2012 somehow maximized each and every part and piece of the shoe that I already really liked.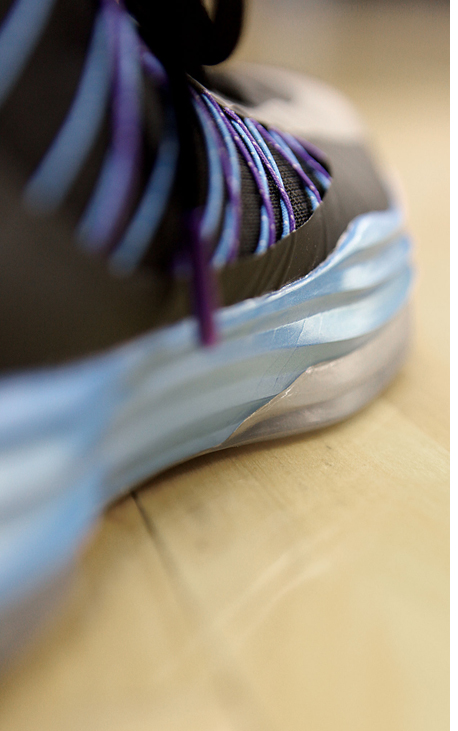 Unfortunately, everything that it exceeded expectations on has seemingly taken a step back in this year's version. I've played in both the USAB colorway, worn by guys like LeBron James and Andre Iguodala at this summer's London Olympics, as well as the lead Black / Blue Glow edition that helped to introduce Nike+'s Sport Pack system.
After plenty of runs in each pair, I kept leaving the gym wanting more. On a positive note, the Pro Combat-inspired mesh quarter sleeve is comfy to the skin, and the shoe slips right on and has no points of irritation. But it just doesn't fit as well as the Hyperdunk 2011, and certainly not as well as the Hyperdunk Elite. The panels aren't as contoured along the medial side and through the toe box, and once I was all laced and ready to go, I never got that same one-to-one fit sensation that I loved about the Hyperdunk a year ago. While the shoe's Flywire strands are literally floating alongside the upper and aim to help lock you in and keep your foot from budging too much on cuts, I can't say with exact certainty that the strands really made a noticeable difference when it came to support. I've played in shoes that felt more supportive through the upper, and sometimes heel and midfoot fit and lockdown can do more for support than targeted strands along the forefoot. I'm curious to see how Nike's new dynamic Flywire system evolves over the next few seasons, and for now, I think there's still room to improve when it comes to a close fit and exact lockdown.
While they're on the same BB-03 last, the two shoes also fit quite differently through the toe. The new Lunar Hyperdunk feels more sloppy throughout, and on jabs and cuts your foot might slide around up front as a result. Another area I felt could use some improvement on the upper is the toe flex. A few years ago, the white-based colorways of the Hyperdunk 2010 incorporated an overly synthetic rand through the toe that had a noticeable pop on every step you took. It flexed terribly, and the material almost pinched down onto your toes. The newest Hyperdunk isn't anywhere close to that, but there's a level of stiffness still that you'll have to deal with, and it makes the flex and transition a bit firm to start. That's all a big downgrade from the Hyperdunk 2011's sweet mesh-based Flywire composite package that had targeted zones for breathability and a panel that moved and flexed with your foot during play.
While the upper and overall fit of the shoe all left a bit to be desired, the cushioning and Lunar platform is probably where you'll have the most complaints. I know I sure did. When the first Hyperdunk hit in 2008, I loved the shoe's lightweight containment package and at-the-time-unseen topline silhouette. The support and protection were incredible. I didn't actually believe little strips of nylon were keeping me locked in over the shoe's footbed, but I did think the shoe was damn supportive and that was good enough for me.
While I loved the upper, what I didn't buy into at all was the shoe's other new innovation: Lunar Foam.
In fact, I hated it.
The small puddle of foam said to be developed in conjunction with NASA was bouncy and perhaps more cushioned than standard foam right out of the box, but within a handful of wearings, it bottomed out and had zero responsiveness. We saw Lunar Foam used in the forefoot of the first Hyperdunk, the Kobe IV and eventually the Hyperize, and then we saw it disappear from hoops for three years. After making it through a full product cycle, the feedback from ballers was pretty unanimous: Lunar Foam just didn't have enough responsiveness, and even worse, it had no resiliency for the impact and forces of basketball.
The Innovation Kitchen has been at work to re-engineer that compound and make it more long-lasting since we last saw it on the Hyperize, but I'm just not sure foam-based cushioning will ever be the solution up front when there's already an obviously superior system available in Zoom Air. There's simply more foam here, going from a roughly 6-milimeter puddle in earlier models to 8-milimeters of foam here, so you will notice a more padded feel this time around. It still isn't as impressive as it could be though, as the extra foam to make up for the material's responsiveness is at the expense of court feel.
If this new Hyperdunk kept everything the same, but added forefoot Zoom Air, it'd be a world of difference on the court. Responsiveness and court feel are really the two biggest issues here, and that extra bounce up front that a max volume 8-milimeter Zoom unit offers up has been unmatched for almost 20 years. I totally didn't mind the softness and protection that Lunar Foam allowed for in the heel, but when it comes to forefoot cushioning in a $140-Nike Basketball sneaker for the elite player, the discussion should start and end with the inclusion of Zoom Air.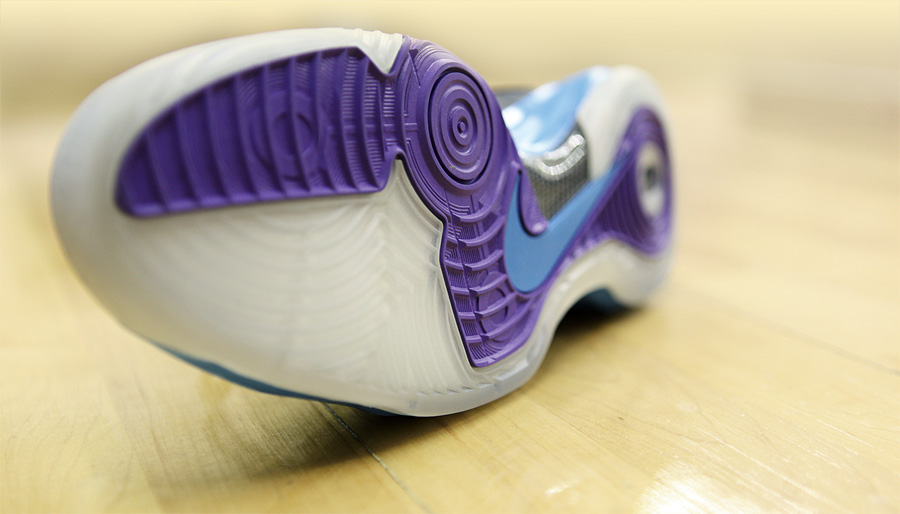 Last year's Hyperdunk really did take the series to a new place in terms of total cushioning and lockdown fit, and another area it really excelled at was traction. Much like Zoom Air has proven to be unbeatable for cushioning, so has a full-herringbone pattern for traction. Obviously you can guess my level of nervousness when I first saw that the Hyperdunk was switching from herringbone to a graphic traction story. I immediately thought of how that same shift seriously hurt the Kobe V's traction. Luckily, any skepticism I had was gone the second I got on the court for the first time.
It's rare that you'll find a graphic pattern that has the same surface contact and side-to-side traction that herringbone offers, but the grooves here are perfectly placed and in conjunction with a healthy outrigger, the traction and support are outstanding. It's definitely the bright spot of the shoe, and was driven entirely by the shoe's Nike+ sensor system underneath the insole. "I wanted to really explain what was happening through the outsole," says designer Olivier Henrichot. "The four dots on the outsole are the four points where the sensors are. It's a general position of where they are, and the traction pattern was done so that it looks like it's radiating from those sensors."
The outsole really showcases the great job on Henrichot's part of visually capturing the shoe's main innovation, and most importantly, it works great for any surface. If traction ranks highest on your list, it's a huge positive of the Hyperdunk. It was the most reliable part of the shoes. With the main inspiration for the outsole stemming from the $250 Nike Sport Pack version's Nike+ sensors, naturally, the next point to dive into is the shoe's Nike+ system.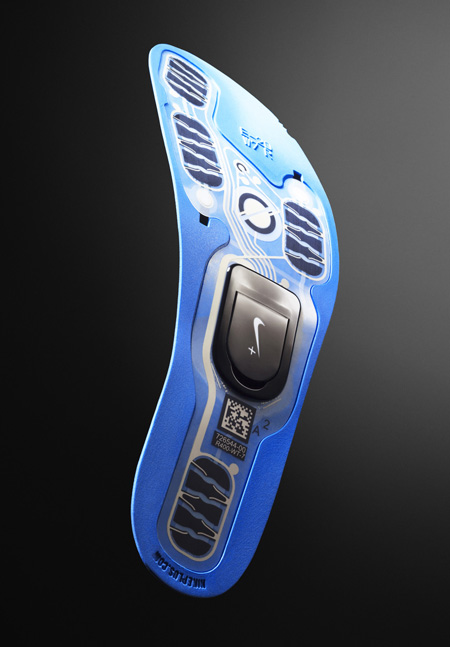 Here's the thing. I'm not an elite athlete. Maybe by 24-Hour Fitness standards, but certainly not by D1 or NBA standards. Meaning I'm not explosive. I'm 6'3" and around the 190-pound mark, depending on pizza intake for the week, but when it comes to vert-defying dunks, rapid-fire footwork or pure full-court speed, I'm pretty ok with saying that I rank probably right around "average." (I like to think my shooting and high-risk court vision make up for it.)
What I'm getting at is that the Nike+ Sport Pack is probably most beneficial for players at the high school or college level who are looking to get better and really quantify their improvements, and during my testing, it was cool to check my stats from time to time, but I don't plan to use the system beyond that. I've always been skeptical of the arbitrary "Fuel" metric of points that Nike's Fuel Band tracks, but with the Hyperdunk, I really do think the way it tracks vertical and foot speed are innovations that the company should be proud of. It's never been done in hoops, and with the shoe's "Showcase Mode," you can instantly see your vertical measured with a synced iPhone nearby. Which is impressive.
For a guy that measures the day's work by wins and losses in pickup games and likes to play more on "Get Buckets" mode, I'm not all that sure that the Nike+ system is best suited for me. But if you're a teenager looking to literally measure your effort and hustle, along with your growing vertical, against teammates at your school or friends online, it's an easy-to-use system that has a near-perfectly mapped out social media integration.
After the huge success of the brand's running-geared Nike+ system over the last five years, much of which can be attributed to it's easy-to-use format and social media crossover, its easy to see that those key factors played a huge role in the framework of the Nike+ Basketball system. The big difference between the two is that in Running, you can remove the Nike+ sensor, insert it into any Nike Running shoe and head out for a run. In hoops, for now, and because of the sport's more demanding four-sensor setup, the Nike+ system only works on the one Sport Pack shoe you purchase. Whether or not it's worth $250 for a system that is over with once the shoe is might be a tough call. I know when I was in high school there wasn't a chance in hell that my mom considered buying me a $150 sneaker, let alone a shoe for a hundred bucks more.
That's really where the big conundrum probably lies with the Hyperdunk+. The player that can most afford them is perhaps a dude out of a college with a full-time job that might not even want to know his vertical. For the constantly practicing high school hooper looking to get better in every aspect of their game, that $250 price tag might be tough to swallow. As a system, the innovations and metrics tracked are worthwhile and potentially helpful to a player's training program. There's real value there.
Perhaps it'd be best to wait for the next shoe that includes the Nike+ system, though, as the Hyperdunk on its own merits leaves a bit to be desired in terms of overall cushioning, fit and transition, making it a tough overall package to recommend. I liked the Hyperdunk on its own just fine, as it had great traction and solid levels of support, but for $140, there are definitely better shoes out there with better court feel and fit. As it relates to the Nike+ system, the future is looking bright, and if you think the system is something that could be beneficial for your game and training, it's definitely worth paying attention to where the tech evolves and taking a look at the future shoes that incorporate it.
Grade Breakdown:
Designer: Olivier Henrichot
price: $140 / $250
best for: Bigger guards and forwards
colorway tested: Black / Metallic Silver / Blue Glow
key tech: Dynamic Flywire support strands, highly sculpted Phylon midsole, heel and forefoot embedded Lunarlon units, Pro Combat-inspired mesh quarter-sleeve, glass-fiber midfoot support shank and for Sport Pack version, Nike+ data tracking system
pros: Great traction and out-of-box comfort
cons: Lunarlon-based midsole loses responsiveness within first week and doesn't compare to responsiveness of Zoom Air; breathability could be better; tongue slides around at top; toe flex could be more smooth.
improvements: Add forefoot Zoom Air unit; improve court feel; look to reduce weight.
buying advice: I actually have a hard time recommending these at full price when there're just so many better pairs available now on the market. There are lighter, better-fitting and more responsive options out there from Nike Basketball, like the new Hyperfuse, Zoom Soldier VI, or better yet, last year's Hyperdunk model.