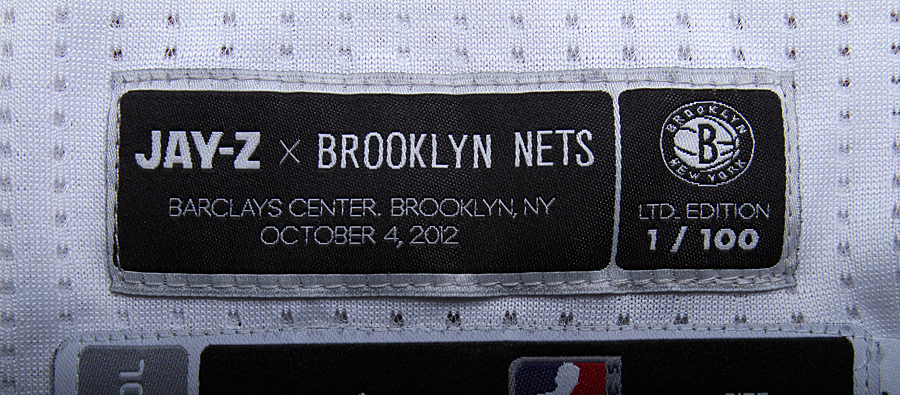 words // Zac Dubasik
images // Nick DePaula
Despite Jay-Z rapping, "I don't wear jerseys, I'm thirty plus," as he debuted the new Brooklyn Nets jerseys…at forty-plus…us here at Sole Collector know that not only are jerseys back, they never went anywhere in the first place as far as we're concerned. Ever since button downs were taking over, we were padding our collections along the way with eBay deals.
It only seems right that the guy who led the jerseys-as-a-casual-outfit era a decade ago, and who also killed that era with a single line, would debut the new jersey for the pro team of which he's part owner. On Sept. 28th, on the first sold-out outing of his 8-night run to open Brooklyn's new Barclays Center, Jay gave the world its first glimpse of the new Nets jerseys.
As their previously unveiled logo may have implied, the jersey design is clean and bold. Both the black home and white away versions feature the word "Brooklyn" across the chest without any extra fussiness. A tonal herringbone stripe, which ties in to the pattern of the Barclays Center's court, runs along the jersey's sides. As a finishing touch, the back of the neck features a small patch with the Nets' basketball "B" secondary logo.
As for Jay's version, the number 4 is actually a nod to his daughter Blue Ivy. "Ivy" being a play off of the Roman numeral IV, representing the fact that both HOV and Beyonce were born on the 4th of the month.
To celebrate the historic opening concert series, adidas Basketball released a limited amount of these authentic REV30s each day of the concert run, complete with a dated commemorative patch. Whether or not this truly marks the return of jerseys, it will long be remembered for launching a new era of one of the most talked-about teams in all of professional sports.