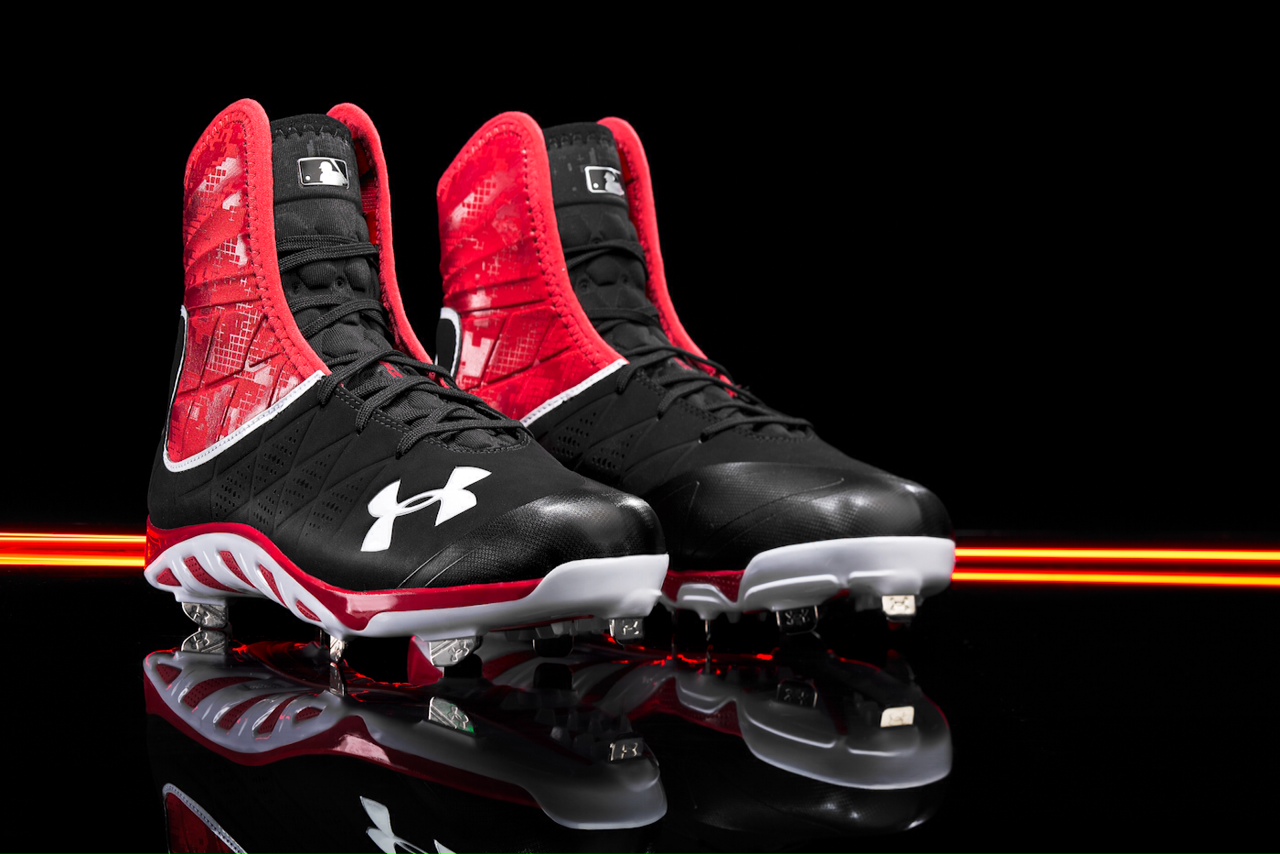 words and interview // Brennan Hiro Williams and Nick DePaula
As published in Sole Collector Magazine iPad Issue 10
Under Armour made a bold statement in 2011 when they unveiled the Highlight, a new football cleat featuring the latest in UA footwear technology, with vibrant colorways and, most notably, a cutting-edge silhouette. Led by Carolina Panthers quarterback Cam Newton and his record-setting rookie campaign, the Highlight made large inroads throughout the year, setting up a strong retail release this past April.
"With the Highlight, we set out trying to redefine what a cleat could be, essentially like we did with the compression shirt that we did back in the day, which redefined a category and changed an industry. We want to change perceptions of what a cleat could be and can be," said Josh Rattet, Under Armour's Senior Director of On-Field Footwear.
This year, Under Armour brought the Highlight concept to baseball with the introduction of the Spine Highlight baseball cleat. Like its football predecessor, the Spine Highlight is a largely unprecedented silhouette for the sport, and is led by another bright young star – the Washington Nationals 19-year-old phenom, Bryce Harper.
Can the Highlight make a successful transition to the diamond? We spoke with Josh Rattet to find out more about the new cleat.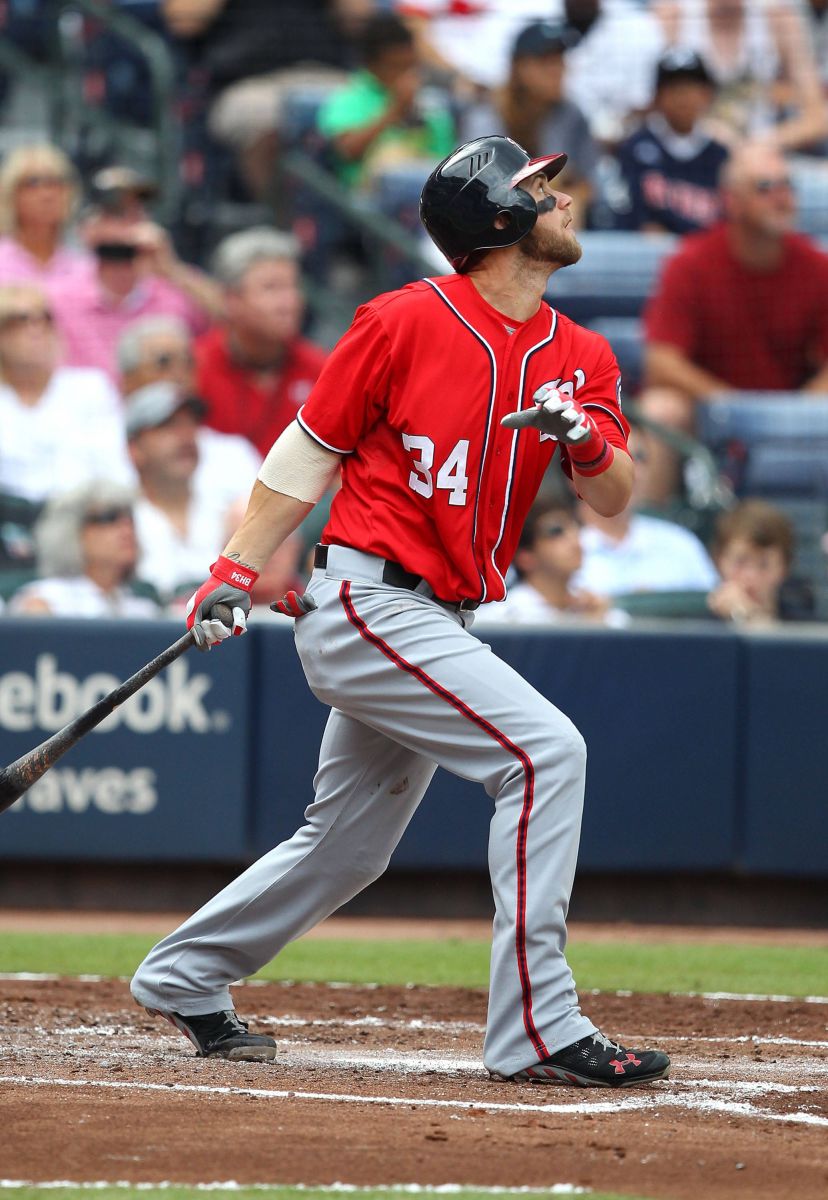 Nick DePaula: How far back did you begin the process to bring the Highlight silhouette to baseball, and what response have you received, since it's something so different?
Josh Rattet: We wanted something unique, and something that gives the athlete an advantage. How do we do that without compromising what we're doing in football? It's a similar story for baseball. We talked with a lot of athletes at South Carolina, the reigning two-time NCAA national champion, and our stable of MLB athletes including Bryce Harper. We talked early on about, "How do you tape your ankles? How do you feel about hi-tops?" We worked a lot of different angles and did our due diligence to vet out any of the negative connotations of an unconventional-looking baseball shoe.
Baseball players do need a high level of support. If we could engineer a lightweight, comfortable solution that has a unique aesthetic, something a little bit different, we would feel like we're on to something.
Brennan Hiro Williams: When I first saw the Spine Highlight, I felt that it looked very aggressive, much like Bryce's style of play. It looks like a Bryce Harper shoe. How much input did he have along the way?
JR: We did consult with him. The design inspiration actually stems from Bryce Harper's eye black, if you look at the way the silhouette itself dips down. When we got prototypes back, we took them to him and our athletes in South Carolina. We wanted to make sure the product met all of our criteria for getting on the playing field. When we met with him, we showed him the cleat and he was just all over it. He loves the lightweight feel of the shoe. It's very light for a baseball shoe, especially with the Spine. Lightweight is usually more of a priority for football and soccer, while baseball is usually more about comfort and being on your feet for nine innings, but the Highlight is exceedingly light. He's been wearing it since June and has had great response and feedback.
I was hoping he'd wear his pants up [laughs], but he's a young kid in a clubhouse. There are a lot of guys with strong resumes and he just wants to fit in and do a great job. But that's the mantra we're trying to get behind, that it's so cool you can wear your pants up with a hi-top.
BHW: That was one of my first thoughts – that this is a great shoe for the guys now who wear baggy pants on the field, but if they really want to show off they can wear their socks at the knees. It would be a different look that we've never really seen before.
JR: Yes, and he's really the guy to do it. It's like with Cam, we've got the right athletes for our brand and for our persona – guys that really do something unique that kids emulate. I think consumers and kids expect a provocative-looking product from us, and they also expect our pinnacle athletes like Bryce and Cam to be wearing that type of product.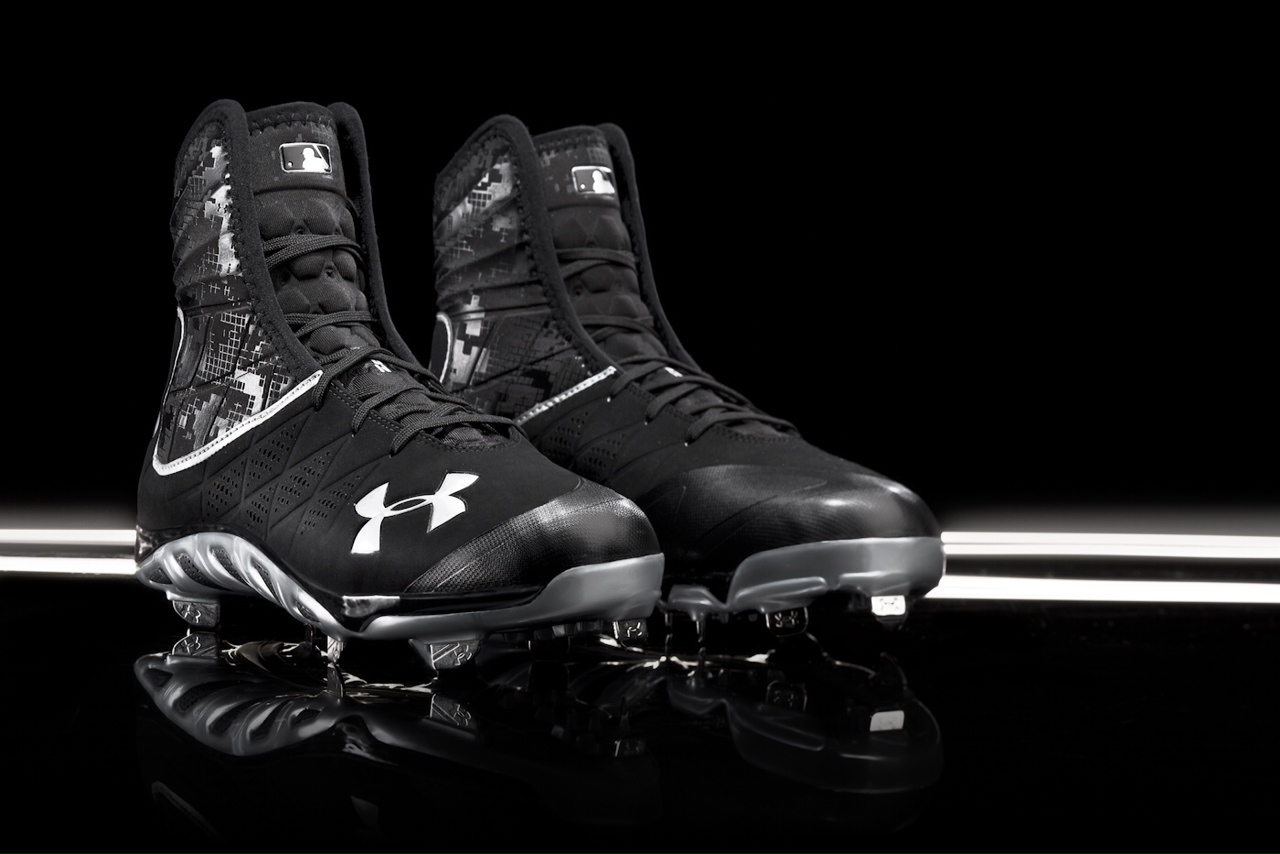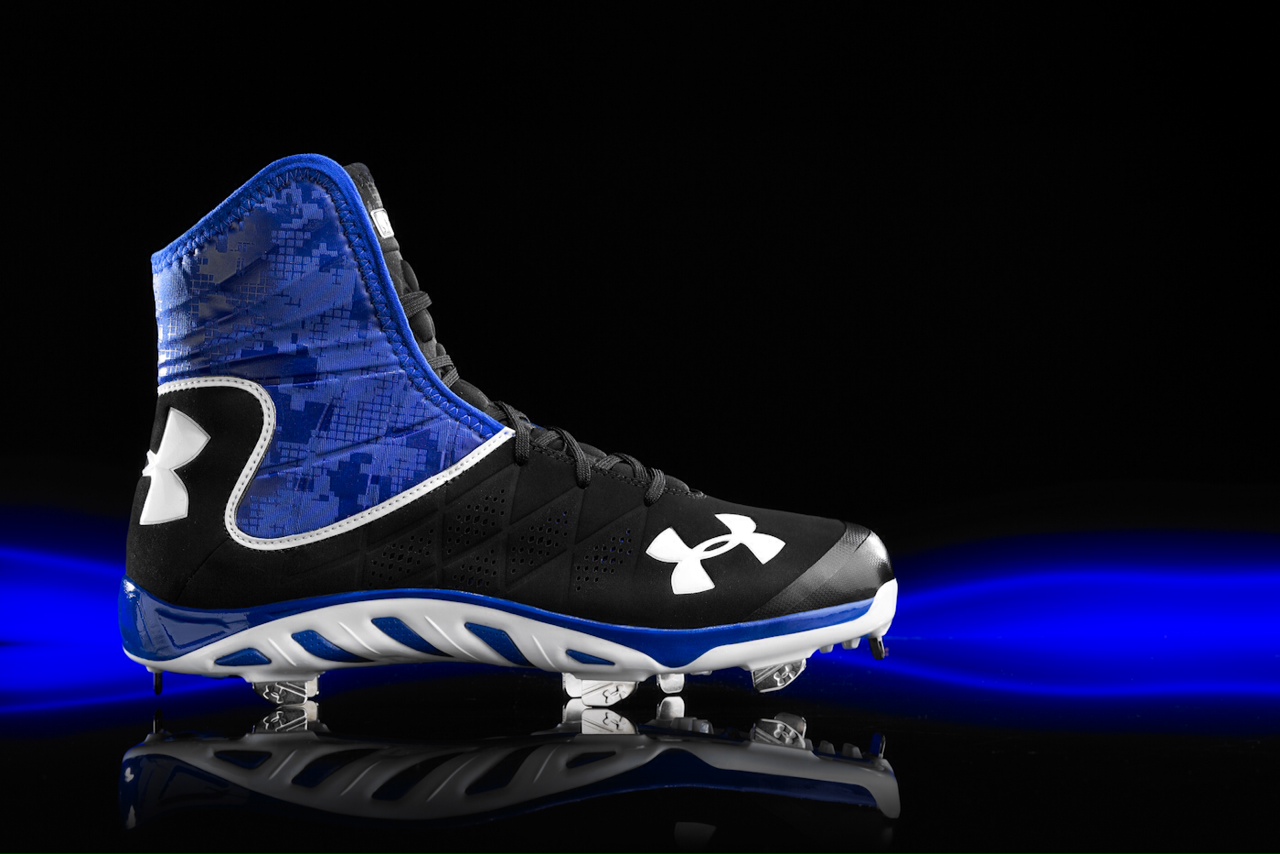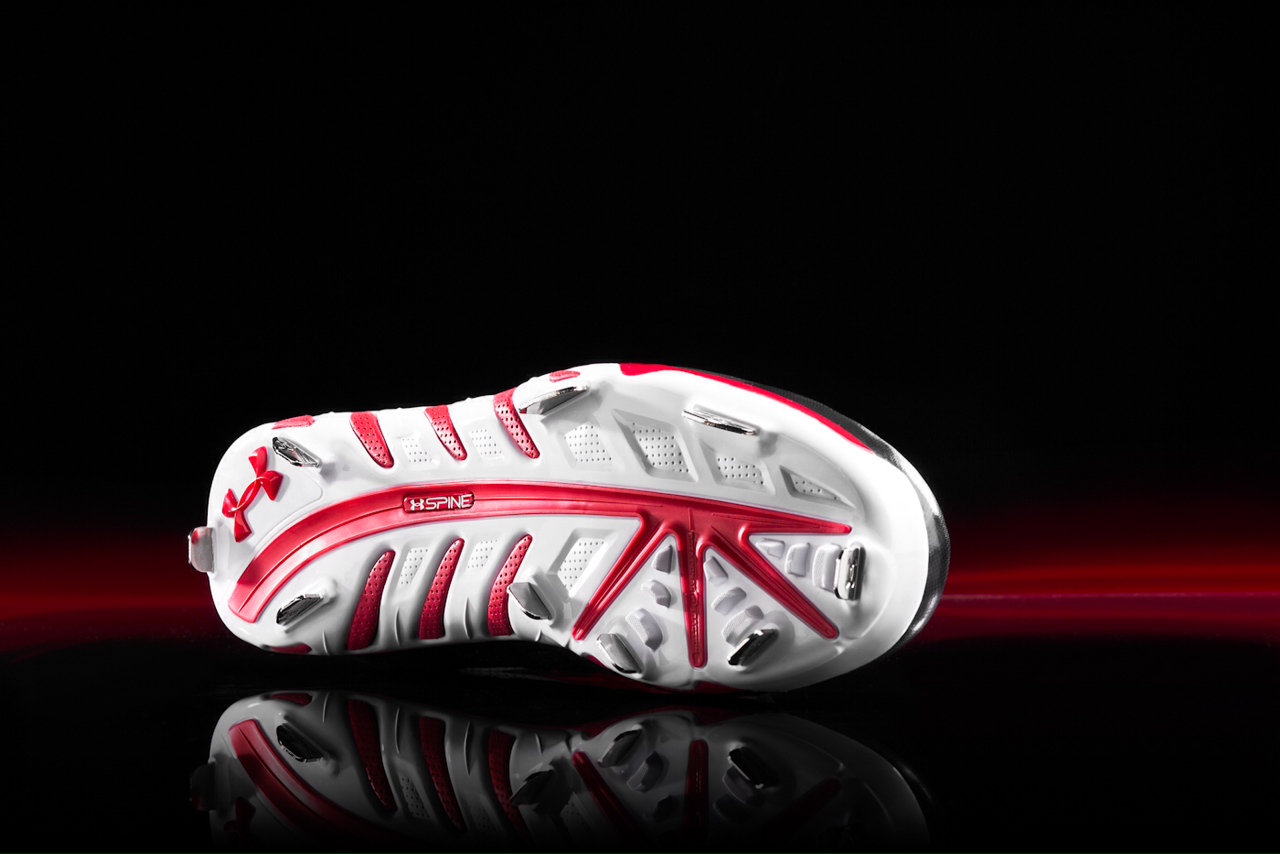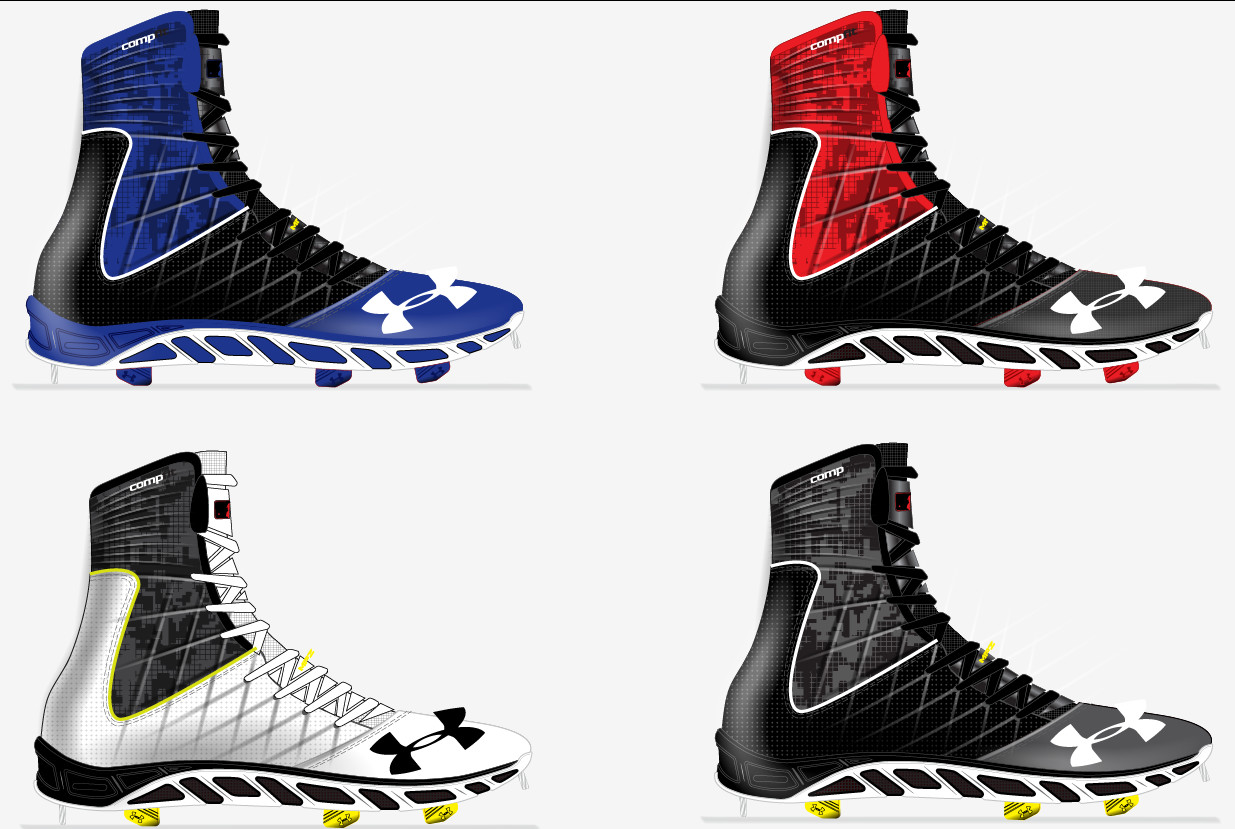 BHW: Can you speak more about how Spine technology was integrated into the baseball cleat?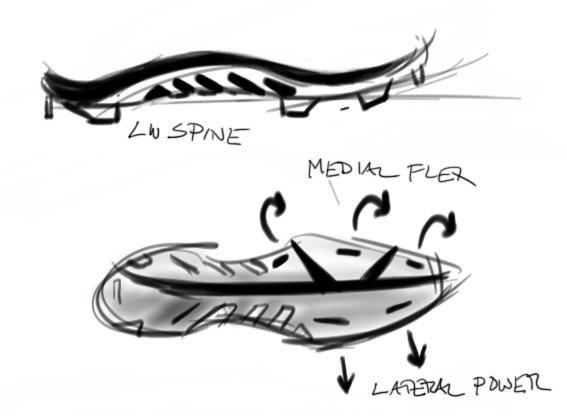 JR: The design inspiration and the benefit of Spine is very similar in all categories. Number one, you have a visual technology that has a visual appeal from the sidewall. More importantly, you have the convergence of two properties: a lightweight, cushioned midsole that molds together to form a backbone with a super-supportive, rigid Pebax outsole cage. It's the same premise as basketball and running, just with different materials. Obviously for baseball, traction is a critical component, so cleat placement is important. We've removed some of the unnecessary weight in the cleats to give it that lightweight feel, and to make sure the players are stable and sound, so the story about lateral mobility and making quick and dramatic cuts is very similar.
NDP: Can you talk to us a little bit about the color stories? Obviously the All-Star colorways were bold by design...
JR: The design inspiration for the All-Star stuff was all about Kansas City and the crown and Kauffman Stadium. There was a lot of talk about Bryce and being "outlandish" and making a statement like he's the "golden child" or something. We just wanted to give these guys something super compelling and provocative, without being outlandish and distasteful. We're not going to embarrass anybody. There are color rules and regulations during the regular season, so the All-Star Game is a showcase event that lets the players experiment and show off their personality a little bit.
NDP: With the Highlight silhouette, is that something that you guys are looking to define the category and be something people can look to with each season?
JR: Yeah, but I mean, we don't want to become old school either. Freshening things up was the inspiration for the Highlight. It kicks off where we want to go for 2014, and the Highlight is definitely going to be a part of our range for the foreseeable future. I think it's making a statement where we own an aesthetic and own a functional story that no one else is doing. I think you'll see a franchise being built around this without proliferating it too much and cheapening what the intent is.