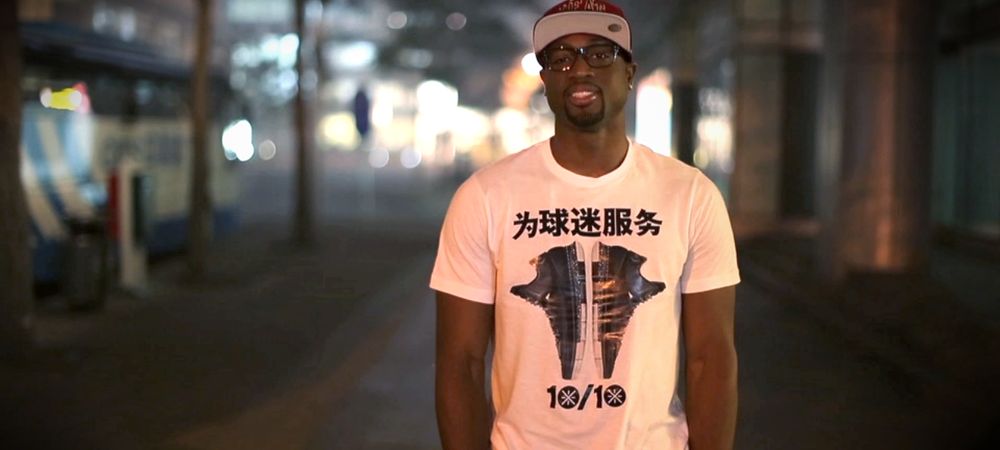 words & interview // Nick DePaula
images // Bob Metelus
This has never happened before. We've never seen a star player in his prime on a marquee team -- coming off a championship no less -- ditch all traditional convention and partner with a Chinese brand.
The standard practice in the footwear industry over the last five years has been for players either wholly unproven or well past their prime to sign on to endorse a China-based company. At times, the deal might arise out of necessity, and to this point, there hasn't been a landmark deal yet to truly raise the bar and make a lasting impact on the footwear industry.
Dwyane Wade hopes to, well, make that change. He officially announced his new long-term partnership with Li-Ning earlier today in Beijing alongside company founder Mr. Li Ning, and together, they'll be launching his very own WADE brand.
The focus for the pairing for now is on the massive Chinese market, with plans for the US slated well down the road. As D-Wade progresses to the second half of his career over the next decade, he hopes to have a full footwear and apparel brand bearing his name fully entrenched in the ever-competitive region by the time he retires.
I spoke with Dwyane earlier this afternoon -- at nearly 3 AM in Beijing for him -- and dove into his very first impressions of the brand years ago, how he expects to grow the WADE brand throughout China and what he was looking for in his very first shoe, the "Way of Wade." The debut model was created with the direct input of Wade and was a creative collaboration between high-end fashion designer Alejandro Ingelmo and Li-Ning's Design Director Eric Miller.
Be sure to also check out our brand profile of Li-Ning for a history lesson on the 22 year-old company, and stay tuned for an exclusive interview with Brian Cupps, Li-Ning Vice General Manager of Basketball, as he discusses the landmark Wade partnership and the brand's plans for the future.
Nick DePaula: During the last three years that you spent at Jordan Brand, you really got to see firsthand the power of having the "Jordan" name at the forefront of the brand. How much did that influence what you were looking for in this deal, knowing that you'd be personally better served to have your name at the forefront here?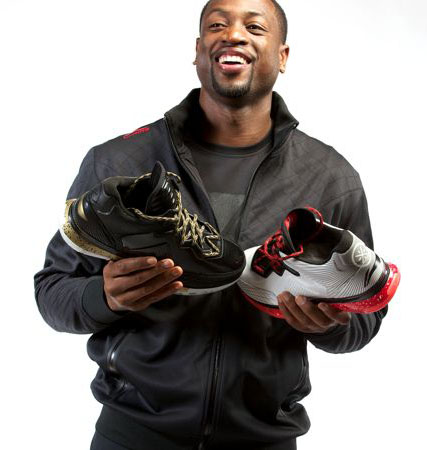 Dwyane Wade: Definitely, I was able to see how Michael went from being a great player to taking his legacy from what he's done in basketball and having it live on for so many years. I had an unbelievable opportunity here to try and follow in similar footsteps, but in a different capacity hopefully. I took that opportunity and I'm excited about it. I know it's going to be a lot of work as well, but it's a challenge. I look forward to the challenge, but most importantly, I look forward to the opportunity to do what hasn't been done that often, in a sense. Michael Jordan obviously has done it, but that's it.
NDP: How much did your experience at the Beijing Olympics in 2008 and your trips to China the last few summers really impact your decision, just being able to see how big the market is from up close and how much people love the game of basketball there?

DW: Yeah man, it did unbelievably. I have to give credit to the NBA, because they've done an unbelievable job of taking our game global and putting us in a position to be able to come here and other places in the world and see how big the game of basketball is. If you have never been here, you might not really understand how amazing and how big basketball is. These fans in China love the sport, and they have more players playing than we have people living in the US. [laughs] It's amazing, and for the game, I think this is where we're trying to get to eventually as a league too hopefully. To have an opportunity to represent and be a leader of a global brand, for me, it was a great decision.
NDP: When you played with Shaq and he was endorsing Li-Ning, how aware of Li-Ning were you at that point in 2006?
DW: I wasn't aware at all. That was kind of the first eye opener into the Li-Ning brand. I wasn't aware at all, and I just knew that it was a China-based company. I knew that Shaq, a lot of times, he was known to do stuff outside of the box. I think I probably became more aware [of the brand] probably in 2008 more so than in 2006 when I played with Shaq. We were at the Beijing Olympics and Mr. Li Ning was the one that ended up flying over the "Bird's Nest" and ended up lighting the torch. They kind of blew up in 2008 and that moment really made the name known. From afar, I knew of them since then, and I would say at the same time, Peak as well was kind of coming up and doing different things in basketball. That was really a moment in the last four or five years where these other brands had made an impact on NBA players. It opened our eyes to more than we're used to growing up.
NDP: Your first shoe specifically, the Way of Wade, has real subtle branding and then there's that sharp "W" with the laces. What were some of the defining details and design cues that you wanted to see in your first shoe?
DW: Well, just from working on shoes in the past and working on injecting my personality into the shoe, I thought it captured what I wanted it to capture in the sense of putting together more of a performance fashion style. We knew we were working with a small window here to try and create a shoe, and we just wanted to make it something that was simple and classic. Something that I felt could live on mainly with new colors and materials that we would add to the shoe. I wanted it to be something that could really take on different faces in a sense. I think the "W" was a hit on the bottom of the lacing and also on the actual laces and that was something that brought it back to the WADE branding. There's also a lot of personal hits on there with my kids' initials on there, my family initials on there, and also having a quote on the back from a bible scripture my mom loves that really helped to turn her life around. With different leathers, I can take the shoe from a more performance look to more fashion.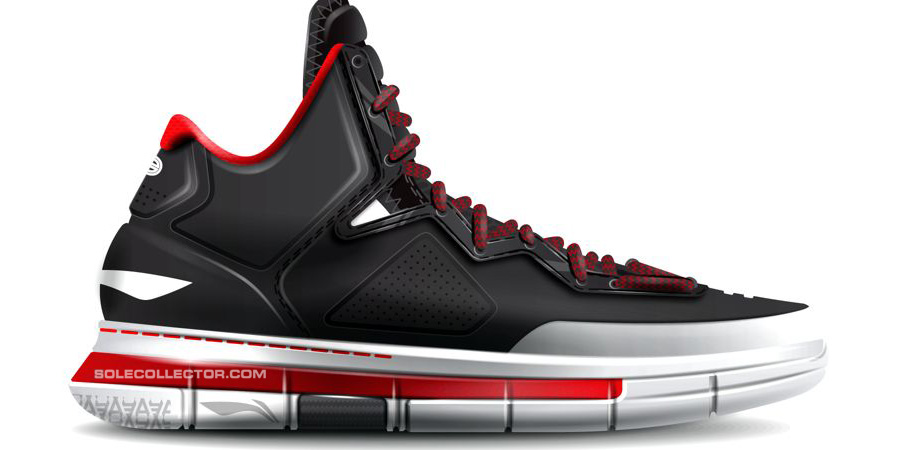 Above: Concept rendering of the "Way of Wade" by Eric Miller
NDP: Are there any specific materials, colors or themes that you're looking to incorporate into your shoe to give it some energy?
DW: Well, I have a few things in the bag that I'm going to bring out later, so I don't really want to let that out yet. Something that I'm excited about and that I really like. I think it's going to look very cool on the sneaker. Right now, what I'm doing is keeping it simple. The shoes that I'm wearing in China, they'll actually be a little different than the shoe I'll wear in the US. You'll see the shoe that I'm wearing in China, the midsole is actually different, and it's more China-based and performance driven by what they're used to here where the back of the heel is a little more durable because they mostly play outdoors. I want to give China something different, and the first shoe that I'll wear will be a patent leather look. The next ones will be patent leather mixed with some leathers and nubucks. In the states, I want to do tumbled leather and a nice soft leather. We'll do different looks and takes between patent, nubuck and leathers, and we want the shoes to be able to live with different materials and change the look from shoe to shoe. Like I said, the midsole changes the look of the shoe in the US too, and we'll do different colored midsoles to try and bring more color to it. With the way colors are now, it's almost like it's summer time all the time. [laughs] Not only in our sneakers, but bright colors in our clothes and our jeans too. We're going to be bringing some of that into the picture.
NDP: Can you also walk me through the new WADE logo?
DW: The logo is something that I created last year, and I teamed up with a designer named Willo Perron that works very closely with Kanye and some other people. I wanted something that was kind of futuristic, but something that was still me. The logo, when it comes together, every line is my name. Every different side turns to a W, every side could be an A, and every side could be a D or an E. That says WADE all around, and it can be read as WADE from any different way that you look at it. It's really a brand logo that I created, maybe almost two years ago now, that I've been using as my brand logo. Maybe what we end up putting on the shoe changes a little bit, but I still want to use that concept as the brand logo.
NDP: A big key piece of this deal too is just the creation of the WADE brand and having it continue even after you retire. Have you already given much thought to the kinds of players that you'd like to see wearing your products and that you'd add to your team roster?

DW: Man, that was a very big part of it. I'm already in the process of looking, and I'm always looking, especially now having the position of Chief Brand Officer. It changes me. Anything I've ever done before has been in the sense just as an endorser of shoe brands. Now, I have to look out for not only guys in the league now, but also up and coming guys that I feel represent me. Especially with so many different players now getting out of their comfort zones and they're wearing what they feel is best for them, and not necessarily what everyone else is wearing. A lot of guys now in the league are wearing different product, and I'll have my eye out for certain players to try and build the Li-Ning family and also build the WADE brand. Michael Jordan has done that for many years, and even when you're done playing the game, your name can continue to live on through players and performance. I will be out looking for someone to represent me.
NDP: Have you already started to think about how many shoes you'll have out on the market each season all under the WADE line? It'll be multiple models each season, right? Like how Jordan has a full assortment of products available.
DW: Yeah man, it will be multiple models. I think for this year, with just a short period of time, we're going to obviously be doing big hits in China to get this out there. Hopefully, as we get everything together, we can put a plan together for the US and we're going to wait for the US for awhile to make sure that when we come there, we do it right and we do it small. I don't want to have my shoes sitting on a shelf. I want to make sure that we do something small and get the product out there so that the Wade followers and supporters can have an opportunity in the US to represent brand WADE. Hopefully we'll continue to put out good product and that's all people will care about. A good product, instead of something they might think they want all their life, just because this is something different. We have different colors and different moments that we're going to share throughout the year that I think are going to be cool.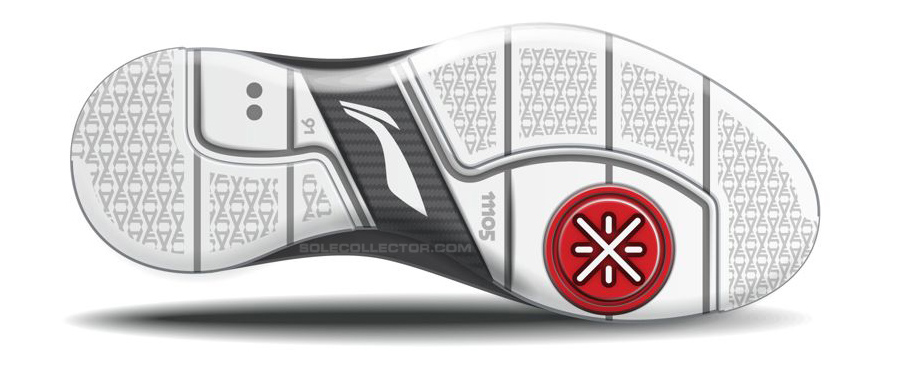 Above: An outsole rendering by Eric Miller, featuring Wade's logo as a pivot point, a true carbon fiber midfoot shank, "DW" traction pattern and various personal touches.
NDP: How important is it for you to have guys in Chicago or Miami be able to get your shoes? Or is that not going to be a focus for quite some time?
DW: It will be a focus, just at a different time. It won't be a focus on October 30th when we launch or on November 2nd when the season starts. [laughs] It'll be a focus at the right time, but this deal has just started, and this is a long-term thing. I don't want to rush into anything and I want to make sure we do things right. We want to give people different products and get some styles out here [in China] first to be able to get people to say, "Oh, ok. I like those. I want to get my hands on those." Honestly, you have to take care of your home first, but in this [case], China is home. For this shoe company and for my brand, we have to make sure that we take care of home. Then, we'll bring it to the US and it's going to be a little harder to do that, to change perceptions, but I think we can. Obviously, I'm very comfortable and confident in the product that I put on my feet. Unfortunately, the consistent sense is that Chinese shoes are cheap. Well, every shoe is made at the same manufacturers in China. Every shoe comes from the same place and from similar materials. Hopefully that perception will make its way out the door and we can put out good product and fashionable product that people will want to represent.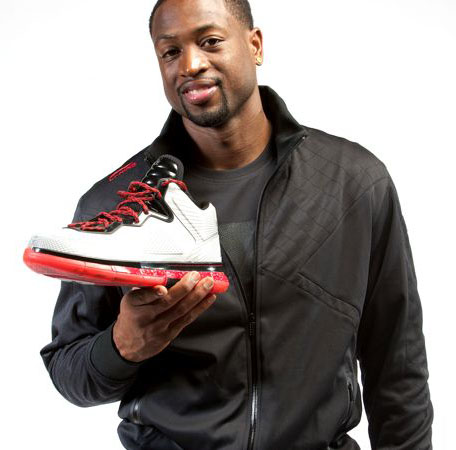 NDP: What have guys like LeBron, Chris, Ray and some of your other teammates said? They're obviously there with you in China now and are seeing this all firsthand too.
DW: They're happy for me and they're supportive. One thing about our team, we have guys wearing different things. It's crazy. Last year, I think we wore all Nikes, me and Juwan were Jordan and then Shane Battier was the only guy with a different shoe brand and he's with Peak. Now, if you look on the court, Mario Chalmers is wearing Spalding [laughs], Peak is trying to sign Terrell Harris and other guys on our team, you've got LeBron with Nike, Ray with Jordan, Shane with Peak and now Li-Ning too. You've got different brands that are represented, and this is the time now where guys are getting out of their comfort zones and being apart of other things. These guys understand me and the move that I made, and LeBron obviously has his own brand to run, but he's supportive of me not only as a teammate, but as a friend.
I think if you look at it, this is a great decision. I had an unbelievable opportunity in my nine years to represent a classic brand in Converse when I first started. People were like, "What!? Converse is out of basketball." But we did some great things to bring the attention back while I was there. Then, moving over to Jordan, everyone knows that has a cool factor in the US, but having the opportunity that I had here was just a move that I had to make for myself though. It's an opportunity that I've never had before at Converse or at Jordan. The deal that I have [to launch my own brand] really allows me to be a partner and a decision maker. I had to do it.
NDP: Lastly, what was the atmosphere like at the press event earlier? How memorable was it being that you were actually in Beijing for the announcement and you had Mr. Li Ning alongside you?
DW: Man, the atmosphere was unbelievable. It definitely surpassed what I thought. When you think of a press conference, you think about coming up there, sitting on a podium and answering questions and taking a picture. When you sign with the Heat, you hold your jersey up and take some pictures. This was totally different. They really rolled out the red carpet and really showed me how excited they are about me being apart of this brand. I got a little emotional, just being in the back beforehand and just thinking about where I came from. As a kid just growing up on the south side of Chicago and where I am today. I'm leading a global brand, and how excited they are about me being apart of this, man, I just went back and thought of so many emotional moments. Different things came to me when I was speaking at the press conference. I'm humbled by this opportunity, to do something that's not what people might normally think a player like me would do at this point. That's just not who I am though, and I've never done exactly what everyone wanted me to do. If I did, I would not be here today. The press conference, man, with Mr. Li Ning there was incredible. Just seeing what he's worked so hard to build and to get that support from him was second to none, and it gives me confidence to go forward and help lead this brand to do great things.