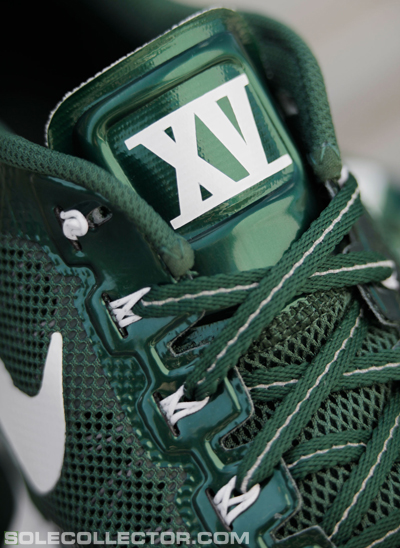 words // Nick DePaula
images // Jotham Porzio
When Tim Tebow originally signed on with Nike Football during the summer of 2010, he had just wrapped up one of the greatest college football careers ever, yet was still facing a huge crowd of skeptics.
Amidst all the doubt and as he sorted through a mountain of endorsement offers, there was a comfort level with Nike and a trust in the product that he'd be training in each and every offseason as he looked to improve.
"All the way through high school and through college, I was a Nike guy," Tebow told us at the time. "I always had a great feeling with Nike and it was always a great fit."
Now two years later, he's facing yet another new environment this upcoming season. (And the same crowd of skeptics.) As he looks forward to a new chapter of his career now as a member of the New York Jets, he's been training all summer in these custom Lunar Trainer 1s.
Ditching the navy and orange of the past two years for the Jets' simple green and white colors, this Tebow PE features his 'XV' logo prominently along the heel and his alternate logo along the tongue.
"I want a shoe that you can cut the best in on turf and a shoe that is light, but also feels like it has some support," Tebow says. For a guy that loves a versatile, explosive and dynamic workout, he trusts that Nike's newest creation in the Lunar TR1 meets his needs.
The Nike LT1 Tim Tebow PE in green and white is now available for $125 at 21 Mercer or by phone at (212) 226-5433.
Nike 21 Mercer
21 Mercer Street
New York, NY 10013