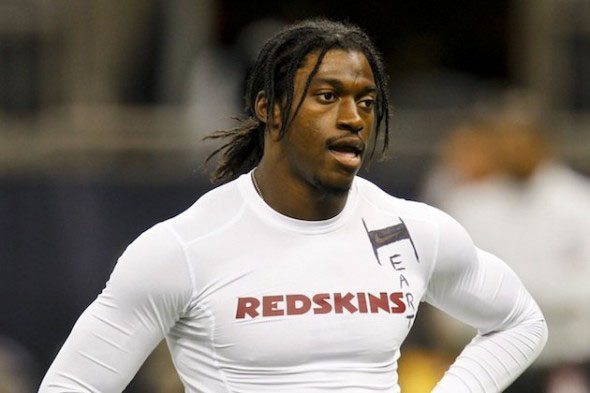 words // Brandon Richard
What's going down in the NFL at the moment isn't exactly a brand war. Nike owns apparel licensing rights and has a majority of the league wearing their cleats on the field. However, adidas may have signed the league's most exciting player this spring when they agreed to a multi-year deal with Washington Redskins rookie quarterback Robert Griffin III.
Thus far, RG3 has been a model endorser. With his trademark colorful socks and the lightweight adiZero 5-Star cleats, everybody is fully aware that he's 3-Stripe affiliated. On top of that, with just one week of his pro career in the books, everybody is buzzing about his ability to play the game's most celebrated position. Big for a brand who's been on the hunt for a football star since Reggie Bush didn't quite pan out.
Before last weekend's opener against the New Orleans Saints, RG3 took his brand loyalty a step further. Prior to pre-game warmups, Griffin was seen throwing in a Nike-branded long-sleeve Redskins shirt. Only, RG3 blacked out the Nike logo and turned it into an oversized "H," spelling out "Heart" down the left side of his chest. Griffin then went on to have one of the more exciting debuts by an NFL quarterback in recent history, but the NFL and Nike took notice of the pre-game stunt.
NFL athletes are allowed to wear the logos of any brand of shoe they endorse, as long as the brand also has a deal with the league. However, they are not allowed to cover up the Nike swoosh logo in any way, shape, or form.
RG3 will likely avoid a fine for now, as the shirt was visible prior to warm-ups. NFL Spokesman Brian McCarthy told ESPN.com that league officials will be speaking to Griffin soon.
"It won't happen again," McCarthy said.
Griffin was asked about the situation at the Redskins' weekly presser earlier this week. "I have not heard from the league yet," he said with a smile. "That's all I'll say about that."
This "incident" is just the latest of its kind, though it has typically worked the other way around. Michael Jordan famously used the United States flag to cover up the Reebok logo on his podium jacket at the 1992 Olympics in Barcelona. Back in 2008, there was the USA Basketball team photo in which Coach K positioned his foot to cover up Dwight Howard's adidas-branded kicks. A little more under the radar, LeBron James slapped a piece of tape over his adidas Championship T-Shirt at the Miami Heat's victory parade back in June.
Obviously, we don't want to see this turn into a bigger issue that distracts RG3 from the task at hand. Surely it won't. But it is pretty fun to see an athlete fly his adidas flag proudly without Instagram-ing a stack of Jordan and Nike boxes in his bedroom to kill off the authenticity. So far, so good.