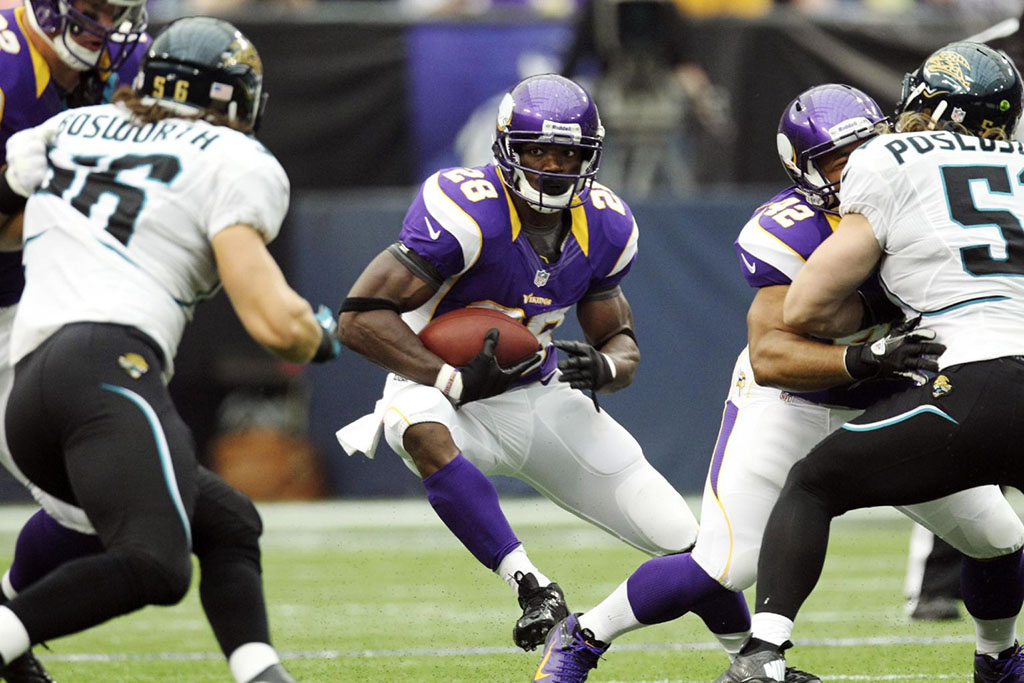 words // Brandon Richard
Is Adrian Peterson the newest adidas Football athlete? Brand officials are offering no comment on that matter at the moment, but the 4-time Pro Bowler did make his triumphant return to the NFL yesterday afternoon in a pair of "Blackout" adidas adiZero 5-Star Mid cleats. Peterson had worn Nike since entering the league in 2007.
Why was the return triumphant? Back in December, "AD" was placed on injured reserve after he tore the ACL and MCL in his left knee against the Washington Redskins. Best case scenario, it was thought that it's take him at least nine months to heal and begin football-related drills. Worst case, several doctors and experts believed Adrian's entire 2012 season could be in jeopardy. Reality? Peterson is a next-level athlete that lined up as the Minnesota Vikings' starting running back in a 26-23 win over the Jacksonville Jaguars.
Adrian wasn't just there for the show - he was the show. He carried the rock 17 times for 84 yards and 2 touchdowns, including a 20-yard run in overtime.
Sure, it was just one game. However, there are very few guys that are returning from that injury in nine months to play a full-contact sport. If his destination is indeed adidas, they've picked themselves up a baller - and a guy who can serve as a great inspiration to Derrick Rose in his recovery efforts.
Read on for game photos of Adrian in the adiZero 5-Star Mid.