words // Nick DePaula
as published in the August iPad Issue of Sole Collector Magazine.
When it comes to sneaker free agents, you're potentially looking at an equivalent to the NBA's class of 2010 free agents. This might just be the best collective crop ever. "It definitely is," says one brand source. "No question."
With a highlight factory forward, a proven champion and exciting young All-Stars all on the market, this summer has the makings of some monumental signings that can potentially shift the balance of the sneaker industry much like the summer of 2010 changed the outlook of the entire League. Just as unheard of as it was to have LeBron, DWade, Chris Bosh, Amar'e and so many other great players all on the unrestricted market during that same summer, rarely will you see this level of quality all up on their sneaker deals at the same time.
One of the most interesting quirks for this summer's class is that existing deals expire September 1st. Normally, that date is July 1st, but since it's an Olympic year, Nike inked all of its players through the summer in the event that they'd be participating in the London Games. If it weren't for injuries, all five of the listed players ahead would fall into that category, and even so, a pair of OKC Thunder teammates enjoyed their time across the pond and plan to negotiate their next sneaker deals now that they're back home.
Check out the top five sneaker free agents of this summer in what is a huge class of stars, especially relative to most years, as we look at details of their existing deals, whether or not jumping ship to a new brand might make sense, and what is realistically the best fit for each player going forward.
5. James Harden
Current Brand: Nike
Best Fit: Nike or Chinese brand
If Russell Westbrook has a slight chance of being the odd man out on available big endorsement money this summer, James Harden has to be a bit nervous when it comes to both his sneaker deal and his time with the Thunder. He's up for an extension next summer with OKC, but with Serge Ibaka also up on his deal and the small-market team not at all interested in veering towards the League's luxury tax threshold, there's a chance GM Sam Presti opts to keep Serge's more irreplaceable size and interior defense over Harden's versatility, playmaking and intangibles. There's just no way the team can pay KD, Russ, Harden and Ibaka max money and keep the core together.
That makes negotiating Harden's sneaker deal even more tough. He initially signed on for less than $300,000 per year with Nike and could potentially make three times that this summer on a new deal, but the uncertainty of where he might end up for the 2013-2014 season makes things tricky for a brand to roll the dice on a high-dollar offer to Harden. Is James more valuable as a key cog on the title-contending Thunder squad, or would a company be excited to have him leading the Charlotte Bobcats or another fledging lottery-level franchise that is expected to throw a max offer sheet at him during his restricted free agency window next summer?
It's a hard question to answer – one that people get paid tons of money to make – and Nike might not see the full value in overpaying to keep James with so much uncertainty in store next year. While the Nike Basketball roster is definitely crowded and James will at most enjoy a few House of Hoops drops of his low-top PEs, I do think there's some potential for him on the Nike Sportswear side as he continues to evolve his personal style and beard-driven popularity among both hardcore and casual fans alike. For a brand like Peak or Li-Ning, signing the cult hero and all-around player makes a lot of sense when up-and-coming potential All-Stars are in short supply. Does someone pony up a million bucks per year for the chance to sign Harden without any real guarantee that he'll be on a contending team by just the second year of his deal? The list of potential brands that'd make sense for is pretty small.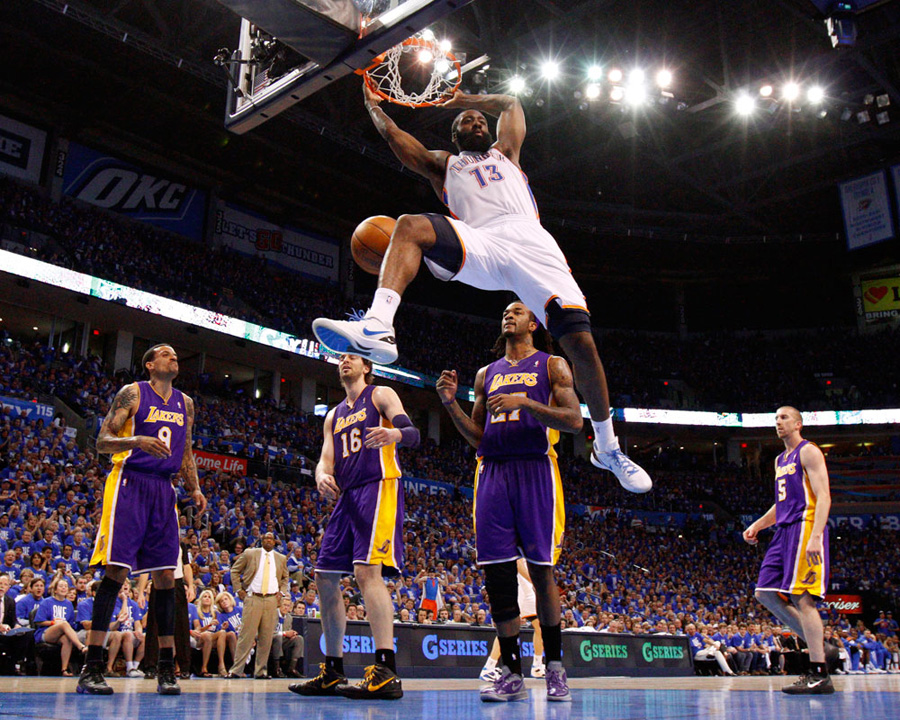 4. Ricky Rubio
Previous Brand: Nike
Signed With: adidas
Ricky Rubio, the electric Spanish-born point that appears to have lived up to the hype as current orchestrator for the League Pass must-watch TWolves, most definitely is included in this summer's crop of elite sneaker free agents. The disclaimer is that he's already the first player off the board. He bounced from Nike and agreed to a multi-year deal with adidas Basketball as early as All-Star Weekend last February in Orlando.
Rumored by some hoop scribes to now be the brand's second-highest paid player behind DRose (which I don't believe to be true considering Dwight's $6 million tag), Rubio is a huge get for the brand that's lacking a bit of star power from the League's Western Conference. The fact that he's loved throughout Europe and will only continue to further his global brand is a huge bonus for the German-based company that looks to expand its basketball reach in Ricky's native continent and throughout Asia.
He'll be helping to lead the new adiZero Crazy Light 2 this season, along with the brand's solid core of starting point guards that includes Jrue Holiday, Darren Collison, Mike Conley, Devin Harris and perhaps even Russell Westbrook once the season gets underway. With the Timberwolves looking poised for a playoff run after what Kevin Love not so nicely deemed "some bad blood in that locker room we were able to get out of there," Rubio hopes to bounce back from his knee injury that sidelined him for the second half of last season and be the team's catalyst for a full 82-game run. Hopefully he'll be fully recovered, as exciting as ever and able to kickstart his new deal with adidas on a good note.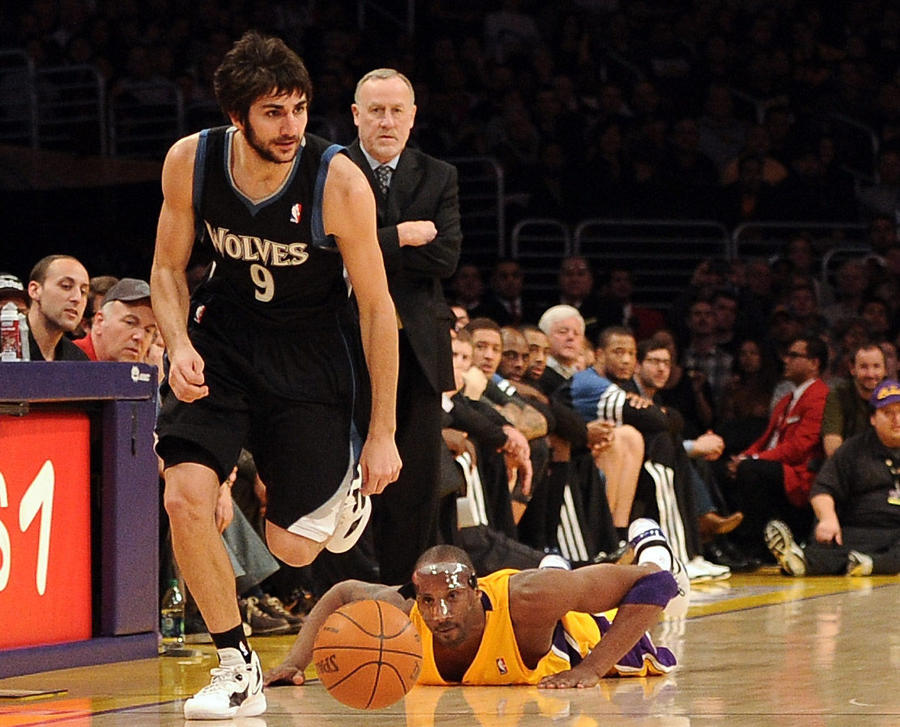 3. Dwyane Wade
Current Brand: Jordan
Best Fit: Jordan
Most Likely: Li-Ning or another Chinese brand
This is a tricky situation. When DWade switched from Converse to Jordan Brand during the summer of 2009 – an inter-brand move under the Nike, Inc. umbrella that had all kinds of top-level exec input – the initial campaign for Wade that the since-'98 subsidiary ran with was centered around a "W3LCOM3 HOM3" theme.
It seemed like a perfect match. A brand built on legacy-defining performance and design that was struggling with an aging roster of endorsers and no clear vision for its game shoe sort of lucked into snagging one of the League's top two guards just three years removed from a heroic NBA Finals title. Oh, and he was from Chicago, too. As far as Dwyane was concerned, he was certainly home.
Despite literally all of the stars aligning, the endorsement deal somehow didn't end up working out for either party. Wade signed on with the understanding that he would be the lone man to lead the annual Air Jordan shoe each February, a huge undertaking and passing of the torch for a guy who grew up on the south side of Chicago and as a teen idolized MJ during the Bulls' legendary '90s run. Once Joe Johnson, Gerald Wallace and others rocked the Air Jordan 2010 during Wade's very first All-Star Weekend with the brand, the plan seemed to already be in disarray and the relationship more fractured than anyone wanted to admit at the time.
By all accounts, Wade can certainly be sensitive to work with at times and indecisive when it comes to product feedback. The brand's efforts to make up and launch his very own signature Fly Wade series for each spring's playoff run churned out two models that struggled mightily at retail. With an endorsement price tag of nearly $10 million a year and all kinds of athlete service stress to deal with in the form of custom sneaker modifications and extra attention, perhaps Jordan Brand doesn't see the value in extending Wade's deal this summer.
As it stands, there isn't a product plan in place for DWade with his third Fly Wade shoe already scrapped for this season. After starting on such a promising note with so many complementary qualities seemingly working in both Wade and Jordan Brand's favor, it's looking like that partnership will come to an end just three years in. Ideally, the two sides could come to some kind of agreement and continue on together, with Wade competing for titles every year, conveniently wearing black, white and red and sharing so many of the on-court traits that make him such a great fit, from a performance standpoint, to carry on the Air Jordan series. Seeing Wade switch back and forth between the newest Air Jordan and upgraded Retro PE models of whatever is set to launch throughout the year, all while ditching his own signature line, could be quite a workable compromise.
Unfortunately, I just don't think it happens. Maybe he stays with the Inc. and moves to Nike Basketball at a discounted rate, where the brand can capitalize on Miami's Big 3 with campaigns including LeBron, Wade and Bosh together as a trio. Or maybe a Chinese-based brand sitting on ample cash – like 361 Degrees, Peak or Li-Ning – throws a boatload of money his way and offers him the chance to be the face of their company and the promise that he can build his brand in China with its ridiculously expansive marketplace of basketball consumers. With Wade already topping the age of 30, he might be looking to life after basketball and the allure of growing his name throughout China, where he's also likely to hear his highest annual offer, might be tough to pass on.
There's early indications that he's been in contact with Li-Ning already and if he were to leave, that would be the likely move. It also might be enticing enough if he's looking to do "what's best for me and my family" from a dollar standpoint. It's just too bad things didn't work out with Jordan Brand, where it appeared to be a perfect match for both Wade and furthering MJ's brand into another decade.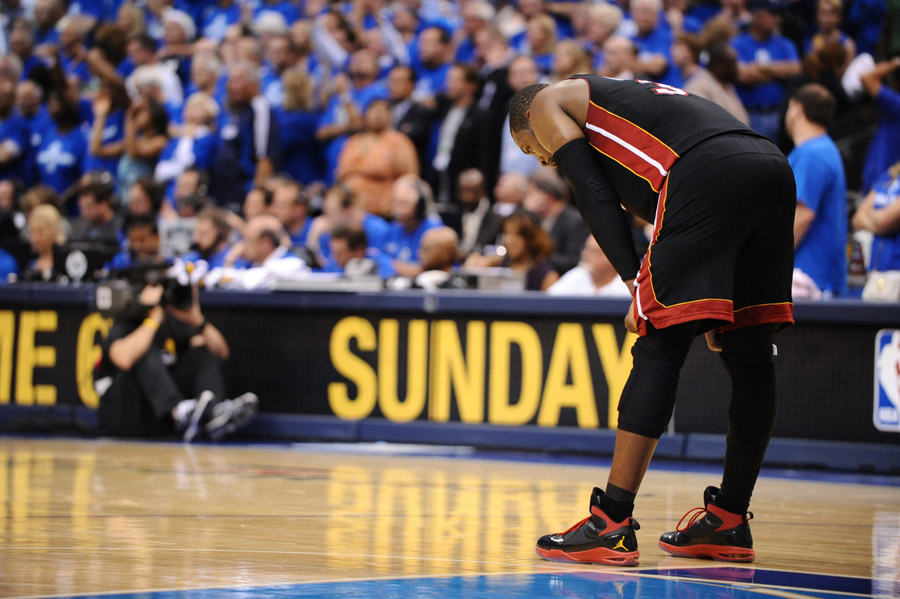 2. Russell Westbrook
Current Brand: Nike
Best Fit: adidas
It makes all the sense in the world that adidas Basketball re-connect with the former Stripes-rocking UCLA phenom as he heads into his fifth NBA season, fresh off of an NBA Finals trip at that. After weathering quite a bit of criticism for his at-times shoot-first mentality, it looks like the Thunder are completely committed to Westbrook as their franchise PG and complement to superstar Kevin Durant. He also got quite a bit of shine for his ridiculous lens-less glasses and pattern-preferred wardrobe throughout the playoffs.
Which is a good thing for Russ when it comes to negotiating a potential sneaker deal, because the small-market squad will certainly be on the primetime stage with Christmas games, marquee matchups and deep playoff runs for years to come. He's only 23 years old, and in a perfect world, the explosive scorer could help to lead adidas Basketball's Crazy Light franchise as their own explosive point, Derrick Rose, moves on to his own elevated signature collection.
Perhaps Westbrook can command a deal in the $2 to $3 million annual range, but he could also be a victim this summer of simply being the odd man out when it comes to budgets, after adidas was forced to re-sign Rose to an ungodly $185 million deal that could eventually be worth even more if incentives are met. With The Three Stripes also already signing fellow exciting West Coast floor general Ricky Rubio to a fairly pricey deal, Westbrook may have to settle for a bit less than the huge payday he might be expecting this summer. It's hard to envision a brand like Reebok stepping in and pursuing him hard, especially with parent company adidas so interested and wanting to avoid a bidding war. If he were to return to Nike Basketball, expect Russ to lead the Hyperfuse line going forward, though he'll always be in KD's shadow when it comes to the Thunder's off-court marketing totem pole. It's pretty obvious Russ doesn't plan on being in anyone's shadow as his game and profile only continue to rise.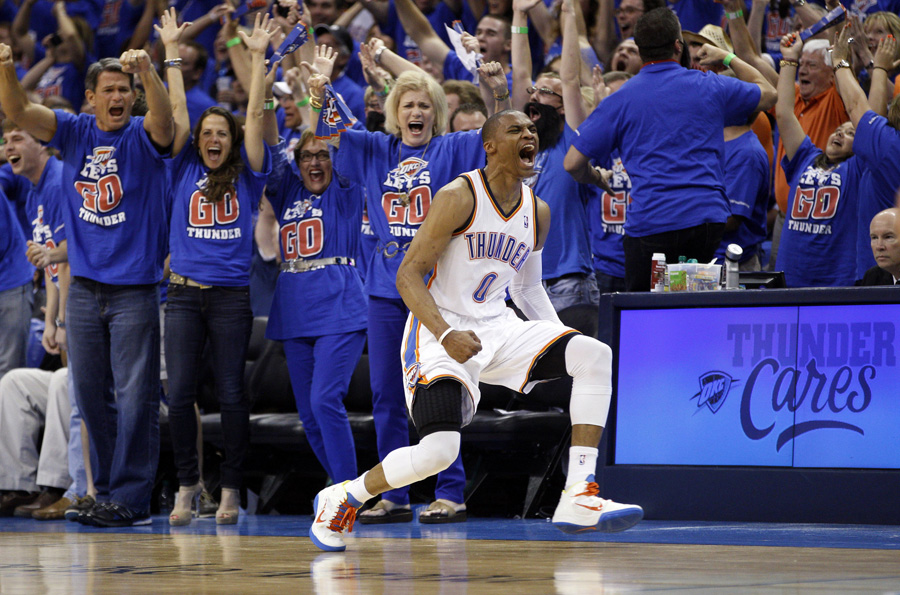 1. Blake Griffin
Current Brand: Nike
Best Fit: Under Armour
Blake is a beast on the court who enjoys going home after every game and seeing his own highlights at the very top of SportsCenter's top plays. As it relates to endorsement deals, that's worth a lot – a lot more than the $300,000 per year ballpark figure he signed on for three years as the 2009 draft class' top pick. Thanks to the Clippers actually being relevant each spring entirely because of the "basketball reasons" trade for Chris Paul, Blake's value is even that much greater, despite the fact his overall game still needs a ton of polishing.
With a brand like Under Armour still on the hunt for a major market star, the possibility of being lost in the shuffle behind signature athletes like LeBron, Kobe and KD if he stays at Nike, and the chance to really make his mark with the brute strength and raw power image of UA, it would make a ton of sense for Griffin to lead the Baltimore-based brand as they continue to grow in the basketball market.
Of course, a lot of that discussion will come down to pure dollars, and several people throughout the industry think Blake – with his combination of the L.A. market, being on a playoff team, his beastly highlight dunks and his camera presence – could command as much as $5 million per year on a new five-year endorsement deal. That'd be quite a raise from his first sneaker deal, but he's certainly done his best to earn it with his electrifying play and growing personality. A deal with Under Armour has to be enticing for Blake, as the company is known for huge national brand campaigns that he could take part in and really leverage to expand his reach.