words // Zac Dubasik
The fact that it's been 25 years since the birth of cross training at Nike means that for a lot of our readers, they never knew a time without it. It's been such a big part of the sneaker world for so long at this point. Even for those of us that were around when it began, it's hard to remember a time without it.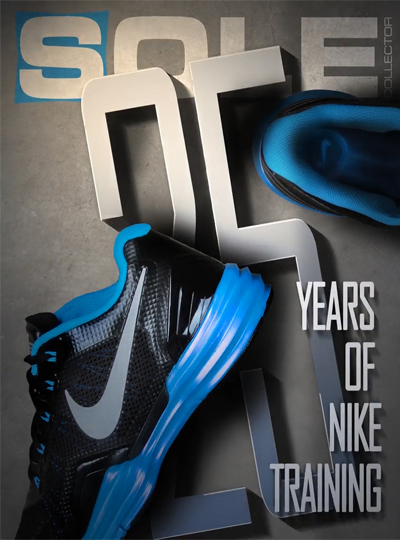 When you think back to the signature lines of the '90s, training had simply become a part of what made Nike,
Nike
. To this day, those shoes rival even their basketball lines from the time in terms of relevance. Although there were some down years, the Training category has been back on track ever since its 2009 relaunch.
To help celebrate that anniversary, we've got a retrospective showcasing 25 years worth of the best Nike Training kicks. We've also got the story on how cross training actually began, from none other than one of the men instrumental to the creation of this category: Tinker Hatfield.
Then check out some of the latest shoes from the sports most closely associated with training: baseball and football. We dive into the new Lunar TR1 from Nike Training, adidas Football's new adiZero Smoke and 5-Star Mid, and Under Armour's new Spine Highlight cleat. Just like the way training kicks are constantly evolving, the on-field footwear is advancing at a rapid pace as well.
The great thing about training is that it's all-encompassing. Sure, it's probably most commonly associated with baseball and football, but regardless of the sport you play, there's no doubt that training plays a role. And especially if your playing days are over, and you still keep in shape – then training is your sport.
In This Issue //
Sneaker Tweets | Featuring Kendall Marshall, Trevor Ariza, Gary Payton and more
WDYWT | The best of what our Forum members wore this month
Kicksology performance reviews | adidas Crazy Light 2 & Nike Lunar Hyperdunk
Interview | Jus Fly And His Ridiculous Dunks
Barry Larkin Enters The Hall of Fame
Interview | Adidas adiZero Smoke & 5-Star Mid cleats
Interview | Under Armour Spine Highlight cleat
Tinker Hatfield Interview | The Birth of Nike Training
25 Years of Nike Training Retrospective
Nike Lunar TR1 NFL Colorways
PE Spotlight | Tim Tebow's Lunar TR1 PE
NSW Retro Showcase | Air Max Pillar, Air Max Speed Turf, Trainer SC and more
To Download: Search "Sole Magazine" in the Apple iPad Newsstand, install and purchase "SOLE COLLECTOR : Issue 10"