words & images // Nick DePaula
as published in iPad Issue 9 of Sole Collector Magazine
Sometimes a sneaker can be just a few tweaks or minor changes away from being truly great, and that's probably the most frustrating thing that could ever happen while playing in a shoe. That happened with these.
As I'm sure you've read on quite a few occasions, the Hyperdunk 2011 was my (and Zac's) favorite shoe of the year. They had impressive lockdown, great fit, dependable traction and by far the best cushioning of anything that released this season. The Hyperize and Hyperdunk 2010 were both lacking in some pretty critical areas, and luckily, the 2011 version improved on literally every downside.
That's what makes the Hyperdunk 2011 Low so tough. It carries over some of those awesome features of the mid-top, but is short-changed in a few other areas, leaving you with somewhat of a letdown of a shoe. If you lace them up fairly tightly, the sides of the shoe hug extremely well and your ankle is perfectly locked in. For people traditionally afraid of playing in lows and nervous about their ankles, the Hyperdunk Low knocks out all three check-points needed for great support: The heel lockdown is great; the midfoot fit is precise; the heel radius is well contoured and balanced. Usually, if a shoe can get those three zones right, regardless of the actual collar height, you'll have some pretty great support and sturdiness.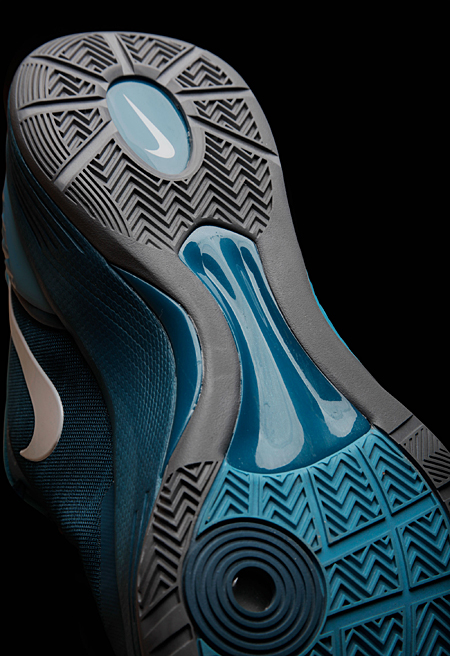 The main issue I faced with this shoe (and partly because it's something that the mid did so well) was found in the shoe's disappointing midfoot shank. On the mid, there was a beautifully 3D-sculpted shank that had great response during transition and helped to guide the shoe forward. Here, simply because some parts had to be sacrificed because of the lower price point, the shank is a synthetic TPU that's considerably less rigid and supportive than the mid's glass-fiber part. As a result, the shoe flexes a bit more than you'd probably like, and the midfoot support doesn't feel as substantial or reassuring.
Another big difference between the mid and the low versions that's just a reality of pricing is the lack of heel Zoom Air in the chop-top model. If I had to pick between forefoot and heel, I'd pick forefoot every single time, but there's definitely a noticeable drop-off between cushioning setups when you go from having both units in the $125 mid to just one in the $105 low. It's not a deal breaker because the Phylon midsole does provide some level of cushioning during the first handful of nights, and the heel radius and point of deflection in the outsole do all they can to soften landings, but you'll still be looking for more heel responsiveness if you're as picky as I am.
Aside from those two performance downgrades between the two models, there's really a ton to like about the Hyperdunk Low; namely, its great fit, weight, traction and transition. If you're on the go both north to south and east to west on the hardwood, you'll love how mobile and active this shoe is to play in. They're much like an indoor soccer shoe in that sense, as you'll find yourself stopping and turning exactly as you'd like, and the feathery weight and smooth transition make them one of the faster shoes around. If you're on your toes a ton, you'll get a lot out of the shoe's great court feel, forefoot cushioning and outstanding traction. More importantly, you might not notice the lack of heel cushioning as much. If you're a big man that lands in the key on his heels quite often, you might want to look elsewhere for more impact protection.
The Hyperdunk 2011 was an insanely great hoop shoe for players of all positions, and unless you're looking for more range of motion and less restrictiveness, I'd recommend getting a pair of those instead. But, if you're looking for less weight and really like to get up and down in transition, then the Hyperdunk Low might make more sense for your game. I really enjoyed playing in them; it's just that with a few upgrades I know how good this shoe could actually be.
Of course, that very shoe does exist in the Hyperdunk Low Elite, with both heel and forefoot Zoom Air units and a real-deal carbon fiber shank through the midfoot, but those were made just for NBA players battling through this year's playoffs, and us pedestrians unfortunately won't be able to get our hands on them any time soon.
Grade Breakdown:
designed by: Leo Chang
price: $105
best for: guards and forwards
colorway tested: Green Abyss / White
worn by: James Harden, Rajon Rondo, Andre Iguodala, Jeremy Lin and more
key tech: Hyperfuse construction upper with Flywire cables, forefoot Zoom Air, dynamic herringbone traction pattern, Phylon midsole, TPU midfoot shank
sizing: slightly long; consider sizing down a ½ size
pros: great traction, lockdown, weight and transition
cons: Toe has a lot of volume; midfoot shank is cheap; heel cushioning could be better.
improvements: Beef up midfoot shank.
buying advice: The Hyperdunk 2011 was the best shoe of the season, so naturally, the Hyperdunk 2011 Low should be right up there with it. Unfortunately, there's no heel Zoom Air here, and the midfoot shank flexes a bit too much. They're still a great shoe for both guards and swift forwards and have amazing traction, transition and fit, but they're just a few upgrades away from being as great as you might expect. If you play on your toes a ton and race all over the court, you'll love these. If you need more sturdy midfoot support or impact protection on landings, you'll want to look elsewhere.