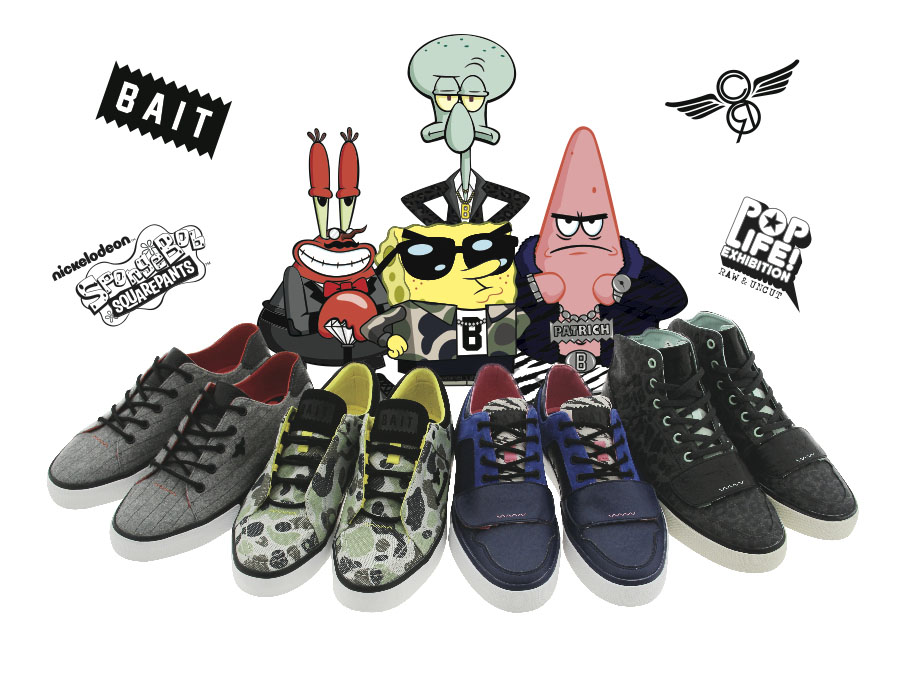 words // Brandon Richard
As you may have seen at Comic Con San Diego, BAIT and Creative Recreation have linked up to fuse Creative Rec styles with the iconic SpongeBob universe. The footwear collection features a concept that interprets the off-stage personalities and lifestyles of SpongeBob, Patrick, Squidward and Mr. Krabs.
Each character from the popular animated series appears on the insoles, translucent outsoles and attached rubber keychains. The four styles feature unique material selections that liken each shoe to its respective character. SpongeBob's Lusco receives a jacquard BAIT camo treatment; zany Patrick is characterized by dimensional zebra-patterned navy leather and suede on the Cesario Lo XVI; hairy cheetah print was chosen for Squidward's Cesario XVI; and Mr. Krab's Kaplan V is decked out in pinstripe suiting material.
The shoes are packaged in a special BAIT character box, featuring cardboard arm and leg pieces that can be attached to form a 3D SpongeBob.
Creative Recreation will display the pack at the POP LIFE Exhibition in Beijing on August 17, 2012. For more information on the limited edition sneakers visit www.baitme.com and shop Creative Recreation's Fall 2012 collection - now available online at www.cr8rec.com. We'll continue to provide you with release updates as more information becomes available.