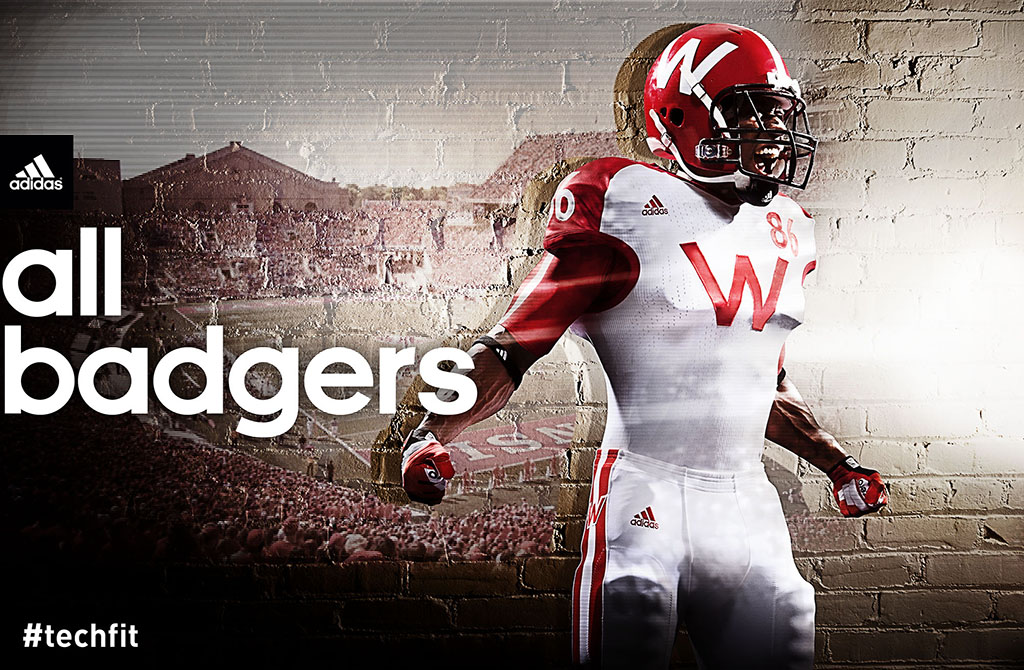 words // Brandon Richard
Following last week's Nebraska announcement, the University of Wisconsin and adidas have unveiled new TECHFIT football uniforms that the Badgers will wear when they visit Nebraska for the Unrivaled Game on September 29. An annual matchup of top adidas-sponsored programs, this year's Unrivaled Game is themed "The Quick and the Red" and will kick off at 7p.m. CT on ABC.
"Our whole team is very excited and really looking forward to wearing these new and unique uniforms on Sept. 29 at Nebraska," said Wisconsin head football coach Bret Bielema. "adidas has been very innovative and ahead of the curve with these uniforms, while also incorporating the 'block W' that recognizes our great football tradition at Wisconsin."
Wisconsin's new uniforms highlight the history of the school's "W" and celebrates their rich football heritage. The white uniform features red shoulders and showcases a bold red "W" on the chest and player numbers above the heart.
Fronted by a black face mask, Wisconsin's red helmet bears a white "W," and the team's adiZero Smoke Gloves also showcase the letter to pay homage to Badger pride. The block-style "W" is a throwback to the '62 Big Ten Champion Badgers, who will celebrate their 50th Anniversary this fall. Reflective black uppers on the adiZero cleats, combined with a red electro-plated bottom, will bring a bright and exciting look to Wisconsin's gameday footwear.
"The Unrivaled game between Wisconsin and Nebraska is one of the most highly anticipated matchups of the upcoming season," said Mark Daniels, director of football for adidas America. "We wanted to create a special look for the Badgers that celebrates the school's rich football tradition and the classic 'W' in a modern way."
The TECHFIT jersey is a complete reconstruction of the standard football jersey with added innovations that shed weight by 30 percent. These technologies include a streamlined fit, new fabric, reduced seams and an ultra-lightweight name and numbering system. Additionally, the jersey keeps players cool with integrated ventilation zones and moisture management fabric. Reduced seams and a restriction-free, high-stretch collar design increases range of motion to support player agility and speed.
adidas Wisconsin Unrivaled fan gear, including men's, women's and youth apparel, hats and accessories will be available this summer at Wisconsin's Bookstore, Bucky's Lockerroom, Dick's Sporting Goods, Lids, Champs Sports, Football Fanatics, Fans Edge and Kohl's.
Visit Facebook.com/adidasFootballUS for more information and follow the conversation on Twitter @adidasUS with hash tags #Unrivaled and #TechFit.