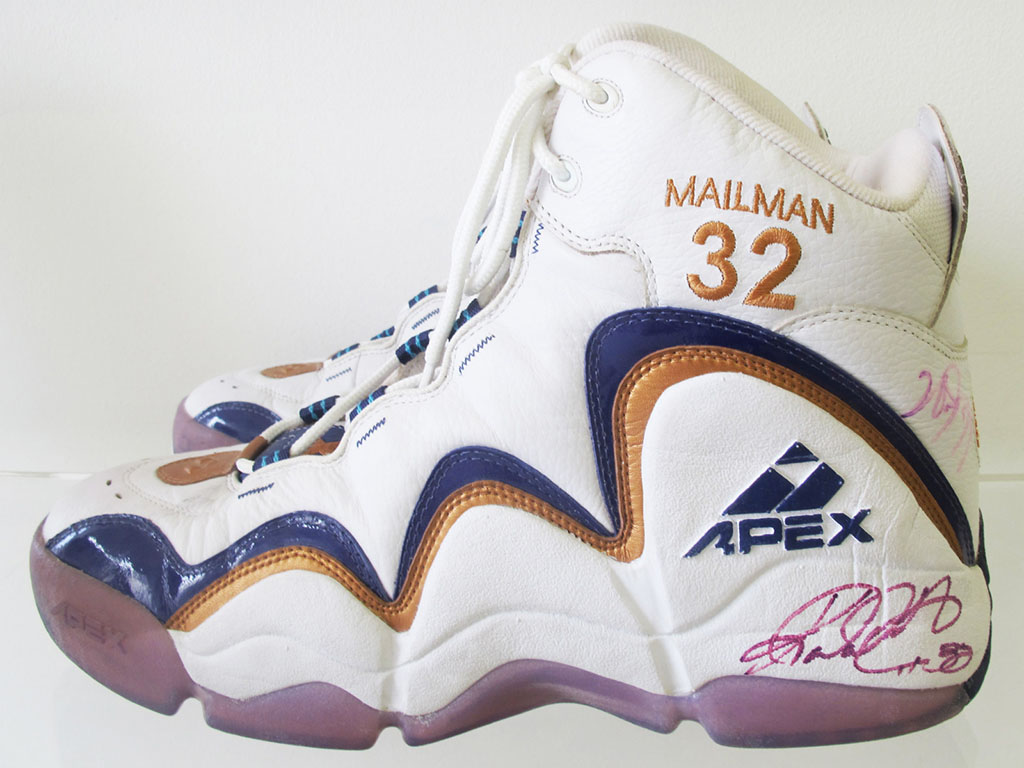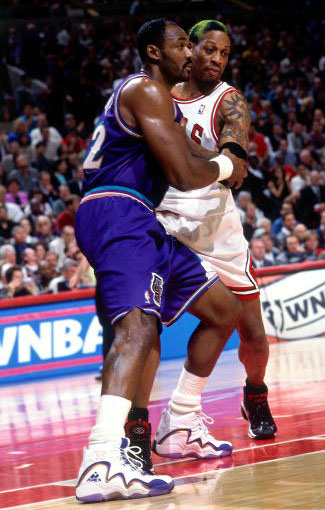 words // Brandon Richard
In the fall of 1996, then-defunct footwear and apparel brand APEX was revived by KRP Sports, who marked the brand's resurrection by signing Utah Jazz power forward Karl Malone to a 5-year endorsement deal. Part of Malone's extremely unique agreement included being appointed to the Board of Directors for Ryka, a publicly held company that would go on to merge with KPR and become Global Sports Inc. Also under the terms of the deal, Malone would wear the APEX Voltage during the 96-97 season and receive his own Mailman signature shoe the following year
It's hard to say Karl was ever an extremely marketable player, but APEX managed to catch him at the height of his popularity. Malone won a second Olympic Gold Medal in 1996, made his first trip to the NBA Finals with the Jazz in 1997 and claimed the first of his two MVP Awards. During the summer of 1998, he tagged with Diamond Dallas Page against Hulk Hogan and Dennis Rodman at WCW's Bash at the Beach. The event drew more than 1.5 million pay-per-view buys, which ended up being the second most in company history.
Despite all of his success, APEX dropped the ball on getting Malone's Mailman footwear into stores. Malone was quoted as saying, "It's not a big deal to me if they're in the stores or not. They feel good to me, they have the look that I want and that's what's important." That sounds about right. Anybody out there losing sleep over missing out on Mailman APEX kicks?
With all of that said, today is Karl's 49th Birthday, and we're showing him a little love by giving you a look at one of his old APEX Mailman Player Exclusives. This particular PE was debuted by Malone in the 1997 NBA Finals, when he squared off against nagging archrival Dennis Rodman and the Chicago Bulls. He'd go on to wear the same shoe throughout the 97-98 season and sporadically in 98-99.
These APEX Mailmans feature a white leather upper with wavy purple and gold synthetic overlays along the side panels. Embroidered near the collar is "Mailman 32," while the APEX logo appears above the lateral midsole. There's additional APEX embroidery running down the tongue and subtle teal detailing on the fabric lace loops. You'll also notice an "MVP" rubber logo on the shoe's heel.
This game-worn and signed pair, presumably in Karl's size 16, is available for the bargain price of $2,500 on eBay. You're probably not going to buy them, and we can't blame you, but you can check them out in detail below.
Happy 49th, Karl!