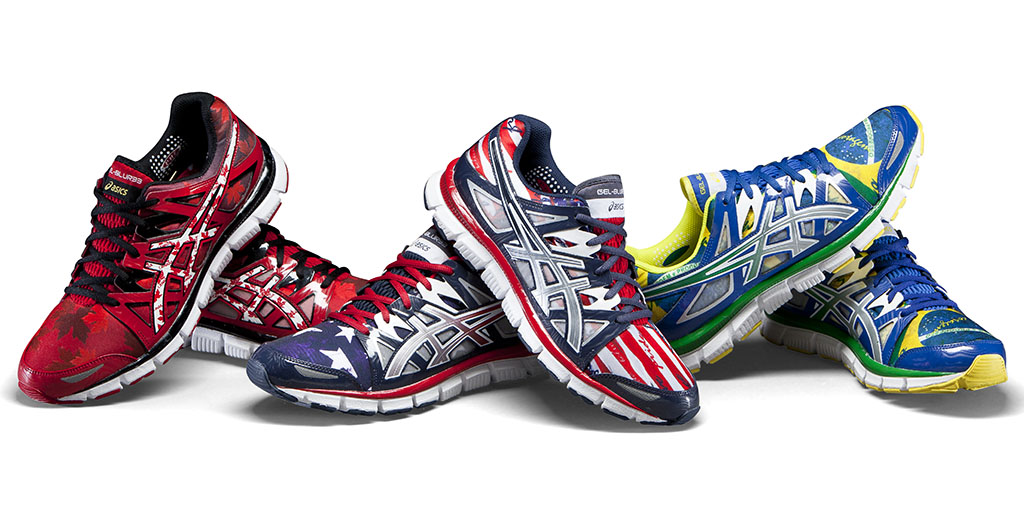 words // Brandon Richard
During this season of heightened patriotism, ASICS has revealed the limited edition GEL-Blur 33 2.0 Flag Collection, featuring a USA-themed shoe decked out in a complete red, white and blue colorway. Just 3,000 pairs of men's and women's runners will be sold for $110 exclusively at select Foot Locker locations and ASICS NYC.
In addition to the USA-themed shoe, the collection also includes an Australian, Canadian and Brazilian make-ups. Inspired by country flags, the shoes feature unique mismatched designs. For the American version, the right shoe sports red-striped fabric, while the left shoe has white stars.
The U.S.A. version was recently debuted by ASICS athletes Lolo Jones, Bryan Clay, Ryan and Sarah Hall and Deena Kastor, amongst others, at the U.S. Track & Field Trials in Eugene, Oregon.
"The shoe is a fun and vibrant way to display patriotic spirit," says ASICS Senior Product Manager, Tom Garza. "Each model uniquely represents its respective country - the United States shoe features stars and stripes, the Australian shoe features kangaroos, the Canada shoe has maple leaves and the Brazil shoe has bright and bold colors representative of the exotic country."
Those interested in picking up a pair from the collection should check their nearest Foot Locker location(s) today.