words & images // Luis Sanchez
Reaching the NBA Finals for the second consecutive season as a member of the Miami Heat, LeBron James is on the verge of seeing his storied NBA career come full circle. While James has acquired a number of indiviual awards over the first nine seasons of his NBA career, the 2012 MVP has only one goal on his mind -- winning an NBA title.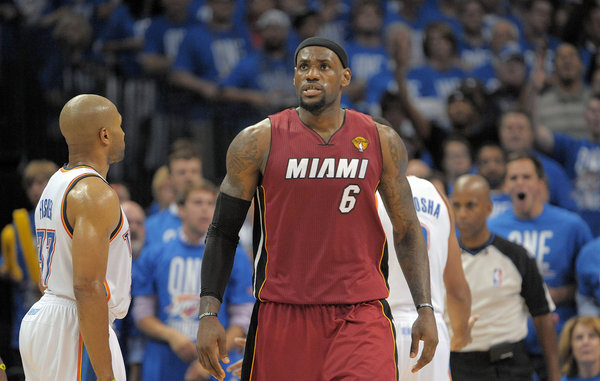 Looking to erase last year's NBA Finals defeat at the hands of the Dallas Mavericks, LeBron has left it all on the court during the first three games of these 2012 NBA Finals vs. Kevin Durant and the Oklahoma City Thunder.
Averaging an NBA Finals career high 30.3 PPG, James has his Miami Heat holding down homecourt for a chance to close out the franchise's second NBA title and the first of his so far impressive NBA career.
Back in Miami for three crucial games in front of the home fans, LeBron is once again hit with the tough task of keeping the NBA's 2012 scoring champ Kevin Durant at bay if his Miami Heat want to take home the 2012 NBA title. The scoring champ Durant is averaging 31.0 PPG over the first three games, while facing the regular season MVP in LeBron James for the first time since MJ and Karl Malone bumped heads in the '97 NBA Finals.
On the eve of Game 4 of the NBA Finals in Miami, we bring you a look at LeBron James's Miami Heat Road Alternate REV30 Jersey by adidas, as worn by the Heat for Game 1 of the series.