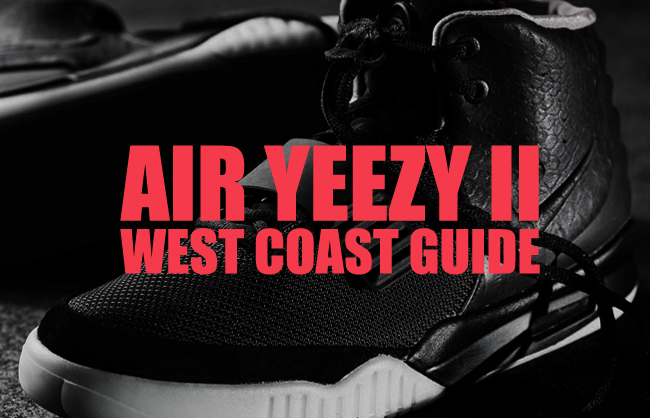 words // Nick DePaula
Clearly you're hoping to get a pair of Yeezy 2s this weekend. There's also a good chance that you're navigating all around the internets to find out what store nearest you is actually getting a pair, and how exactly they'll be making them available.
In the first of a four-part guide (we got you covered Midwest, East Coast and International dudes too!), let's get right to it and tally out all of the confirmed locations along the West Coast that will be carrying the Air Yeezy 2 this Saturday for its global launch.
To be honest, the availability through the west is actually the thinnest of all regions in the US, with a bulk of distribution available in California, and limited quantities available in Colorado, Nevada, Oregon and Washington.
All of the below locations will be sellling the Wolf Grey / Pure Platinum colorway at its $245 retail price.
CALIFORNIA LOCATIONS //
ATTIC
8010 Beach Blvd. Buena Park, CA 90620
Phone: 714-220-3116
Type: Raffle ($50 per entry ticket)
Further information: http://attic2zoo.com/wordpress/?p=13577
Bows and Arrows
2513 Telegraph Ave. Berkeley CA
Phone: 510.649.6683
Type: First Come, First Served.
Further information: http://www.bowsandarrowsberkeley.com/home.php?cat=
Nike Montalban
Los Angeles
Phone: 323-461-0063
Type: Twitter RSVP between 11 am & 7 pm on June 7th
Further information: https://twitter.com/nikemontalban/statuses/210415759929774081
House Of Hoops Beverly Center
8500 Beverly Blvd. Los Angeles, CA
Type: Online RSVP
Further information: http://footlocker.us2.qualtrics.com/SE/?SID=SV_0NcX7ez9YruYoa8
Proper
425 E 1st Street. Long Beach, CA 90802
Phone: (562) 628-9100
Type: To Be Announced
For further information, must join Mailing List: http://www.apropersite.com/form.html
UNDFTD
516 Hayes Street, San Francisco, CA
Phone: (415) 437-2800
Type: First Come, First Served
Further information: https://twitter.com/#!/UNDEFEATEDinc
UNDFTD
112 S La Brea Avenue. Los Angeles, CA
Phone: (323) 937-6077
Type: First Come, First Served.
Further information: https://twitter.com/#!/UNDEFEATEDinc

Shiekh Shoes
199 Fox Hills Mall Culver City, CA 90230
Phone: (310) 391-2184
Type: First Come, First Served.
Further information: http://finance.yahoo.com/news/much-awaited-nike-air-yeezy-025600065.html
Shiekh Shoes
929 Market Street, San Francisco, CA
Phone: (415) 644-0921
Type: First Come, First Served.
Further information: http://finance.yahoo.com/news/much-awaited-nike-air-yeezy-025600065.html

CRSVR
632 State Street, Santa Barbara, CA 93101
Phone: 805-962-2400
Type: First Come, First Served
Further information: http://www.facebook.com/media/set/?set=a.10150863191257584.401605.79118362583&type=1
Additional Instagram contest: http://www.facebook.com/media/set/?set=a.10150863191257584.401605.79118362583&type=1
COLORADO LOCATION //
Family Affair
2049 Larimer St. Denver, CO 80205
Phone: 303-593-0289
Type: Raffle. ($20 per entry ticket)
Further information: http://www.familyaffairdenver.com/post/24474124880/nike-approved-event-air-yeezy-2-release-at-family
NEVADA LOCATIONS //
CRSVR
3708 S. Las Vegas Blvd. Las Vegas, NV 89109
Phone: (702) 698-6705
Type: First Come, First Served
Further information: http://www.facebook.com/media/set/?set=a.10150863191257584.401605.79118362583&type=1
Additional Instagram contest: http://www.facebook.com/media/set/?set=a.10150863191257584.401605.79118362583&type=1
House Of Hoops Fashion Show Mall
3200 S Las Vegas Blvd. Las Vegas, NV
Type: Online RSVP
Further information: http://footlocker.us2.qualtrics.com/SE/?SID=SV_0NcX7ez9YruYoa8
OREGON LOCATION //
Compound
107 NW 5th Ave. Portland, OR 97209
Phone: 503.796.2733
Type: Raffle. Begins Saturday morning at 9:30 AM ($3 per entry ticket)
Further information: http://www.compoundgallery.com/index.php?main_page=news_article&article_id=198
WASHINGTON LOCATION //
Rock Paper Scissors
1318 East Pike Street. Seattle, WA. 98122
Phone: (206) 322-2305
Type: First Come, First Served
Further information: http://blog.rpslife.com/2012/06/nsw-yeezy-2-release.html