words // Brandon Richard
On November 1, 1996, Allen Iverson made his Philadelphia 76ers debut with a 30-point, 6-assist performance against Ray Allen an the Milwaukee Bucks. That performance not only marked the start of what would be a historical Rookie of the Year campaign, but also a career that is destined for Hall of Fame acknowledgement. A.I.'s arrival meant big changes for the NBA both on and off the court. Kids were in driveways trying to imitate his crossover dribble, while his cornrows and tattoos became the definitive NBA look for the 2000s. A.I. may not have made the most glorious of NBA exits, but there's no doubting that he left his imprint on the game forever.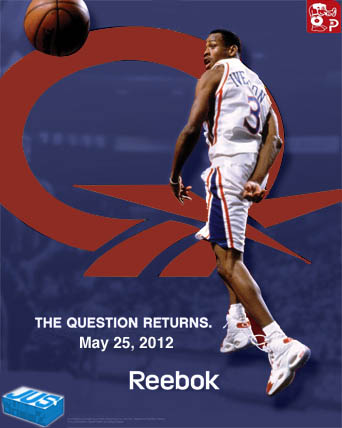 With a Reebok signature line that spanned from 1996 to 2009, Iverson is also a sneaker culture icon. Jumpstarting his successful series was arguably his best and most recognizable model, the Question. Featuring a chunky build and the brand's Hexalite cushioning, the Question subtly borrowed cues from the Air Jordan XI Allen wore in college, but was able to firmly establish an identity of its own throughout the years. Now a modern classic, the Question has been re-released multiple times and appears to be heading in that direction once again.
Recently, Reebok Classics Creative Director Swizz Beatz shared a teaser photo on his Instagram in which he posed alongside Iverson and a fresh pair of White/Red Questions. The accompanying caption read, "Y'all already know what we got coming this summer I had to do it :)" This obviously revved up speculation that another Question re-release was on the horizon. Additionally, A.I. himself broke out a fresh pair during a charity game in China earlier this week. Now, not only has the release been confirmed, but we're here to provide you with some of the details we've heard.
Starting off, the Question will be re-releasing in the White/Red colorway on Friday, May 25. The shoe features a leather toe, as opposed to some of the nubuck-finished pairs we've seen with recent reissues. They'll drop at R23 accounts in a limited run in the neighborhood of 5,000 pairs total. Our friends over at Puffer Reds will be the only spot in Michigan receiving a shipment, along with collaborative Reebok apparel that will be released at a launch party.
More information and detailed photos coming in the near future, but plan ahead in the meantime if you're looking to pick up a pair.