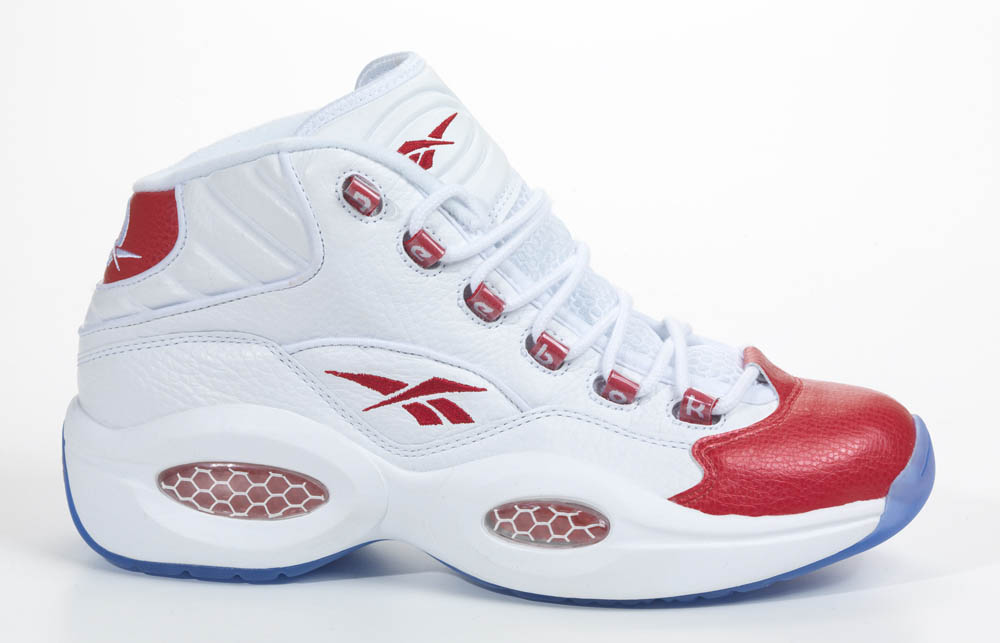 words // Brandon Richard
via Press Release
The Reebok Question is a shoe that will forever be linked with the soon-to-be Hall of Fame career of Allen Iverson. Like A.I., the Question bucked the trends, established its own identity and became iconic in its own right. The shoe was aptly named for a player who many questioned ahead of the 1996 draft. Yet, defying all who questioned his size and skill, 21 year-old Iverson became the Number 1 overall pick of the Philadelphia 76ers in one of the deepest drafts.
Iverson would answer many questions the minute he stepped onto a professional basketball court. Exploding for 30 points in his first game, he continued to exceed the already high expectations during his rookie season with a dazzling display of fearless play and scoring ability. Whether he was breaking ankles with his deadly crossover or putting up 40+ points in 5 straight games, Iverson racked up a number of signature moments in the Reebok Question during his unforgettable rookie season.
Originally released in 1996, the Question would become one of the best-selling Reebok sneakers ever created and a staple of nearly every "Top Sneaker" list. The shoe featured a full-grain leather upper and a pearlized outsole. But, perhaps the most unique design detail was the honey-comb shaped Hexalite cushioning system alongside the shoe marking the first time Reebok's technology would be blown out to the midsole. Considered the most popular model in Iverson's signature Reebok line, the Question is a must have classic for sneaker collectors and basketball fans alike.
While we're more familiar with the nubuck toe version of the Question, Reebok will have a one time drop of the original White/Red colorway with a pearlized toe, which was exclusive to Philadelphia the first time around. Afterward, the classic will be stashed back in the vault for the foreseeable future. This marks the first ever re-release of the pearlized red toe Question.
On Friday, May 25, the Questions will be re-released at select Reebok accounts, including Reebok.com, Jimmy Jazz, Villa, Shoe Palace, Puffer Reds, Sheik's and Mr. R Sports. Retail will be $125.00.