words // Zac Dubasik & Nick DePaula
A year ago, adidas released the world's first sub-10 ounce basketball shoe. Forget about the number 10; that's arbitrary. Forget about the fact that the vast majority of players wear bigger than a size 9, meaning their shoes weigh more than 10 ounces anyway. What's really important is the fact that regardless of what that weight is, it's the lightest that has ever safely been made into a basketball shoe.
It made shoes that felt light earlier that very season quickly feel dated in comparison. The bottom line is that it provided a new baseline for what lightweight really is, and gave adidas Basketball their biggest infusion of interest in years.
In the time since its release, we've seen the launch of adidas' DRose line go from being an afterthought to an event for his second sneaker. We've seen adidas increase price points to allow for even more tech and signature detail. We've even seen competing designers suggest adidas' shoes may have led to injury.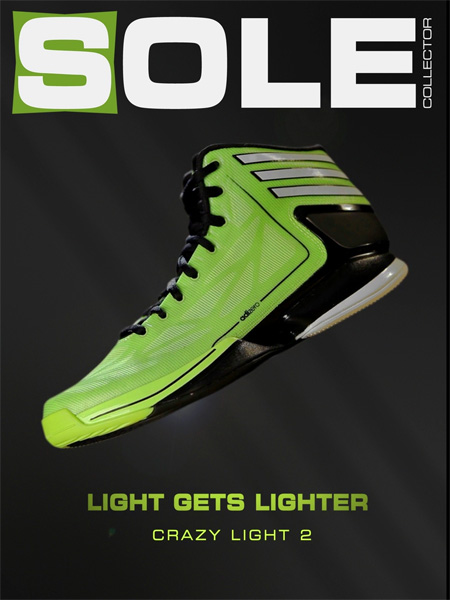 It wasn't very long ago that adidas Basketball appeared to be on life support. And now, good or bad, they've got everyone talking. It wasn't the Crazy Light alone, but it sure helped speed up the process. So it should come as no surprise that the Crazy Light 2 launch is one of the most important of the year, and we've got it covered here, from the launch event, to the technical details, to even first on-court impressions.
There's a lot more in this issue than just the Crazy Light 2, though. We've got a full interactive breakdown of the Kobe System, where you can see exactly what Kobe did in each version of the Kobe VII. We've also got an exclusive interview with gunner and Instagram enthusiast J.R. Smith, along with Sneaker Tweets, new performance reviews, more PEs and a lot more. Be sure to also check out a preview of our latest app, Sole Designer. It's our first one of its kind, and just the beginning.
In This Issue //
Sneaker Tweets | Featuring LeBron James, Eddy Curry, Kim Kardashian, Soulja Boy and more
Focus: Shop | A look at Grand Rapids, MI based Premier
Forum Poll Results | The Forum's Favorite LeBron 9 Colorways
The Industry | Where Has The Game Shoe Gone?
Kicksology | adidas Crazy Light 2 First Thoughts, Nike LeBron 9 Elite Review & APL Concept 2 Review
Kobe System Breakdown | Detailed analysis of Kobe's entire season in both the Fast and Strong versions of the Kobe VII
JR Swoosh | Exclusive interview with J.R. Smith
The Process | Designing The Nike Max Shake Evolve
Bo Bikes Bama | A look at Bo Jackson's charity ride to support his home state of Alabama
What's In Store | May 2012 Sneaker Showcase
NSW For Jeremy Lin | Exclusive look at Lin's new Air Force 1 QS and his personal Destroyer jacket
adidas Crazy Light 2 Sneakerphile | Light Gets Lighter
PE Spotlight | adidas Crazy Light 2 Player Exclusives
To Download: Search "Sole Magazine" in the Apple iPad Newsstand, install and purchase "Issue 7: May 2012"