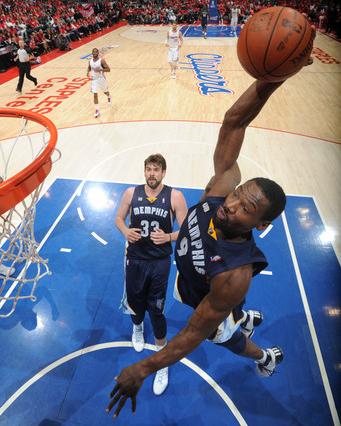 words & images // Zac Dubasik
Today's announcement of the NBA's 2012 All-Defensive Team gives Sole Collector the perfect chance to honor one of our favorite players, 1st Team All-D Grizzlies guard Tony Allen, and also celebrate the launch of our newest recurring feature, Jersey Spotlight.
Since on-ball defense seems to be of no consideration when Defensive Player of the Year selections are being made lately, this is pretty much the top award for actual good defenders.
And while plenty of unworthy players are named to this team too (Carlos Boozer somehow got a 2nd Team vote!), it's still exciting to see a deserving one also being acknowledged.
Aside from being one of the League's top defenders, Tony Allen has also become a Twitter legend on his @aa000G9 account, where he keeps us entertained on a daily basis. To show Anthony Allen Triple OG #9 (what his Twitter acronym actually means, of course) some love today, I'll be wearing this adidas REV30 jersey from my personal collection to hoop in.
I might even pull out my old pair of adiZero Rose 1s to go for the full effect. My own game often emulates Tony's too, with my defense-first mentality, hesitancy to take open jumpers and habit of missing layups. Luckily for you, my spelling doesn't.
Since NDP and I are avid jersey enthusiasts, be on the lookout for more of our favorite jerseys all summer long, and take a closer look ahead at this away Tony Allen Memphis Grizzlies REV30 jersey.