words & images // Nick DePaula
For the full interview, download the May iPad Issue of Sole Collector Magazine
For every brand in the footwear industry (that doesn't suck), it's fairly easy to point to a handful or so of models in their history that not only made an immediate impact when they launched, but that also helped to drive an entire category, an entire design perspective and an entire culture forward. You can look to the Superstar and Pro Model for originally ushering in a defining style that adidas has constantly harkened back to over the last few decades, and as we look back on what was so special about the influence of the 2000s, it'll be the adiZero Crazy Light that helped to shape where adidas Basketball veered into a new century.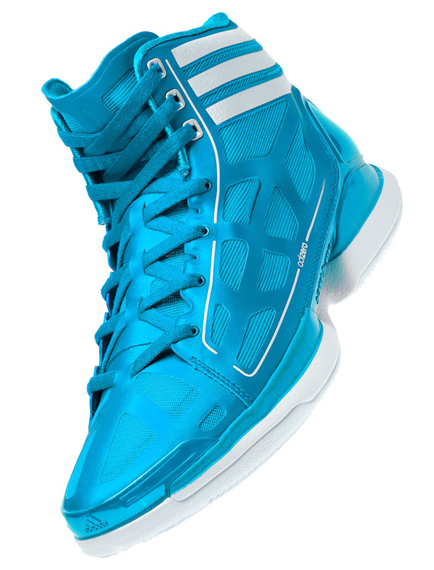 Gauging impact can come down to quite a few factors at times, not all of which can equal true, lasting success on their own. Nike has sold millions of pairs of the Air Monarch, but it means nothing to the footwear community in terms of design or influence. Without a doubt, the legacy of the Crazy Light will be the fact that it was the very first sneaker to crack the 10-ounce threshold. While a milestone to certainly be proud of, the Crazy Light was that much more holistically meaningful because of the new range of performance innovations it welcomed in, and also, its acceptance on the hardwood, where it mattered most.

Just two months after the launch of the Crazy Light last June, the adidas Basketball group had already nearly doubled its share in hoops, according to market analyst Matt Powell of SportsOneSource. Not only was the brand enjoying an immediate resurgence like never before, but all of that growth was above the $100 price point, a reassuring sign that consumers were both interested in the brand and willing to pay a premium price for the newly emerging premium products from adidas Basketball. Not since the T-Mac VI some five years ago had an adidas shoe been priced at $130.

Now a full year later, adidas looks to leave a lasting impression on the hoops world once again with an even lighter addition to the Crazy Light family in the 9.5-ounce Crazy Light 2. To get a sense of just how much the first Crazy Light has meant to the adidas Basketball team, as well as where the franchise is headed with the upcoming launch of the sequel, we recently spoke at length with adidas VP of Global Basketball Lawrence Norman and adidas Advanced Concept Designer Robbie Fuller. Dive in for a look at every last detail of the new Crazy Light 2, where light gets even lighter.

Nick DePaula: Last year, the first Crazy Light launched and had a pretty immediate impact. What was that like for your category to have all of that excitement around one shoe?

Robbie Fuller: It was huge! We got all in on it, and we said, "This is what we're going to be about. Making people one step faster." It was the lightest shoe of all time, and you really saw us step up, get behind it and put the right athlete and athletes in it. It was a huge success, but at that same time, I was sitting at my table trying to figure out how to make the Crazy Light 2 even better.

Lawrence Norman: It took four years. In 2007, we said we wanted to be the lightest basketball brand, and it took four years of research, testing and development to finally see it come to life. It was amazing when it finally made it to the court in the NBA playoffs last June. We hear from athletes all the time that they want to be lighter, and that isn't going away. It's not a trend. To bring Revolution 30 – the lightest-ever uniform – to the NBA for the 2010-11 season, and then follow that up with the Crazy Light, it was almost like the Mecca, because we had achieved the lightest-weight uniform and the lightest shoe within a nine-month period of time.

I've been with adidas since 1995, so almost 17 years. The Crazy Light 1 was the most impactful shoe we've ever launched in basketball. It goes all the way back to the initial launch of the Pro Model, or even before that. We said that one shoe can change everything with the Crazy Light, and I believe that it did. First and foremost, it changed how we design shoes and how we build shoes. Internally, the range is really inspired by the Crazy Light, because we want the whole range to follow suit and get lighter. We also want to influence the industry, and I think the world took notice that we broke the 10-ounce barrier. Crazy Light 2 is 9.5 ounces, .3 lighter than the first one, so we're taking it one step further.

NDP: You mentioned that 10-ounce barrier, Lawrence, and it seemed like that was a pretty clear goal of the shoe. Were there any specific things like that that you guys were trying to get after and accomplish here with the Crazy Light 2?

LN: The first one was to crack 10 ounces; that was always the goal. For the second one, it was just to get lighter. There was no specific, like it needs to get to 9.6, 5 or 4. We just wanted to get lighter, but at the same time, we really looked at every part of the shoe and said, "How can we make it lighter without taking anything away?" We wanted to add to it and make it lighter, if that makes any sense. SPRINTWEB is stronger, the SPRINTFRAME is asymmetrical, and it's even more supportive, so the shoe got lighter, but it got stronger.

NDP: As you guys begin to push lightweight, do you have both a weight floor and ceiling you're trying to be mindful of? Are there discussions around keeping things in the 9.5 range and not above 12 ounces or a certain zone?

LN: We have a target weight for each product, but I think that when we look at what's going to happen with Crazy Light and how light we can get, we don't know. We're going to explore that, we're never going to give up seeing if we can make it lighter, more supportive and more comfortable, and that's our job. We come into work every day trying to find out ways to make products better and lighter. It's humbling, and we really do believe that if you make a shoe lighter or a uniform lighter, that the game is going to get faster. We're basketball people, so we know that if you can make players faster at any level – high school, college or pro – via lightweight products, maybe there will be more fast breaks, more exciting dunks, more good finishes and more points scored. It's very humbling to know that we can have a small influence on the game of basketball, and that's why we come into work every morning.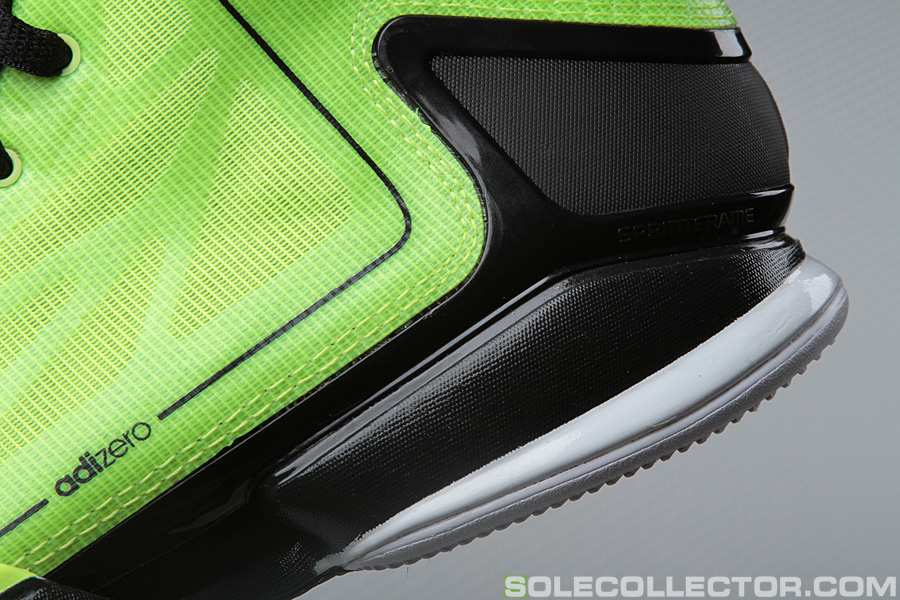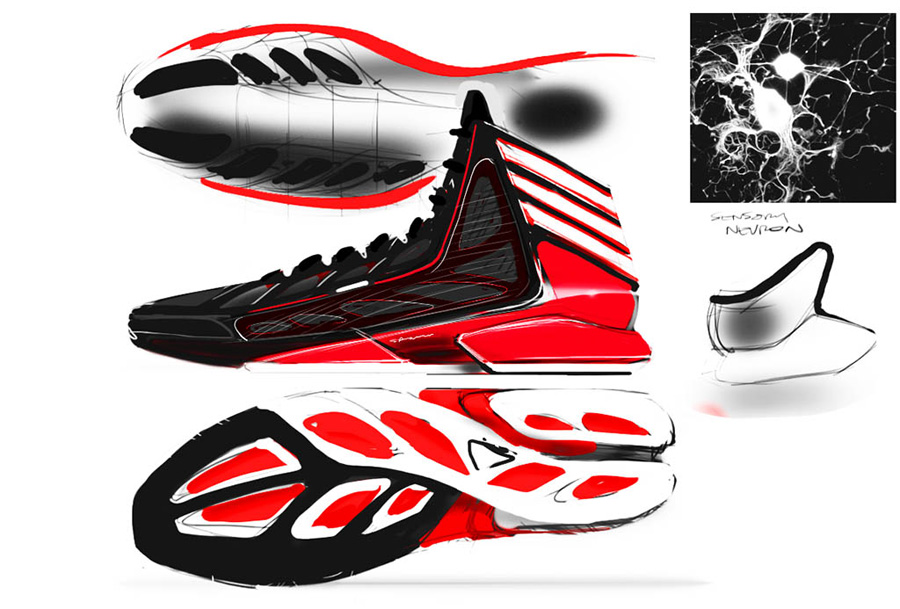 NDP: From a design standpoint, can you talk about what some of the big picture inspirations and insights were for these?

RF: For this season, the creative direction for the whole design team had been set and it was really all about illusions and [being] aerodynamic. We were already getting the performance side down in terms of having light equal fast, and light really does make you faster. From a design direction, it was about, "How does it look faster?" One of those key things was looking at things that you see in streamlined and clean aerodynamic design in cars and in planes. [It was about] reducing seams, making sure that the profile is as slim as possible and there isn't a lot of relief. Even on the back, I worked in a little fin and you could imagine the air moving around the shoe. It adds stability, because it adds materials, which adds strength. It's also just great for storytelling.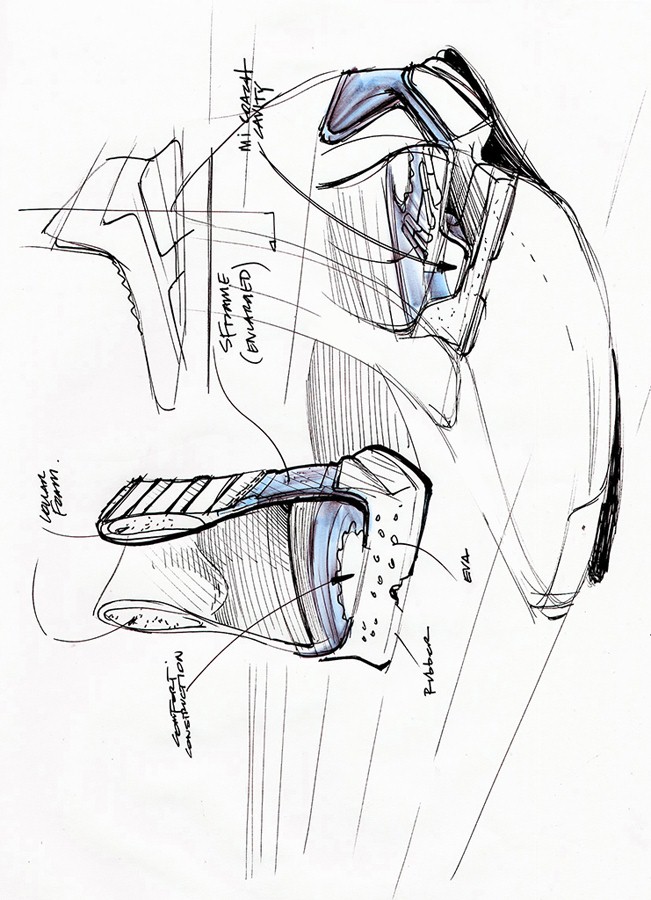 In terms of the illusion component, with the first one, you would see it and say, "That looks light," and then it was light. With this one, because of some of the samples that we were getting back, I knew we were going to get lighter, but I didn't know if you'd be able to feel it. I wanted to make sure it was so compelling that when you saw this thing, you'd say, "Oh man, look at that, it's so stable." But then when you pick it up, you'd be shocked and say, "Wow, I didn't expect that!" That to me is the success of the shoe once people pick it up and hold it. They're expecting one thing, and then they're just so surprised when it delivers so much more.

NDP: As you guys were testing Crazy Light samples over the course of the process, how light were you actually getting? Did you guys have stuff that was under the nine-ounce mark?

LN: We had shoes that we tested [for the first one] that were lighter than 9.8 ounces, and we tested them extensively and learned from that. We felt like 10 ounces was the goal, so we launched it with one that we knew was a great-performing shoe. It's the same thing with this one. We wanted to launch a shoe that was lighter, stronger and brighter. Lighter at 9.5 ounces, stronger to be a shoe that guards and centers could wear, and we saw that in the NCAA tournament with Jordan Taylor from Wisconsin to Thomas Robinson and Perry Jones. Players of all positions were wearing it. We also wanted to be brighter. Electricity and black. The statement we made at March Madness with Baylor, Louisville and Cincinnati with neon and infrared, we saw the impact that color could make. The Electricity/Black was on court with Baylor and on court with the McDonald's All-Americans, and it'll be on court for the NBA Playoffs and beyond. Color is an important factor, and there are way more exciting colors for the Crazy Light 2 than Crazy Light 1, and that'll be from the start of the playoffs to the Olympics and beyond.

NDP: Last year, the shoe was really all about full color stories, and now there's a much more defined court view and color block to it, too. How much of that was emphasized while designing it?

RF: Throughout learning how to design products, sometimes it needs to be an all-over story to really highlight the silhouette, and sometimes it needs to be about some iconic thing. It's the best when the icon can also be the performance upgrade. By incorporating this new SPRINTFRAME that's enlarged into the graphic of the shoe, it's easy, and it basically designs itself and I get to be along for the ride.

NDP: You mentioned the enlarged SPRINTFRAME, and this year's is asymmetrical. What else is different about the geometry of it, and how did you guys land where you did?

RF: We highlighted it as an opportunity part, because the strength to weight ratio of this special nylon is amazing. It'd be great to make the entire shoe out of this material, and that's something that we'll keep working on. We looked at it, and we thought that it could be the perfect opportunity to use as much of it as we could to help stabilize the shoe. It was really inspired by the Speedwrap that Derrick wears, and we have the spar on the lateral side. We found that that's going to give you the most bang for your buck in terms of support. Also, I wanted to really core out the midsole.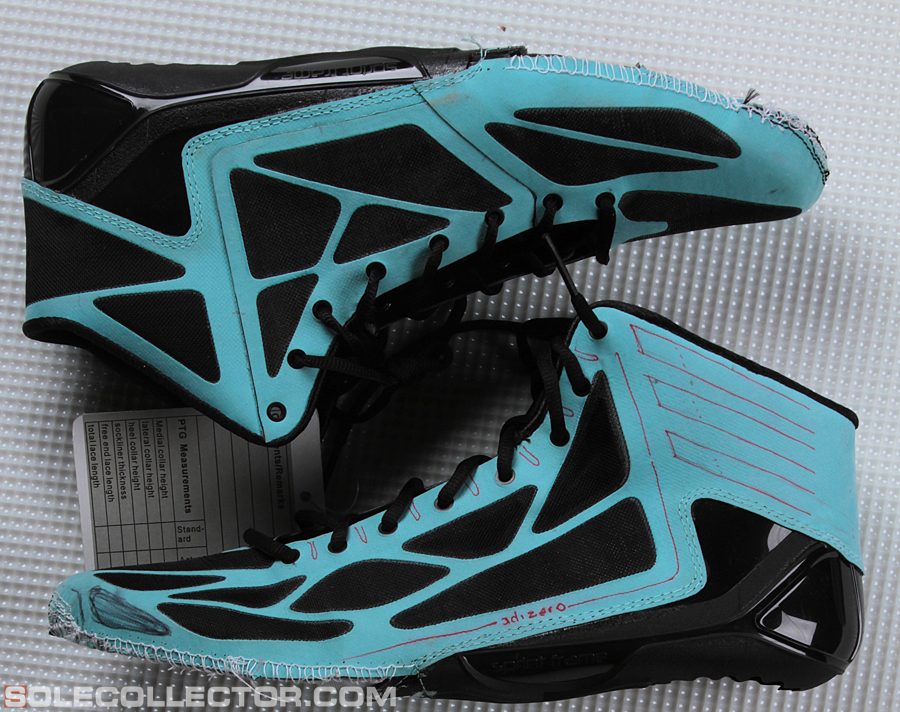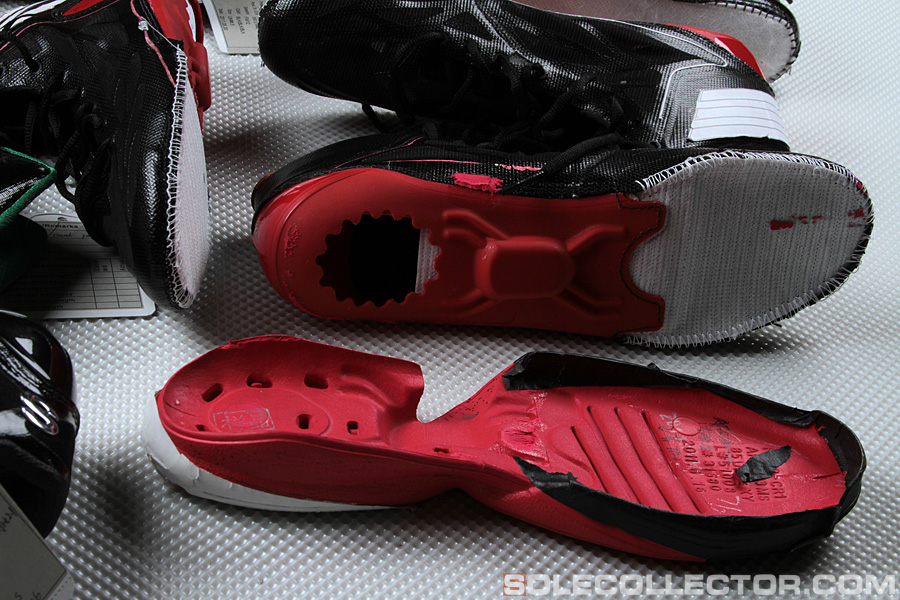 NDP: A lot of times you'll mention the "premium-sourced foam" that you guys are using lately in your shoes. Is the midsole cushioning here comparable to the first Crazy Light and the Rose 2.5?

RF: I say this all the time: Just like how all coffee isn't the same, all foam isn't the same. [laughs] We went to a premium supplier for us that always delivers the highest quality and consistency every time. We have to do that, because when we talk about weight, this shoe is 9.5 ounces and we have to make sure that the tolerance is always exact and that it doesn't go right or left. That's one of the main reasons why we use this particular supplier.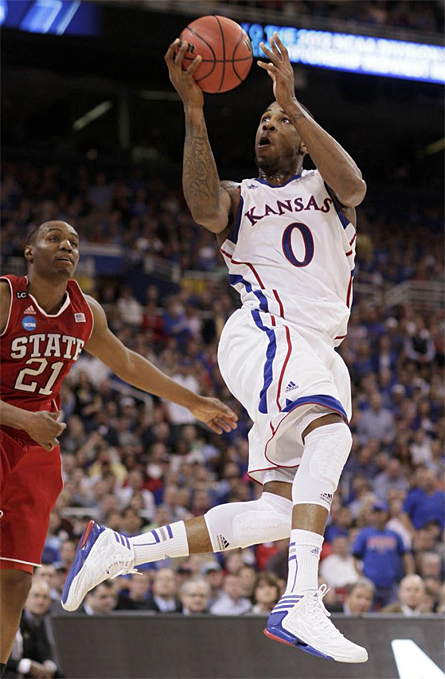 NDP: You guys used a radiating traction pattern last year that was pretty damn good. What inspired the design of the Crazy Light 2's outsole?

RF: The traction needs and the abrasion needs are not the same everywhere here on the bottom of the shoe, and the idea of perimeter weighted rubber all the way around kills two birds with one stone. You're getting traction where you need it, and it's also the highest abrasion resistance in the areas you need. The second thing that we've done is used a high-abrasion rubber along the toecap to limit the amount of abrasion that you'll get from toe drag. You've got your pivot point in the forefoot, and traction 360-degrees around from there as you're cutting all around. As you work towards the back, there's more of a back peddle, and we've found that that's what you really need back there. In the forefoot, you're on your toes and you need to be able to go side to side.

The Crazy Light 1 also had one groove down the middle, and we wanted to have three longitudinal grooves, just so that the shoe doesn't rock. You want to get a roll almost. It doesn't do it when I do it with my hands, but you can imagine a 200-pound guy putting maybe a thousand pounds of force. That kind of effort will be able to take advantage of this kind of design.

NDP: A lot was made of Derrick [Rose] re-signing with the brand for a lifetime deal. How important is it to have athletes like that lead your category and products?

LN: Icons and innovation – that's what drives this industry. We've got the icons with Derrick [Rose] and Dwight [Howard] and also the NBA partnership as the official outfitter. As far as icons are concerned, we feel like we've got the best center and the best point guard and we're partners with the League. We've checked the box with icons, and when you go to innovation, the most important innovation with the kid, the athlete, is lightweight. We now have the lightest uniform, the lightest short with the adiZero short, and the lightest shoe. It's not just a basketball story, and I know this is a basketball conversation and I'm a basketball guy, but you can transfer that over to football, and they have the adiZero F50 cleat worn by Lionel Messi, which is the fastest and lightest soccer shoe in the world. You look at the adiZero Sonic that RG3 is leading, the adiZero Prime and the adiZero 5 Star, and adidas is owning lightweight across all categories, and it gives us a real competitive advantage because that's what athletes are asking for the most.

NDP: Last year, the approach was to have Derrick [Rose] lead the Crazy Light, and this year, you guys launched the shoe at the McDonald's Game and also during March Madness. Why the shift in unveiling, and what kind of feedback did you get from the guys who wore it?

RF: It's important if you're going to come out of the gate with a concept to come strong, and we came out all in on the first one with Derrick. With this one, you can just look at the colors, the speed of it and the design, and it's younger and it's fresher. We said, "Who would be the best for this?" The young guns. Young guns of the League and college would be the best, and we wanted to give them a chance to shine in a product that's really built to highlight their game.

LN: It was a different strategy, and I think that launching at this time of the year, whether it was in June last year or May this year, we wanted to launch it at a time when basketball is at its peak, where people really care. There's no better time than to launch it during the NBA Playoffs. This time, we realized when we asked, "How do we improve on the Crazy Light 1?" – we improve by launching it on court with true college athletes during March Madness and the Sweet 16. We had it at the McDonald's All-American Game, where 48 out of 48 players wore the shoe in the boys' and girls' games. As good as we thought Crazy Light 1 was, we're always tweaking it, by moving up the launch date by a month for example, and by having it on court and getting feedback from the best players in the country at the McDonald's game or Thomas Robinson, Cody Zeller and all of those guys at the college level.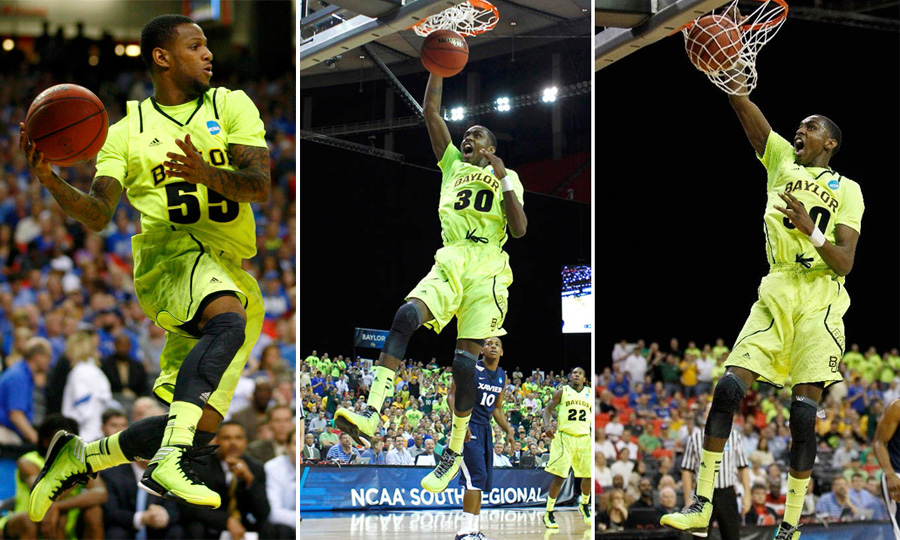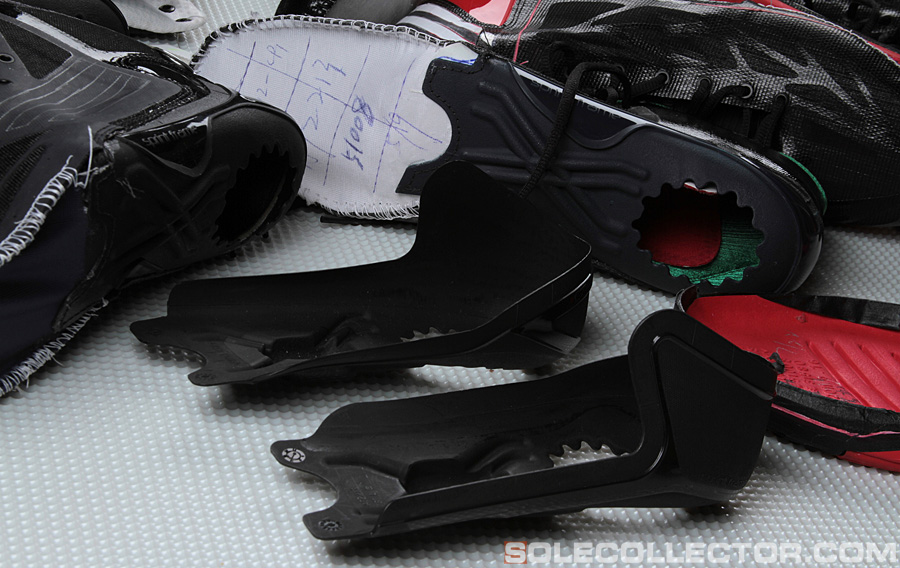 NDP: There's a price increase this year, too. The shoe is $10 more than it was last year.

RF: Yeah, this year there's a price increase, and we have a really premium price point. Last year, you got two sockliners, which you continue to get this time, but you also get two lace options here. You can optimize whether or not you want the absolute lightest-weight lace, which is 40 percent lighter, or if you want something that has a little more of a thicker finish to it. You're going to see that through the materials and also just using more of this special SPRINTFRAME material, it's a premium shoe that demands a premium price. It's not the last shoe; it's better than the last shoe. It's lighter and stronger, and that should come at a premium price point.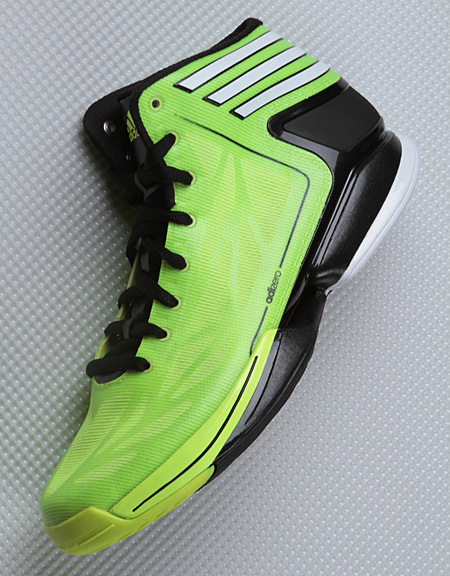 NDP: I was glancing at several of your concept sketches, and on a few of them you have the Three Stripes in tons of different places. How'd you approach the branding while you were designing it, and did you toy around a bit with different placements in the midfoot?

RF: Yeah, and it's super hard to do a sequel. In the movie industry and in the car industry – for everybody – it's so hard. With this shoe, yeah, there was a lot to discuss. Does it start over? Does it zig when everyone else zags? We looked at it and said, "There are just iconic parts to this model." It's similar to a Stan Smith, in how when you see the perf stripes, you don't question it. We just felt that by freezing this design question [of where to place the stripes], it just gives you a chance as a designer and as an engineering team to really focus not on [the branding], which isn't going to necessarily make you faster, and really to focus on the things that are going to make you faster, are going to make you lighter and are going to make you stronger. For me personally, I think it's the right call, and I think it links to the last one, but based on all of the executions, and like you mentioned, the new blocking, it definitely has a life of its own.

NDP: As a designer that obviously grew up your whole life wanting to design shoes, now that you've designed the Crazy Light, it really is a shoe that's been able to push the whole industry to focus towards lightweight. What's it like to reflect back on that shoe and think, "Man, now everyone is working towards something that I helped to start."

RF: I gotta thank Lawrence for coming in and saying, "One step faster." I gotta thank the innovation team for coming up with these amazing ideas of SPRINTFRAME and SPRINTWEB. It's great to be able to be the point person that gets to bring it to life and help to explain it. Nothing makes you happier than when you're sitting at home watching your alma mater NC State do the unbelievable and go to the Sweet 16 in the shoe that you designed – especially when I saw one guy sprinting after a ball and stop on a dime right under the basket before the ball went out of bounds. Literally, me and some of the AIT people are high-fiving each other and saying, "That is why the herringbone looks like that. That's why the design looks like that." We didn't compromise on picking a material that was more expensive than another material, and that made it worth it for me.

NDP: Not only was the lightweight push something that you guys led, but as a category, the shoe also sold well and you're getting market share again. What's that been like for the group to have that momentum going?

RF: I grew up in a different generation, and to be a part of this new generation where the world and the U.S. get to see how dominant adidas can be – in terms of delivering for the athlete and the athlete trusting us and knowing that we're not just respected, but that we're getting to be loved – is great.

NDP: Do you have a favorite colorway or execution?

RF: Well, my favorite color for sure is going to be the ones that never make it and only make it to my closet! [laughs] My favorite one, though, is for sure the all-black one, the Teflon. The mix of materials and the way that it explains the aerodynamic story is strong. I think it suits my game. [laughs]

NDP: What's been the response from the players that've played in it already?

RF: It's awesome. Because of how good the first one was, everybody was so excited: "Oh, you've got another one? And it's better?" That's exactly how it's been. When we do all of our testing, we send them out, get them back and then re-evaluate them. When shoes don't come back, we don't get mad. They must be alright. [laughs]