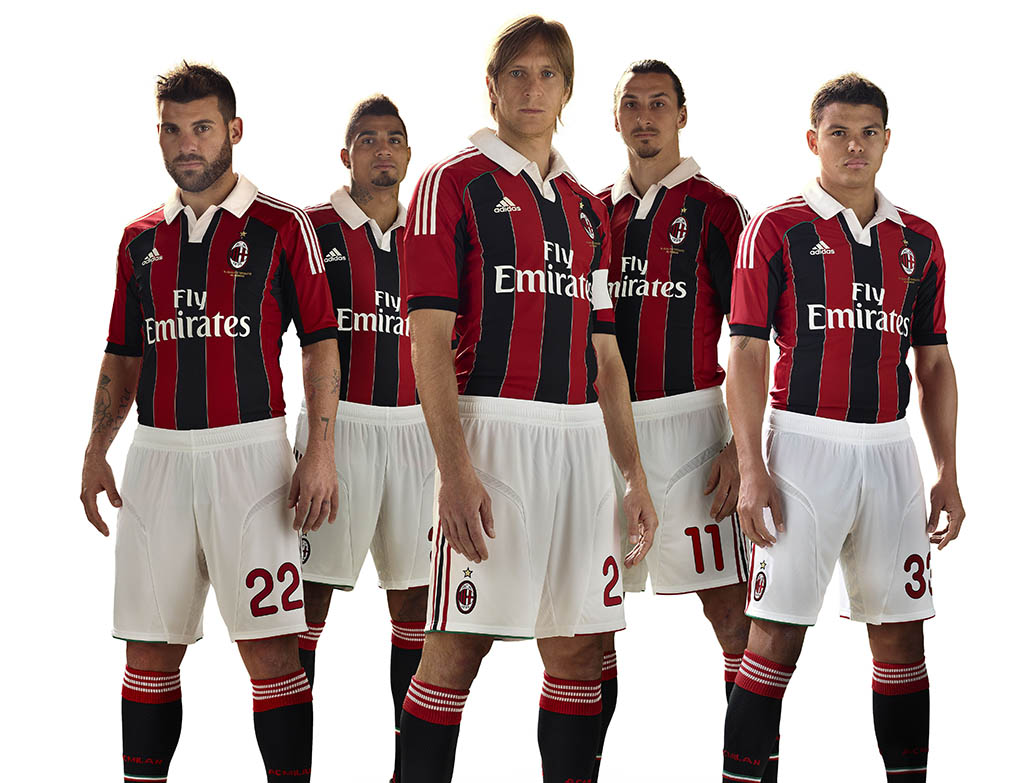 words // Brandon Richard
via Press Release
Yesterday, adidas unveiled the new A.C. Milan jersey for the 2012-2013 season. The jersey and accompanying communications campaign have been designed to remind fans of the origins of one of the most famous football clubs in the world.
With a history that traces back to December 16, 1899, Associazione Calcio Milan has played 113 years of soccer, becoming one of the game's most successful clubs. The current Serie A Champions worked with adidas to create a new jersey that includes the Italian flag deeply embedded in the design alongside the traditional red and black club colors.
Included in the new design are five wide stripes, three black and two red. The polo-style collar returns to the jersey with "A.C. Milan" embroidery. Italy's flag is embedded into the the kit in vertical stripes between the five main stripes. The Italian flag is also repeated across the top of the shirt with green and red oblique inserts on the shoulders flanking the all-white color.
For the first time, the jersey will include both TECHFIT and FORMOTION technologies. TECHFIT muscle compression is knitted into the design of the fabric and FORMOTION helps achieve a perfect fit.
The new kit was debuted today when A.C. Milan picked up a victory over Atalanta in a key fixture for the season.
Additionally, adidas launched a consumer campaign for fans based around the origins of A.C. Milan and the reasons the club was founded 113 years ago. Current players have been sent to symbolic sites in Milan (Castello Sforzesco, Colonne di San Lorenzo and San Siro stadium) to create three videos that retrace the steps of the club's creation.
On a December night in 1899 founding member Herbert Kiplin said, "We are a team of devils. Our colors are red as fire, and black, to invoke fear in our opponents", and the campaign for the new jersey reflects this sentiment. The videos show key points in A.C. Milan history.