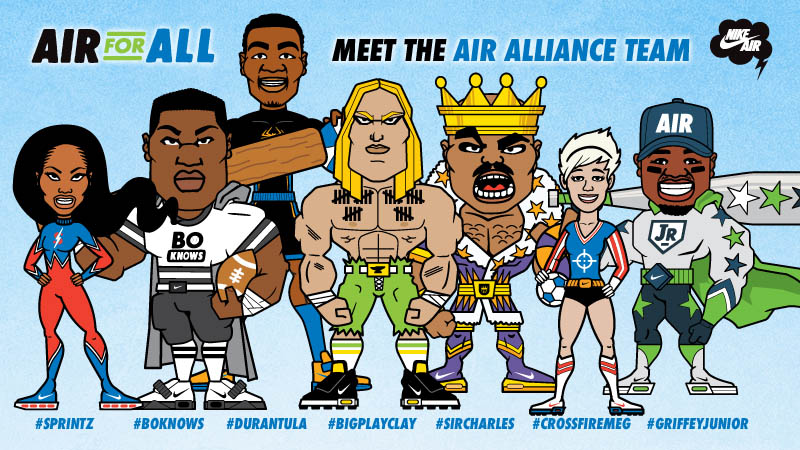 words // Brandon Richard
Those of us who grew up in the 90s may remember ProStars, a Saturday morning cartoon series that featured Michael Jordan, Wayne Gretzky and Bo Jackson fighting crime, helping children and protecting the environment. Channeling the spirit of the classic cartoon, Foot Locker has introduced their new "Air For All" commercial, which also stars several animated sports icons.
Celebrating the greatness of Nike Air, old and new Nike athletes are elevated to "Superhero" status and form a powerful alliance to protect Nike Air so that it's free for everyone. Air Alliance features legends like Ken Griffey Jr., Bo Jackson and Charles Barkley as well as current superstars like Kevin Durant, Clay Matthews, Allyson Felix and Megan Rapinoe.
Along with the new campaign, Foot Locker has launched an interactive "mission" for fans to take part in. The series' villain Dr. Deflation has escaped from Air Max Security prison and is launching a mission to steal the world's air. From car tires to the best Nike Air Max product available at Foot Locker, no air is safe. Only the Air Alliance can successfully stop him. You can help them defeat Dr. Deflation by tweeting the superhero hash-tags in the graphic above, or posting them on Foot Locker's Facebook Wall. Each tweet or post feeds the Air for All Power Meter, resulting in the release of special wallpapers and other rewards just for you.
You can see the power meter at FootLocker.com/NikeAir, where the full "Air For All" clip will be released on Friday.