words // Zac Dubasik
The latest issue of Sole Collector is now available in the App Store, and this time we are taking a special look at Huaraches both old and new.
The original Flight Huarache was part of the era that defined what was "cool" to me as a kid. Sure, Jimmy King, Jalen Rose, Chris Webber, Ray Jackson and Juwan Howard might not have a single NCAA or NBA title to their names – even to this day – but that's not what mattered at the time. They had great shoes, long shorts and a brash style made uptight adults uncomfortable. That's what made them matter to me.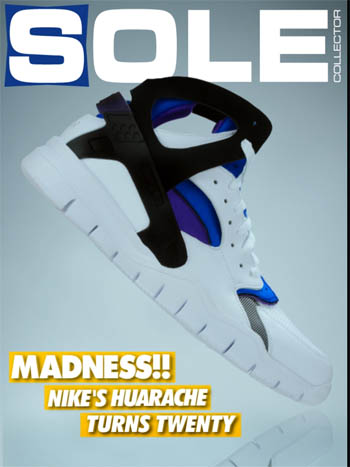 The thought that it's now been 20 years since the Fab Five first laced up their Nike Air Flight Huaraches is slightly (err…really) depressing, but it's also a perfect opportunity to look back at just how important that shoe was. Tinker's first-hand account of how Nike's entire Huarache concept came to be is a can't-miss story in this issue.
We've also got performance reviews on two of the second half of the NBA season's biggest signature shoes: the adiZero Rose 2.5 and adiPower Howard 2. Time will tell if these shoes stand the test of time the way the Huarache concept has. And speaking of standing the test of time, it appears Converse and Undefeated's relationship is doing just that. It's been almost three years since their Poorman Weapon collaboration launched, and as you'll see here, they are still going strong together.
Lots of things have changed in these past 20 years (a big one being the University of Michigan switching from Nike to adidas years ago), but if there was any doubt about the relevance of the Flight Huarache even today, look no further than Nike Sportswear's Huarache Basketball 2012. That kind of influence came from more than just a design though. It took an amazing design, plus five players creating moments on and off court that defined cool for an era. How many shoes from today will have the kind of impact that original Flight Huarache did 20 years from now? At best, maybe a few. And that's what makes the 20th anniversary of a shoe like the Air Flight Huarache so significant.
In This Issue //
Kicksology Reviews -- The adiZero Rose 2.5 and adiPower Howard 2.
Converse x UNDFTD -- A preview of this Foot Locker exclusive collaboration.
Sample Stages -- Brandon Jennings' All-Star Bloodline.
Flashback -- Remembering adidas' The Kobe Two
Nike Fuelband -- Seven days of real world living with Nike's latest innovation.
adidas Originals Blue Collection -- A preview of the Spring / Summer 2012 line.
Huarache Retrospective -- Tinker Hatfield tells the story of how the Huarache concept came to be.
The Huarache Turns Twenty -- A detailed look at the Huarache Basketball 2012 with designer Marc Dolce.
To Download: Search "Sole Magazine" in the Apple iPad Newsstand, install and purchase "Issue 5: March 2012"