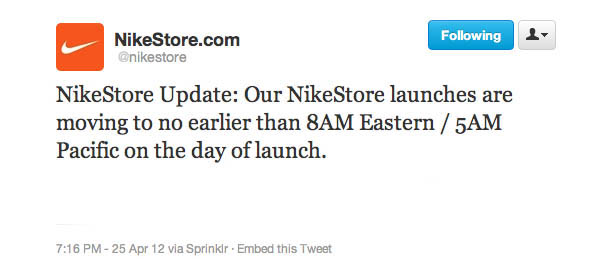 words // Brandon Richard
Nike has taken steps to help eliminate the chaos that has somewhat plagued their recent major releases. The first step they took was setting up a Twitter RSVP System for launches at their physical NikeTown locations. The system allows people to reserve a pair of newly released sneakers at their preferred NikeTown via online registration. Now, for those who like to do their shopping online, Nike has announced a change to their NikeStore.com release policy as well.
Starting with this Saturday's Nike Elite Series releases, NikeStore will make new shoes available no earlier than 8.00 a.m. EST / 5:00 a.m. PST, an eight hour difference from the policy that was previously in place. So if you have your eyes on any of the Elite launches, plan accordingly.
EDIT: Ryan, an Eastbay rep that posts on our forums, says that the Elite Series will launch at 8:00 a.m. on Eastbay as well. This could be a sign that other retailers will be cooperating with the time change.