words & images // Nick DePaula
As you know because you intensely follow the happenings of the sneaker industry on a daily basis, adidas Basketball launched the lightest hoop shoe ever today. No small deal, you guys. This of course after their monumental launch last June of the original adiZero Crazy Light -- which was the lightest shoe ever.



The sequel sneaker is not only lighter -- clocking in at just 9.5 ounces, down from the OG's threshold-breaking total of 9.8 ounces -- but it's also touted as being stronger, more supportive and more durable. The 10-ounce mark has been a barrier that other brands couldn't get beyond for years -- and still can't -- and adidas has now done it in back-to-back flagship models.

Because of the immediate impact it had and the marketing friendly "lightest ever" label, for pretty much the last year, everyone has been asking me how I liked playing in the first Crazy Light. My stock opener was simple: "It's not great only because it's light. It's a great basketball shoe that also happens to be the lightest out there." It wasn't insanely light at the expense of support, and it wasn't the lighest ever just because. There was an exact balance of function, science, design and construction that allowed the shoe to get so feathery in the first place, and it went a long way in holding up as a premium performance product where it matters most.
Other things I also loved about the first Crazy Light were the out-of-box cushioning, the amazingly great traction and the shoe's smooth transition. On my very first wearing, there was a softness and level of responsiveness that I simply hadn't seen in an adidas Basketball shoe, and the resilient "premium-sourced foam" felt great throughout the life of the shoe. My only complaint was that perhaps there was too much toe volume, and I didn't find much use for the "Crazy Light" insole, opting exclusively instead for the more padded "Crazy Comfort" sockliner. Overall though, the Crazy Light was a huge departure from where the brand had been, and the adiZero approach for industry-leading lightweight shoes has since led the way for adidas Running, Soccer and Football. Adidas is now the brand for lightweight performance products.

Needless to say, when I found out a few weeks ago that we'd be playing in the follow-up model to what was a category-shifting sneaker for some extended runs today at the Los Angeles Clippers practice facility, I was incredibly excited to see what improvements were made, how the shoe's Sprintframe and Sprintweb specs evolved and how the new Crazy Light 2 stacked up on-court.

After several full court runs in the Crazy Light 2, here's a batch of notes and first impressions that I jotted down on my phone on the bus ride back to our hotel. It's a glamorous gig, no doubt. Check back for a full in-depth Kicksology performance review in early May, as I'll be excitedly beating the hell out of these for the next few weeks.

- Let's jump right into it. The fit is more targeted. Right when you throw them on, you'll notice the 2 is more contoured through the midfoot and hugs better than the first version. Already an improvement in a year's time.

- On the first version, several layers all came together along the underside of the toe box. There was also a TPU toe bumper extending around the front tip of the shoe. There's a more simple and efficient construction this season that feels more seamless and comfortable through the toe. The rubber toe wrap of the outsole also holds fine and won't give you any points of irritation like some experienced with the first Crazy Light's plastic toe bumper.
- Lacing up is easy as can be. Eight punch hole eyelets lock you in, while two strategically placed ghilley loops up the middle keep the tongue in place. No fancy contraptions needed here, just lace and go.
- The collar height was a real interesting aspect of the Crazy Light. It seems obvious, but if you're setting out to make the lightest shoe ever, why not just make it a mid, or even easier, a low top? The fact that the Crazy Light relied on a taller top line for some added protection made it that much more impressive that the shoe cracked the 10-ounce mark. The Crazy Light 2 follows a fairly identical silhouette in collar height. I laced to the second highest eyelet and loved the proprioceptive lockdown during play, but also enjoyed a fair share of range of motion. They're thankfully not restrictive at all.
- Moving further back into the heel, you'll notice that the shoe's Sprintframe is actually asymmetrical. It veers a bit higher along the lateral side, and more firmly holds your heel in place. We've seen designer Robbie Fuller really evolve the frame's geometry in both the Rose 2 and Rose 2.5, and here there's just as much of an emphasis on heel lockdown. Most everyone at today's media event played in the brand's new Speed Crew socks, but I personally hate thicker and taller socks. I brought my own no-shows, and along the underside of the lateral frame's peak, I did feel some irritation because my socks dipped below. Next time I'll wear slightly taller socks and be set. Everyone else that wore the more padded Speed Crews had no irritation issues at all. Hopefully it's not a problem going forward.
- Side note: Absolutely no alley oops to be found at the Lob City practice facility today. I'm not even sure anyone slapped foam on a layup. We're writers. Not high fliers.
- The traction is real good. On an indoor court, the first Crazy Light's outsole was industry leading. But they got wrecked on asphalt because of the thin rubber used. Here, the rubber is thicker along the perimeter and in some high wear zones, and the outsole appears to have focused more on durability. Two hours isn't quite enough time for a verdict of course, but I'll definitely be closely watching how the traction holds up over the next month.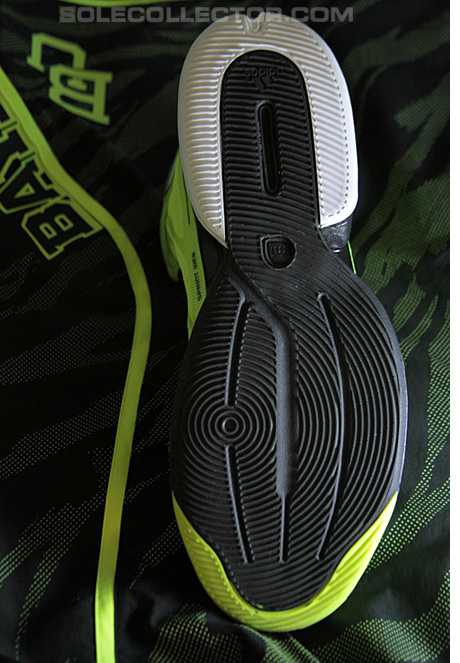 - The heel-to-toe transition and flex are also great. I personally loved the open-court transition of the first Crazy Light. Some people thought they were too flimsy through the midfoot and flexed too much. Either way, the midfoot plate is more bolstered here, and there's a great point of deflection in the heel that guides you right through a natural motion gait and off to a smooth toe-off. I usually play on an 84-foot court at my trusty 24-Hour Fitness back in Portland. The Clippers court was DAMN LONG though -- a legit 94 feet of course. Having an extra smooth ride in an up and down and open court game was great.
- As I mentioned earlier, I loved the out-of-box cushioning of the first Crazy Light, and once again, the heel softness is real impressive. The sizable slab of foam felt great underfoot, and while the forefoot isn't as responsive as an embedded and targeted cushioning unit may be, it was still well padded and had great court feel. For foam, they're great. Cushioning is an area where the brand still has room to innovate though.
- The Electricity colorway that I played in is exponentially more bright than you'll ever assume from a photo. They practically glow in person. The shoe playing well is great of course, but looking cool is worth something too I hear. Rocking actual Baylor REV30 game shorts at the LA Clippers facility was also a nice dose of a near-pro hoops level that I'm of course never going to achieve.
- Lastly -- duh -- the weight. The shoe is light as hell, as an offical scale would confirm. An interesting thing perception wise that I noticed after getting up and down the court a few times was how I remember the Crazy Light giving me that ever-welcome "HOLY SHIT!!" moment. It was seriously that much lighter than anything I'd ever worn up to that point, and the first time out was an experience I definitely still remember. As expected, the second version won't quite have that same effect. Perhaps another note of what made the first Crazy Light feel so instantly light was how airy they were. The mesh composite package along the upper was openly vented, and having air literally move through the shoe made them feel that much more weightless. The Crazy Light 2 has a closed mesh body, so I'm curious to keep an eye on both breathability, and just that general sensation of weightlessness that the first created.
- Overall, I was a huge fan of the first version, and after just one day of pickup ball, I can already tell that the Crazy Light 2 is on the right path to potentially being more supportive, more cushioned and more adoptable for players of all sizes. I'm excited to see where the next month on-court goes from a performance standpoint, and be on the lookout for a fully detailed Kicksology review in the near future.
If you have any specific questions on the shoe's performance, please fire away in the comments section. I'm curious to see where you thought the first version could've been improved, and hopefully the list of notes above gives a glimpse into the new Crazy Light 2s stellar playability right out of the box.