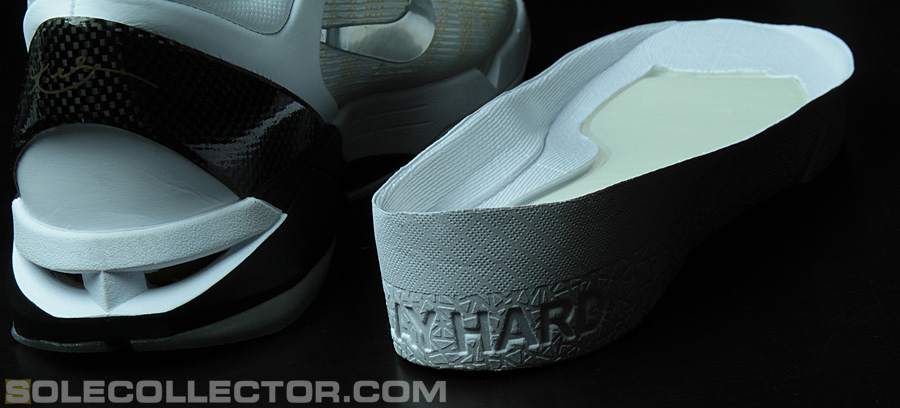 words, images & interview by Nick DePaula
As published in the April iPad Issue of Sole Collector Magazine. The Zoom Kobe VII Elite is priced at $200 and available now.
It's no big secret that as Kobe Bryant's career has progressed through the years, he's gotten increasingly more involved with every last performance detail when it comes to his footwear. He, perhaps more than any player in the League, is acutely aware of his playing style and needs on a year-to-year basis. The guy is desperately after a sixth ring.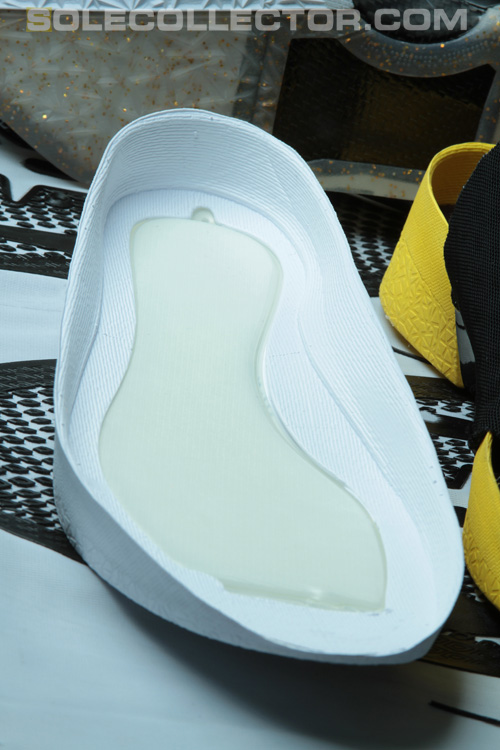 When he gained some bulk after a summer of serious weightlifting in 2005, he wanted the Zoom Kobe 1 to be sturdier and feature more cushioning. Three years later, he slimmed down to his lightest playing weight since his rookie year and wanted a low-cut for more mobility and range of motion. And now, as he takes on what looks to be quite a challenging playoff path towards the ever-important number six, he'll be doing so in his most teched-out Zoom Kobe model yet.
The silhouette and general design lines might appear the same, but as Nike Basketball Design Director Leo Chang details ahead, every facet of the Zoom Kobe VII has been upgraded – in material, quality, parts and pieces – to give Kobe everything he knowingly needs for the home stretch.
Nick DePaula: One of the things that Jason [Petrie] mentioned was how involved and behind the idea of the Elite Series LeBron was. Were there as detailed of discussions with Kobe about the concept, and what was his feedback?
Leo Chang: Yeah, we did show it all to him early on, and he loved the idea of using the modular system and also amping up performance. Of all the guys, he's always on the cutting edge to find any kind of performance or competitive advantage.
NDP: Obviously the Kobe VII was something that Eric [Avar] designed, but you led the charge on revamping it for the Elite series here?
LC: Yeah. We did a few things actually. We started out really looking at how to upgrade the counters. A lot of these carbon fiber counters took a long time to make. They had to be precise and have to be one-to-one with the heel shape. They don't have as much of a flex tolerance like TPU does. Any kind of gap between the counter and the upper that you have will be really exposed. If you don't have it right, the counter won't fit and it won't bond to the upper. It took a long time to get right. We also wanted to switch the Kevlar out on the Flywire, which was an easier process here. Another thing that we wanted to do was take advantage of the Kobe System concept and drop full-length Zoom in there. You can swap that in and out with the other colorways, too.
NDP: So the whole Zoom unit is top-loaded? Weren't the other ones bottom-loaded?
LC: Well, the other Zoom system had heel bottom-loaded and forefoot top-loaded. We knew that was going to be a great premium upgrade in terms of cushioning and ride. The Elite Series isn't just about stripping away; it's about giving the best feel, fit, ride, stability and protection. That was one thing that we thought could be really cool, and we wanted to use the modularity to let people swap the Elite system into the other versions as well. We also went through rounds of talking about using the cuff sleeve versus no cuff, and we kind of decided to go with the low because if you think about playoff time, you want to take away more stuff in some instances and go low. He's also been wearing the low primarily.
NDP: It's funny, because he's just recently been wearing the Strong the last five games.
LC: Yeah, and for a long stretch he was wearing the low.
Below: A sample version featuring the original Zoom Kobe VII upper synthetic and a black forefoot outrigger.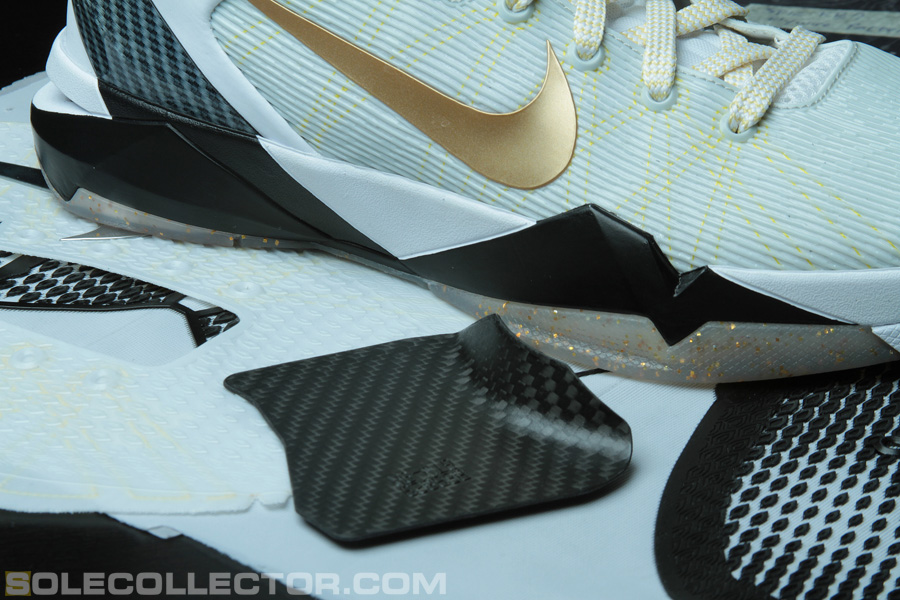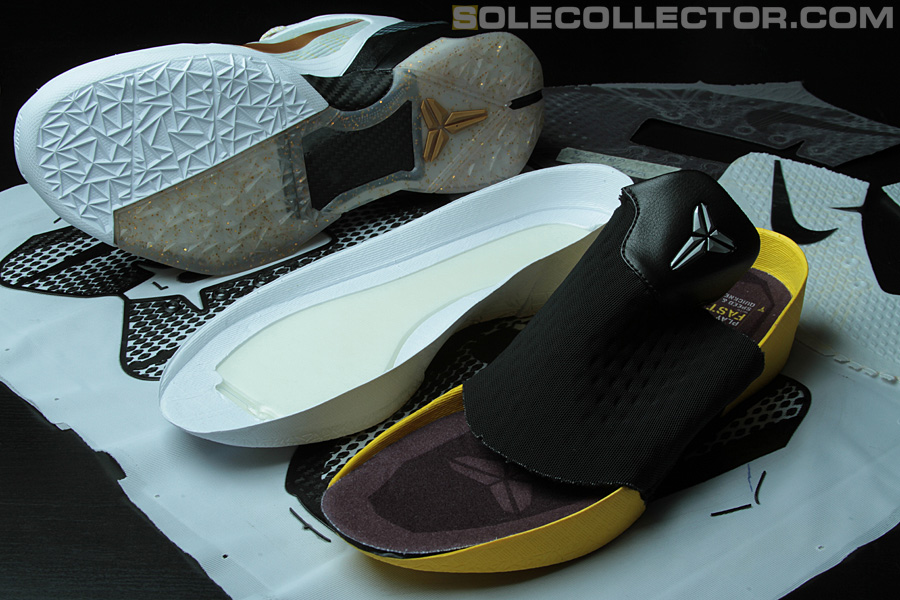 NDP: He wore the Strong for only three or so games in the very beginning of the season, and then just recently switched back to it. I've actually been working on an article for the next issue once the season ends that compares and contrasts his scoring, shooting and a bunch of stats in Fast vs. Strong.
Jason Petrie: Oh man. That's real interesting. I can't wait to see that.
NDP: Yeah, it's just much more boring to put together than I figured, but it'll be cool.
[everyone laughs]
NDP: I personally didn't really care for the sleeve when I played in it. I just thought I was still sliding a bit inside of it, and I never really got the lockdown that I got from the more traditional tongue.
LC: It also could be the back heel area. It's mesh on mesh, so there might've been a better way to help with creating friction there to hold you in place.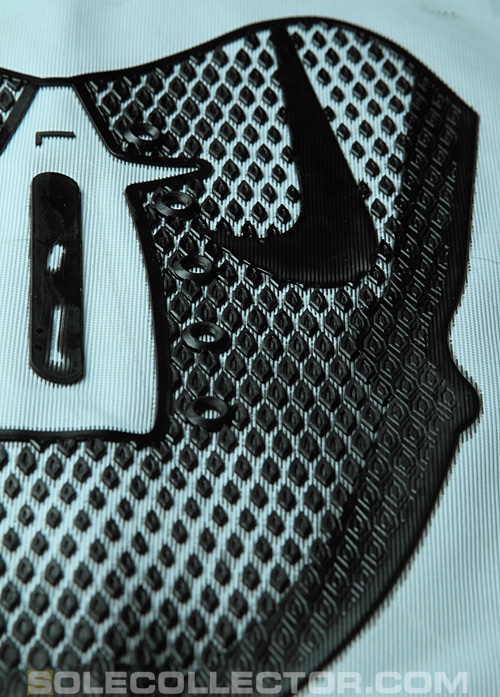 NDP: Yeah, that's a good point.
LC: Just from looking at the shoe a bit more from there, we were thinking about it, and, "What else could we do?" Internally, the Zoom was, well, internal [laughs], and we wanted to visually show more that we completely gutted the shoe. We put the carbon counter on it, but I'm not sure how many people will really notice beyond that. We also looked at the Kurem pattern, and we wanted to make it even more flexible and maybe even more light and dynamic.

We looked at changing the Kurem pattern, which for 10,000, 15,000 or however many pairs it is, is pretty absurd to go through that much effort. But we did anyway, 'cause it's the Elite Series! [laughs] That came a bit late in the game, and we also wanted to look at what else we could do that would take it over the top.
NDP: So you wanted to really change up the upper?
LC: Yeah, and as you know, the story on the VII was these three predators really coming together, and it was the Great White, the Cheetah and the Mamba. We had done Dart Frog, Wolf, Great White and Cheetah, and we had kind of taken the Mamba and put it on the backseat a bit. But now it's playoff time, so let's bring the Mamba back out and really showcase that. One of the things that I love about Kurem is that you can get incredible depth and definition in the 3D geometry of it. It's something that I thought could've been really cool on the VI had we gone after it a bit more even.

So that's kind of what we did; we took that Mamba pattern and got it a little more precise, a little more sharp and a little more engineered. When you actually look at real snakeskin, the scales kind of perk up a little bit at the edge, and when you feel the VII now, it has a bite to it when you go one direction as opposed to the other. You can also see how it's a little more condensed in the lateral forefoot areas and in the vamp area where the foot needs to flex more. It's more spread out there to allow for that. Just having some fun with that and showcasing that we're completely re-doing the shoe too was great.
JP: Man, I'm over here still touching the shoe. [laughs] It's crazy how you can feel that bite, but only one way.
LC: Yeah, and it perks up one way.
NDP: It's almost like when you're at a car rental lot and you're returning the car. And they have those one-way tire slash strips that'll slash your tires one way, but it's a bump the other direction.
LC: Yeah, it's smooth and flexible one way, and abrasion-resistant the other direction where the impact comes.
JP: Well look at the big brain on y'all then. [laughs] Ok then!
[everyone laughs]
LC: If you're going to do it, you might as well take the concept all the way. That was primarily it on the Kobe. The Fast shoe on its own is $140, the System was $180, and this version is $200. That's pretty healthy considering all of the upgrades that we've made.
Ahead: A look at several sample versions of the Zoom Kobe VII Elite, including a version with a Pro Combat Strong sleeve.